I came home to a very pleasant surprise – the Hus had scrubbed the entire house from the top to the bottom while I was in Detroit for work!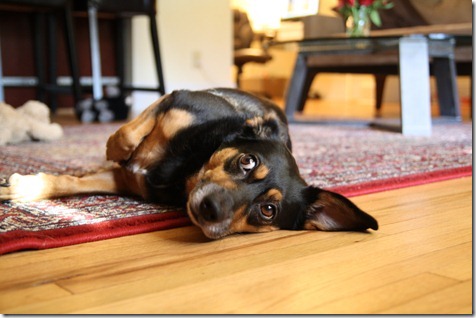 That man knows the way to worm his way into  my heart.  Trust me, it's not through the stomach (that's my modus operandi!).  It's definitely though shiny hardwoods and clean windows.  What can I say – I'm easily pleased.
We stayed up way too late catching up on recorded TV shows.  But it was worth it.  So much drama on Grey's Anatomy and Boardwalk Empire.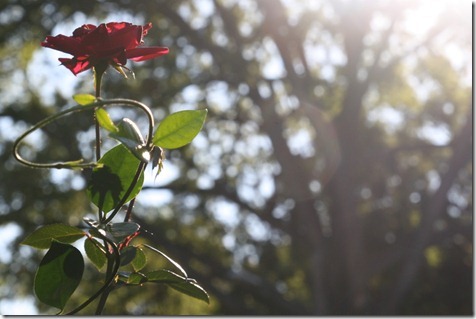 And even though I was up late, I woke early for a great breakfast on the porch.  I feel like I'm grasping at straws – you can tell this chilly but sunny weather won't last long in Charlotte.  Soon it will be COLD.  This Miami native cannot handle any sort of cold, so I'm going to soak it up while it lasts.
A wonderful bowl of Irish steel cut oats + teff:
Last time I made Irish steel cut oats, everyone commented that I didn't cook them long enough (10 minutes as opposed to 30).  So this morning, I filled the pot with coconut milk and oats and let it simmer way.  The result?  Much, much better!
In the bowl:
1/4 cup Irish steel cut oats
1/2 cup coconut milk
1/ cup teff
1 banana
Cashews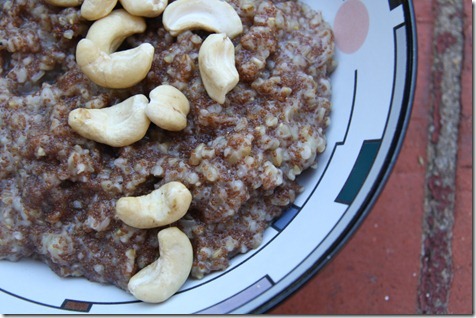 PS – The winner of the Toronto Running Date giveaway is Russell!
Thought of the Day:
When things go wrong as they sometimes will,
When the road you're trudging seems all uphill,
When the funds are low and the debts are high,
And you want to smile but you have to sigh,
When care is pressing you down a bit
Rest if you must, but don't you quit.
Success is failure turned inside out,
The silver tint on the clouds of doubt,
And you can never tell how close you are,
It may be near when it seems afar.
So, stick to the fight when you're hardest hit
It's when things go wrong that you mustn't quit.
—Unknown