I'll give University of North Carolina this:  they are very friendly to the opposing team's fans!  Southern class through and through… very important for the Tarheels because MIAMI WON!  Wahoo.  I wouldn't have been able to stand it if our one tailgate of the year resulted in a loss.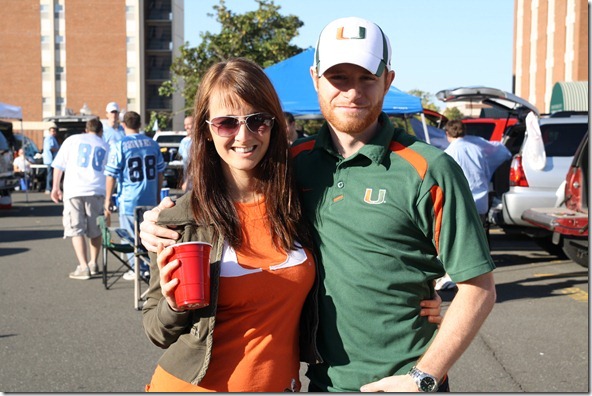 The Husband, our friends Sean and Isaac (UNC grads), and I were up super early – we left Charlotte at 6 AM – for the two and a half hour drive to Chapel Hill.   It was rough, but it was all worth it when we arrived at the parking lot with hours to spare.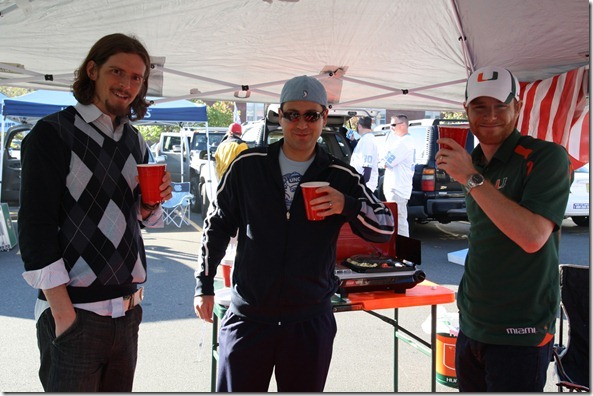 Some non-American readers have remarked that they don't really understand tailgating.  Well, you park your car in a lot, pop up a tent, put up a table, unload a grill, and throw a little party right there in the parking lot.  People blast music and play games. 
Some people keep it simple with folding chairs and takeout food, but many people are like us – really into the tailgate experience!  My favorite is when little old ladies tailgate and have special team-themed flower centerpieces on their tables.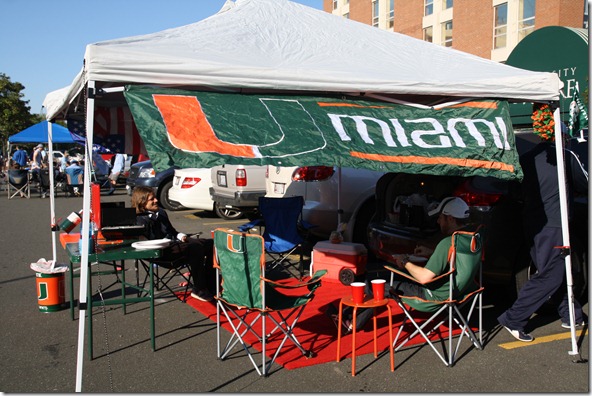 Once we unloaded our stuff, I immediately fired up the grill and heated up breakfast.
Scrambled eggs, vegan potato salad (which was based on this recipe and positively AMAZING), fake sausage, and fruit.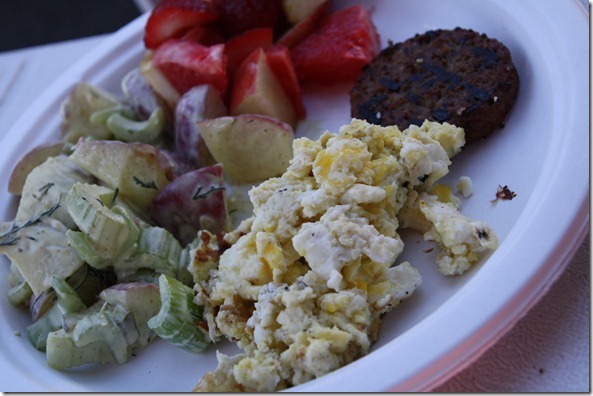 After eating, we played games.
What do you call this game?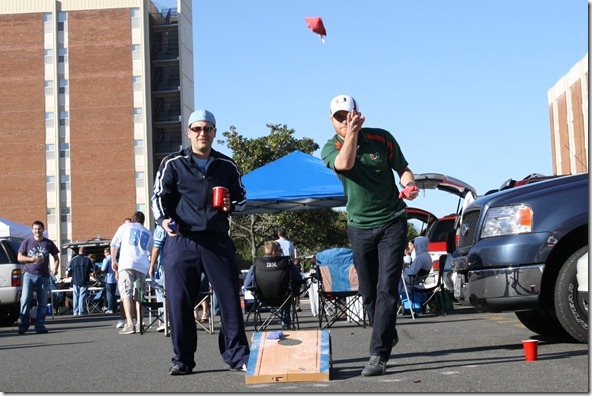 We call it corn hole but I know there are so many funny names for it, depending on the region you're from!
After a few fierce rounds of corn hole, we settled into our chairs for a little pre-gaming and conversation with our neighbors.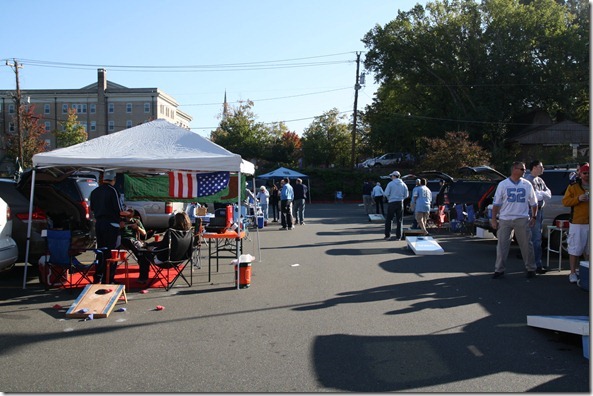 And then, it was time for LUNCH!
Heated up the grill again… Baked beans, veggie burger with grilled peppers, quinoa salad, and more potato salad.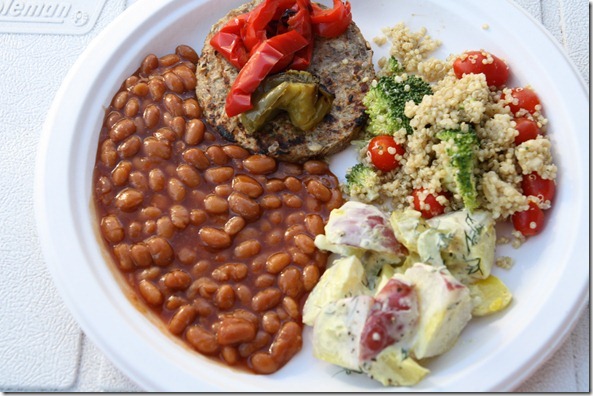 I was stuffed.
We broke down our tailgate and wandered through campus to the stadium (I love it when stadiums are on the college campus – such a great atmosphere).  I felt like the Husband and I stuck out like sore thumbs with our bright Hurricane-orange t-shirts.  But no one heckled us!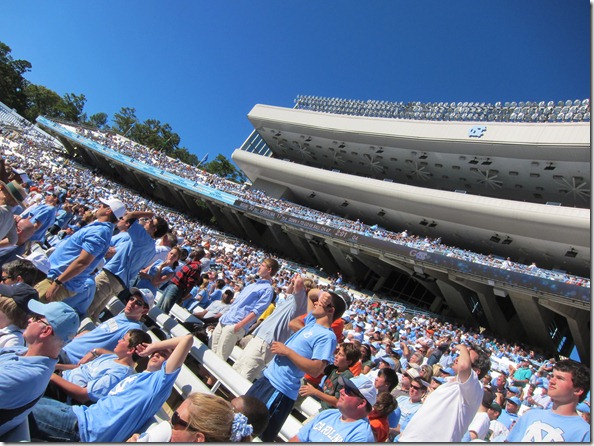 They probably REALLY WANTED to heckle us because Miami took the lead in the first quarter and never let it go, despite a turnover in the last minute that almost cost us the game.  It was a nail-biter!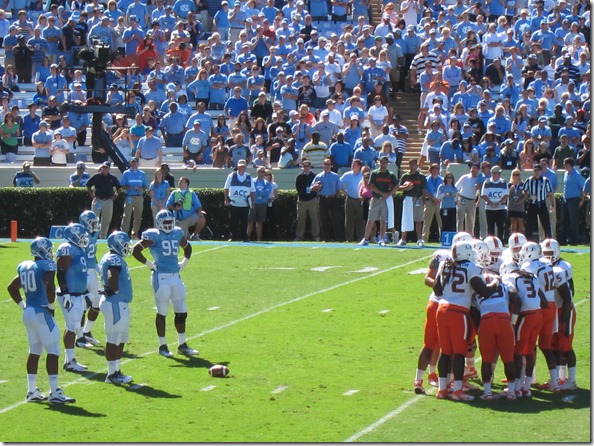 In the 4th quarter, the Husband and I shared this Carolina Blue sprinkle ice cream cup.  Delicious.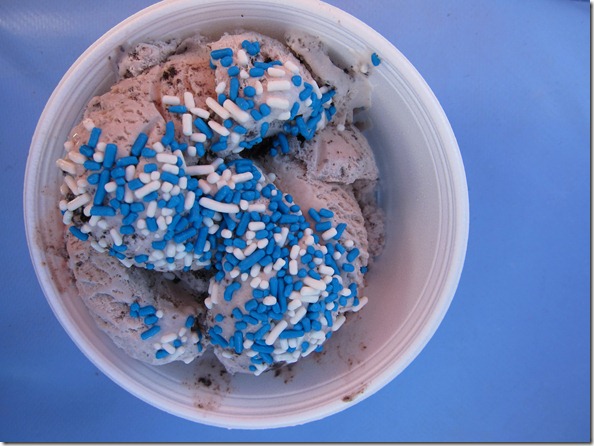 After the exciting finish, we strolled back through campus – which is truly so beautiful – and I couldn't help but wonder what my life would be like if I had gone to a school like UNC.  There were parents and grandparents hanging out in front of their old Colonial-style fraternity houses, little kids running around in cheerleader and football outfits, and a real sense of football community that was lacking at my college.  Straight out of a movie!  Very cool and very, very fun.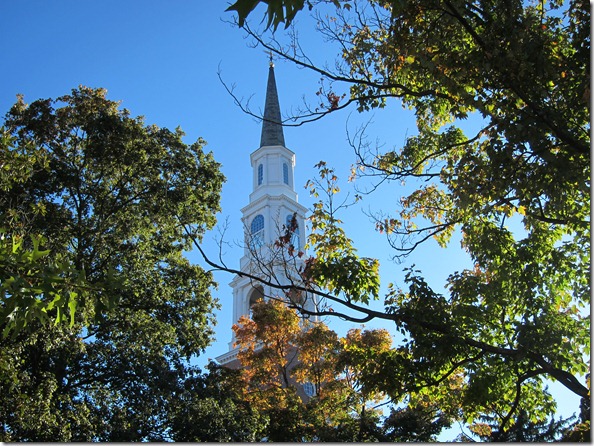 We're resting at a hotel, and then we're going back out on the campus tonight.  I'm gonna pretend like I'm 21 again.  Heh.