Sometimes, all I need is a good hour on the mat.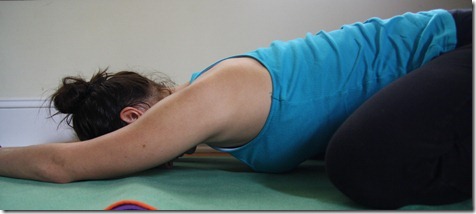 The Husband and I hit up a power mixed yoga class during lunch.  I was hoping for a very easy and very slow class because I'm running a 10K race tomorrow.  But class was challenging!  I spent a good 10 minutes in child's pose while everyone around me flowed and sweated. 
One of the nicest things about yoga is that it's taught me not to compare myself to others.  Just because the chick next to me can do a one-armed pushup with one leg in the air doesn't mean I have to… or feel bad if I simply don't want to.  I like to think if I'm on the mat and I'm breathing, I'm doing yoga.  The poses are just extra.
Came home and rushed to put together lunch before we leave for a little road trip.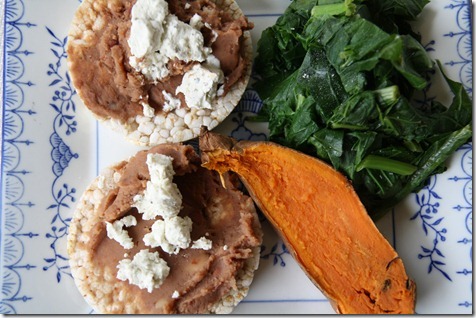 Here's why I've been eating so many damn rice cakes:  Brown rice cakes are gluten-free and cheap.  Since I'm trying to cut down on my gluten intake, per doc's orders, rice cakes are a more affordable alternative to gluten-free bread like Udi's (which I love).  A loaf of Udi's is $5; a packet of rice cakes is $2.  Also – they actually aren't that different, calorically, from the gluten-free bread I buy. 
Plus, rice cakes are tasty! Especially when smeared with refried beans and goat cheese.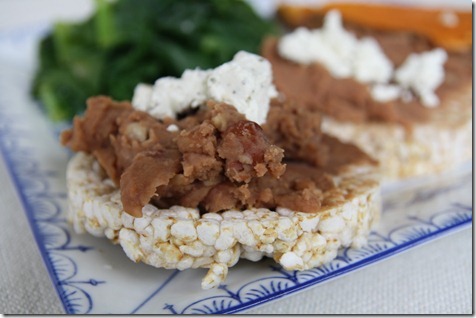 On the side:  steamed mixed greens and a sweet potato.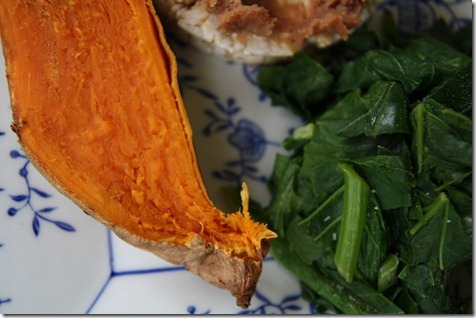 While eating his lunch, the Husband randomly shouted out, "I LOVE KALE, SPINACH, AND COLLARD GREENS SO MUCH."  Seriously.
Where are we going, you be wondering?  Well, we're heading out to see Ashley.  Earlier the week, I talked about her very scary bike accident – she broke her pelvis in three places – and Katy and I are going to visit her in the hospital.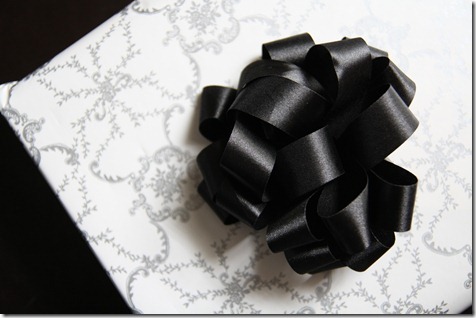 We're bringing her a gift.  Any guess what it is?