What would you do if the weather forecast for your biggest race of the season looked like this?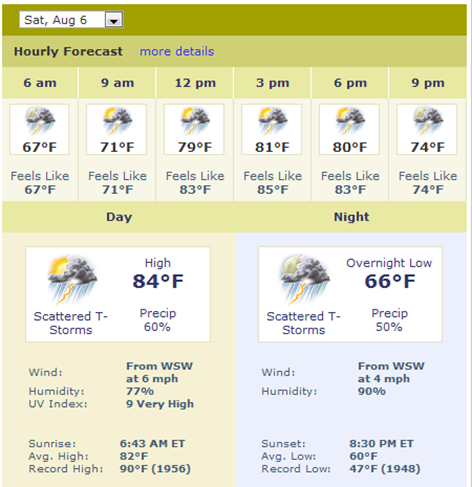 The idea of RUNNING in the rain doesn't scare me in the slightest (here's a post on How to Run in the Rain); once, I even ran in a tropical storm!  The idea of swimming in the rain isn't so bad.  What freaks me out the most is the bike.  I've crashed my bike numerous times, and I have to tell you… it sucks to fall on the bike. 
When I saw that forecast, I seriously thought about backing down.  It didn't help that it's POURING here in Charlotte (Canton is two hours away).  I think we're on flood watch.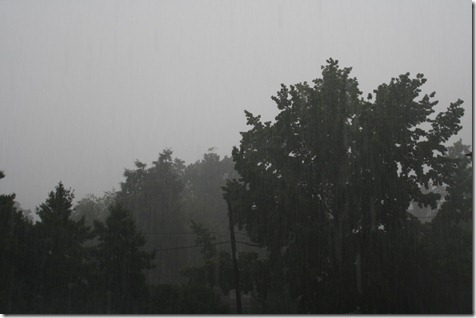 Doesn't this picture just make you want to go for a nice little bike ride?  Not.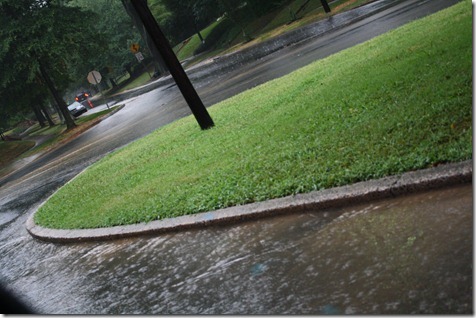 I hemmed and hawed, but then I called DadHTP (bike expert) and Healthy Ashley (who is also running the race).  DadHTP said that my brakes won't be as effective, but as long as I go slow around corners and anticipate stops, I'll be okay.  Ashley told me I was being a wuss and to get my act together.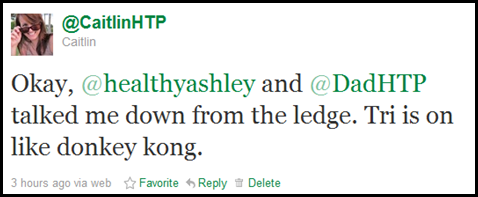 So – I'm ready to race.  But is the race ready for me?
In the case of inclement weather, most running races will go on – as long as there isn't lightening.  For this Olympic triathlon, it sounds like the race organizers are planning to cancel the swim if it's raining and make it a duathlon (run, bike, run).   If there is lightening, we'll all get a 50% refund.
There's one key thing to think about in the case of a rainy triathlon – TRANSITIONS!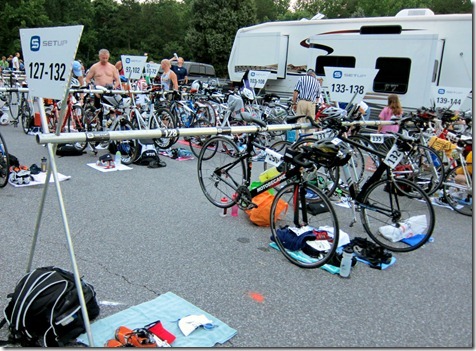 I'll bring a garbage bag to put over my gear so everything stays nice and dry if it begins to downpour.
Whew!  So much race dramarama.  This definitely adds an extra layer of suspense and excitement to my big race of the summer.  Hopefully, it will be overcast and dry – NOT RAINING!  A girl can dream.
Here's lunch, by the way.  A delightful mess of quinoa, carrots, chickpeas, sprouts, and loads and loads of Mmmm Sauce.  Of course.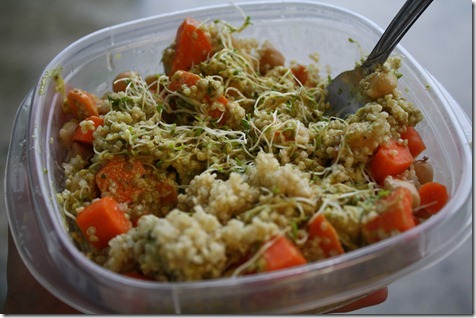 Have you ever raced in the rain? Anyone done a rainy tri before?   I've done two rainy halves, and I actually found them to be quite fun!  The only downfall – chafing.  But I've got an effective solution for that nasty problem!