Jen promised me that if I came to her hot yoga class at Y2Yoga this morning, she would play nice music, try not to crush my soul with too many half-moons, and turn on the fans every now and then.  An offer I cannot refuse!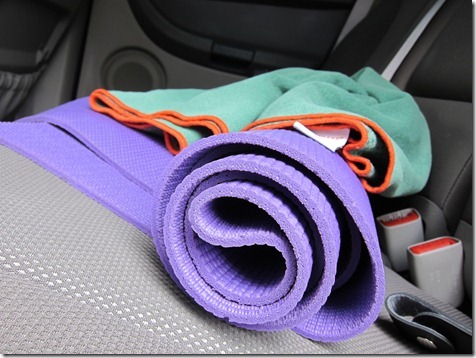 No, really – the only reason I actually made it to class was because I promised Jen via email that I would make it (commitment – it's a bitch).  I've really been slacking on yoga since my injury back in March.  It sounds counterintuitive because people always suggest yoga as a way to heal from sports injuries, but yoga really aggravated my troublesome knee.  So I went from 2 – 3 hot yoga session a week to… zero.
However, I know how good yoga is for me.  In fact, when I trained for a marathon and did regular yoga, I sailed through without an injury.  When I did a half marathon and no yoga, I suffered two minor injuries during training. 
For my body, the bottom line is that yoga will aggravate existing injuries but prevent future injuries.  Not saying this is true for everyone, but if your injury hurts more after doing any workout, definitely back off!  But since I'm currently injury-free (yay!), I figured it was time to hit the studio again.
Pre-yogi breakfast: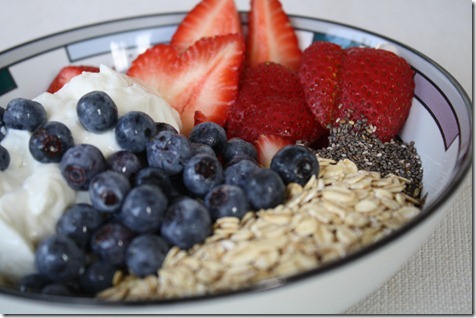 Raw oats, chia seeds, Greek yogurt, blueberries, and strawberries.  And lots and lots of coconut water as a preventative measure.
Lunch (part #1) was scrambled eggs on toast with Mmmm Sauce.  I am slowly turning into a giant bottle of Mmmm Sauce.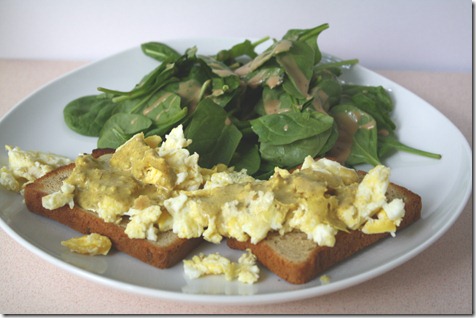 Up dog… Down dog…  And now it's time to get some work done.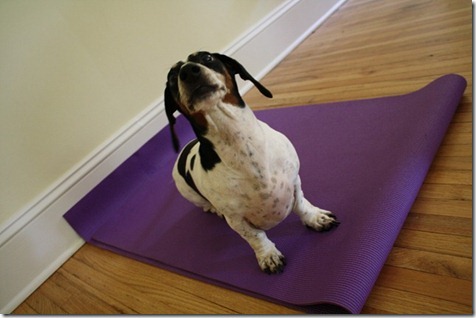 HAPPY SUNDAY!  (I just wrote,  "Happy Saturday!"  How sad is that?)