A few weeks ago, I mentioned that fellow blogger Susan of The Great Balancing Act was diagnosed with lymphoma.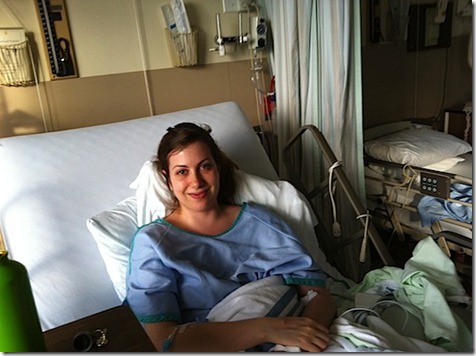 Despite being hospitalized for treatment, she has managed to write some pretty incredible posts about everything she's been going through:
Susan is a former-journalist turned personal trainer, and her recent diagnosis leaves her in a bit of a financial lurch.  Treatment, while partially covered by Canada's health care system, is still very, very expensive – approximately several thousand dollars a month.  Chemo is expensive, but as I've seen time and time again, our blog community is very powerful.  And loyal.  And willing to help out those in need.

Janetha of Meals and Moves has organized a TREMENDOUS Live Auction & Bake Sale (see this post: HOW the auction will work!) for tomorrow, July 25, 2011.  The live auction and bake sale will begin at 8:00 AM (EST).  All funds raised through the auction will directly benefit Susan's treatment.
There will be over ONE HUNDRED items to bid on, which is by far the largest and most extensive online auction I've ever seen.  Check out this list of blogger baked goods that will be up for sale. In addition, the companies below donated AMAZING gift baskets to the auction. 
Annie's
Attune Foods
Aurorae Yoga
Bob's Red Mill
Bondi Band
Chobani
Great Harvest
Handful Bra
Larabar
LeSportsac
Love Grown Foods
Marx Foods
Nasoya
Nourish Tea
NuNaturals
Peanut Butter & Co
Physique57
ReNew Life Probiotics
Stonyfield Organic
The Simply Bar
Beyond baked goods, items up for auction include a professional blog makeover, a lifetime recipe hosting service, autographed books and cookbooks from published bloggers, kitchen gadgets and dishes, clothing, accessories, and much more.  Awesome.
All bids will start at $10.  Again, all proceeds from the auction will go directly to Susan. 
Please check out Meals and Moves for information about how the auction will work, and get ready to bid, bid, bid at 8:00 AM tomorrow.  Online bake sales are really fun to participate in!  I will definitely be hitting up the bake sale.  I have my eye on the Chocolate Espresso Bites, as well as other goodies on the auction list!