My, oh my.  I felt good about today's sprint tri, but I didn't think it would go THIS well!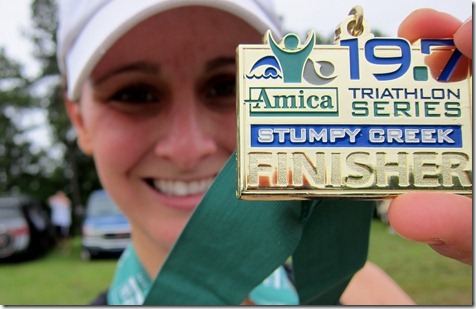 I shaved almost 12 minutes off my previous person record!  Excuse me while I dust my shoulders off.  It feels so good to PR again – it doesn't happen very often nowadays (my last was in October)!
Now – I haven't changed my training at all in the last month – three days of running and three days of swimming.  Practically zero bike rides.  What made the difference in my race times?  Visualization and motivation, yo!  I wanted to PR so badly; I dug deep and pushed through moments that I would've normally viewed as an excuse for a rest.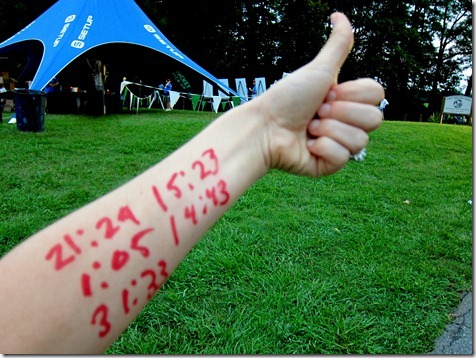 I actually wrote all my times from my last tri (swim / transition, bike / transition, and run) on my arm in permanent marker when I woke up.  I was THAT determined to crush them.  I knew that I could do better in the swim and especially in transition (5:23 and 4:43 is seriously laughable – a good transition time is under 1:00). 
But – first things first – I woke up at an ungodly hour and had breakfast: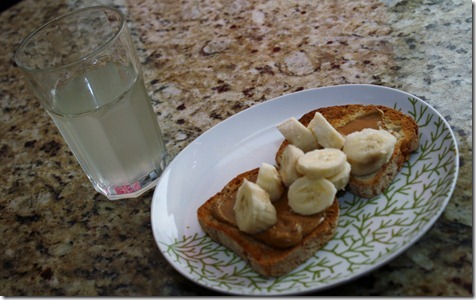 Standard pre-race fare – peanut butter and banana sandwich with coconut water.  And coffee.  Lots and lots of coffee.
And then I headed to the park.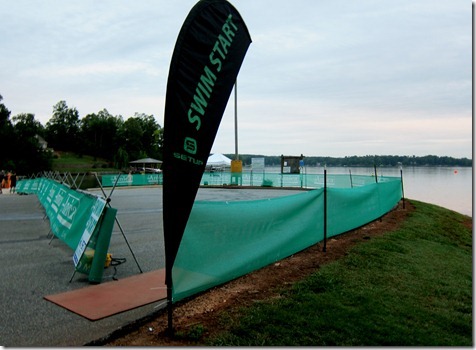 I actually went to this race all by myself. No friends to race with and no support (the Husband worked the last six days and I didn't want to wake up him up at 5:00 AM).  I thought it would bother me (I've never done a tri alone) but it was actually kind of nice – I just got to focus on doing what I needed to do.  Plus, I ended up running into some casual friends at the event, which was nice.  The tri community is super friendly.
I checked in, got my chips, and got body marked: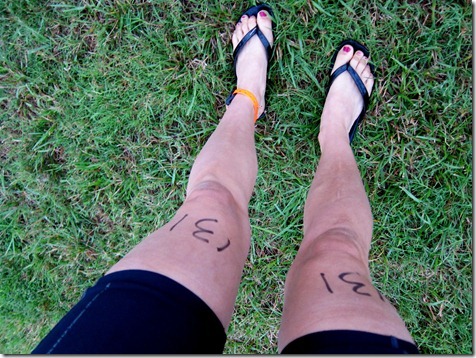 And set up my transition area.  Thank goodness for the Sprint Triathlon packing list; I'm always so afraid that I'm going to forget something important.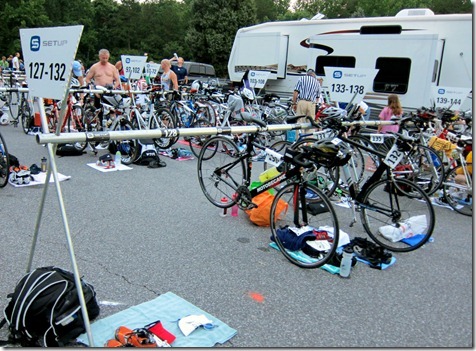 So – then it was time for the swim.
The swim was a 750-meter rectangle.  Water temperature was about 85 degrees – bathwater!  There was a treading start, which I actually prefer to a running start.  My goal was to come in under 20:00, so I focused on even, thorough strokes and steady breathing.  I noticed that I kept veering right; I did this in my last two races, too.  Any tips on how to stay straight in a lake!? I try to sight!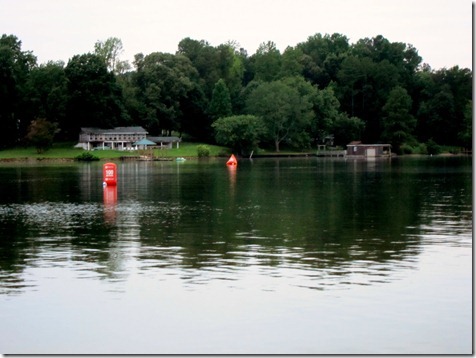 I flipped to my back a few times, but otherwise, I was strong.  No freaking out in the lake.  I think I'm officially over my fear of open water.
I blasted out of the water in 20:45 – I saw the clock and was pleased because I knew that I had taken a minute off my time, according to my arm.  Heh.
Into transition we go!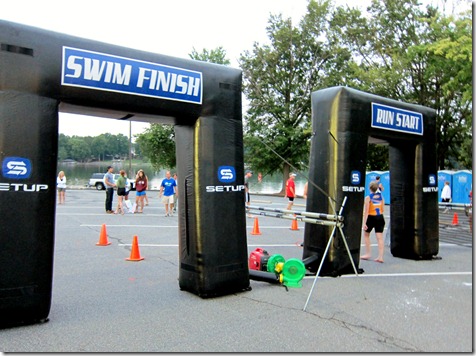 I knew I could make up a lot of time in transitions if I actually tried.  So I focused on getting in and out as quickly as possible.  The race's transitions were very well-organized, so I got on the road quickly. 
Ate some gel on the way out: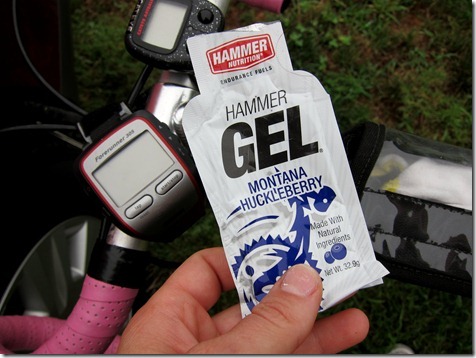 Now – the ride.  The ride is definitely my weakest area.  It was 16 miles, and it took me 1:01:39.  The girls above me finished in 49 – 53 minutes.  I really need to figure out how to get faster.  I wish I could blame in on my shortie legs, but I think I Just need to train harder.  Any tips on getting faster?
AND my chain popped off in the middle of the ride.  Ugh.
I was happy to see the dismount area.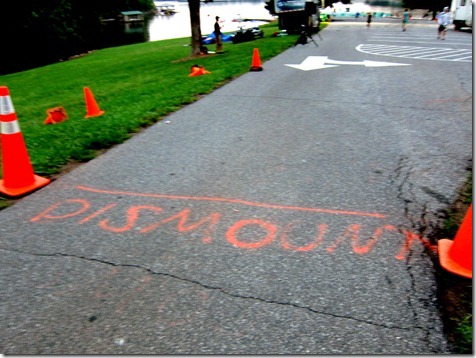 Again, I tried to transition as quickly as possible.  Based on some advice from a few readers, I decided to take another gel packet (so 200 calories total).  I do think it helped me maintain my energy through the end of the race – so thanks! T2 took me 2:12.
The 5K was mostly on the road.  It was SUPER hilly.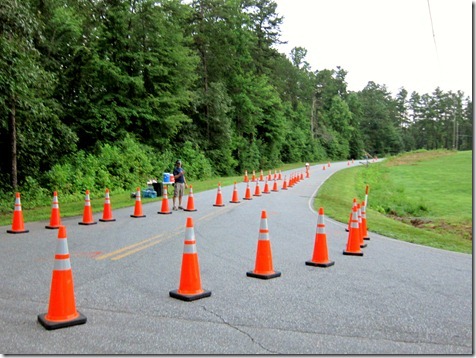 I passed a woman and two guys in the last 0.25 to the finish line.  I came across in 29:41, a little faster than last time. Wahhoo!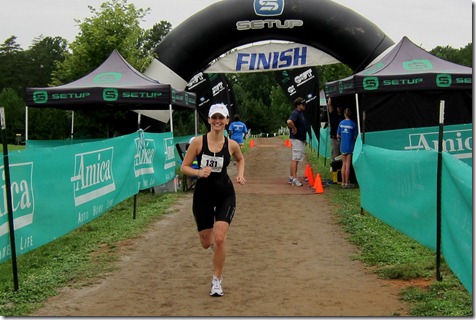 My final times:
Swim: 20:45
T1: 2:59
Bike: 1:01:31
T2: 2:12
Run: 29:41
Total: 1:57:06
Post-race fuel: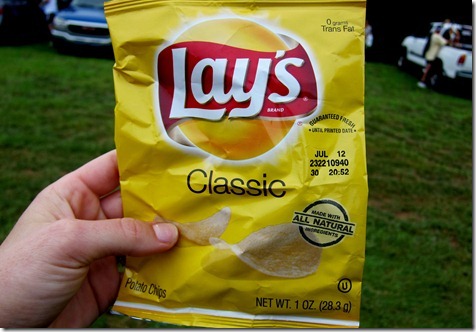 And then I drove 45-minutes to my house, making the car stink like a dirty lake.  Heh.
Sunflower buttah, protein powder, almond milk, and frozen banana smoothie: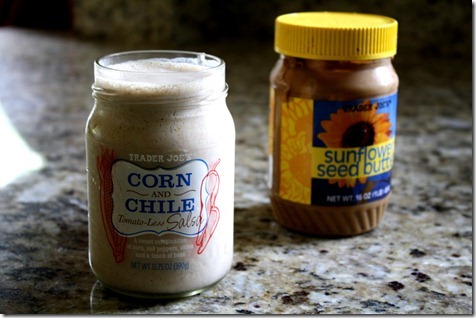 After a long, hot shower and a little nap, I woke up and devoured lunch.  I had a refried bean and goat cheese sandwich (truly amazing! try it), some almonds, and greens.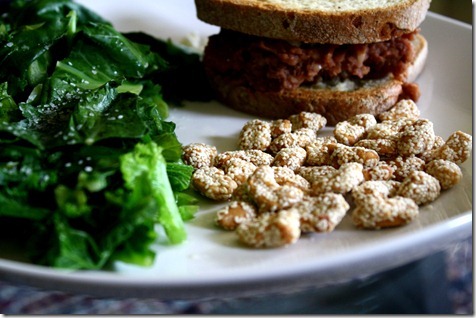 In closing, this was an awesome race experience.  It feels nice to cross a finish line and feel proud, ya know?  It really motivated me to get competitive with triathlons.  I think, if I put a little effort in on the swim and bike, I can maybe even place in my age division.  I came in 5th out of 8 today, so I'd have to move up two spots and probably lose another 13 minutes or so. 
I've definitely come a long way from my Olympic triathlon last year, huh?  I had a panic attack in the water and nearly quit, and now I'm already daydreaming about my next tri.  I'm glad I stuck it out because now I really love it.
Any advice on swimming straight?  Or speeding up on the bike?  I'd love to learn a few tricks!