I think there are two types of 'neat' people:
Neat people who are always neat.  They pick up after themselves, tidy as they go, and do cr-azy things like wash dishes before going to bed (okay, I'm just jealous).
Neat people who like the idea of being neat but lack the ability to actually be neat.  They are only neat in theory.  So they clean frantically every Sunday, trash the house throughout the week, bemoan how messy it is, and then re-clean on Sunday.
Yea.  I'm totally the second type of neat person.  This morning involved lots of chores.   But at least now I can walk into my office without tripping over bike shoes, cardboard boxes (stocking up just in case this house thing actually happens), and golf clubs.  Score!
Breakfast: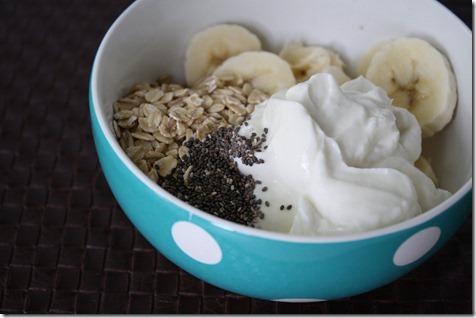 Have you tried raw oats with yogurt yet?  So much better than cereal or granola.  I promise!   Also in the bowl: chia seeds, Greek vanilla yogurt, and a banana.
Lunch was that amazing sandwich, but with navy beans instead of kidney beans.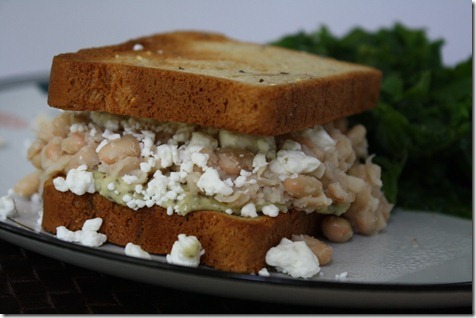 And loads and loads of steamed and salted greens (kale, collard greens, mustard).  My liver needs to detox from Friday's shenanigans.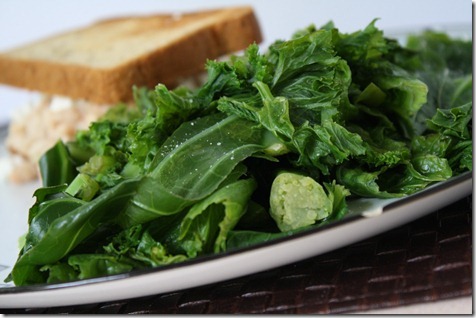 I spy a sink that could use a scrubbing…