When people find out that the Husband is an acupuncturist and herbalist, they inevitably ask one of four questions:
An herbalist?! Does that mean he can get me a prescription for medical marijuana? (No.)
An acupuncturist?!  Is he Asian?  (No.)
Did he go to school for that?  (Yes – he took a post-undergraduate four-year program that was crammed into three intense years.)
Natural medicine?! Weird. If you had cancer, would you take a bunch of herbs instead of getting chemo? (No.)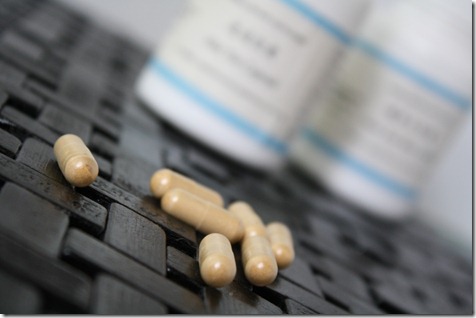 My favorite one is the, "Is he Asian?"  I'm telling you, at least one person calls the clinic each week and asks me if the Husband is Chinese.  I'm never sure if they want him to be Chinese because then he will somehow be better at acupuncture or if they don't want him to be Chinese because they're concerned he won't speak English.  So I always say, "He's from England, but he studied with Chinese masters of acupuncture and knows all the ancient Chinese secrets."  That seems to do the trick.
The other question that I get a lot is, "Do you take Chinese herbs?" and the answer is YES!  Chinese herbs are amazing.  Herbalists can give you mixtures of herbs to help with a variety of conditions, but I take 'em for anxiety and trouble sleeping.  I like that the Husband gives me herbs packed into pills v. in tea form, too – herbs can taste really icky.  Herbalist mix herbs according to a person's unique condition, so there's no one-size-fits-all solution like Tylenol PM. 
So – after a sound night's sleep, I woke up and made this delicious breakfast: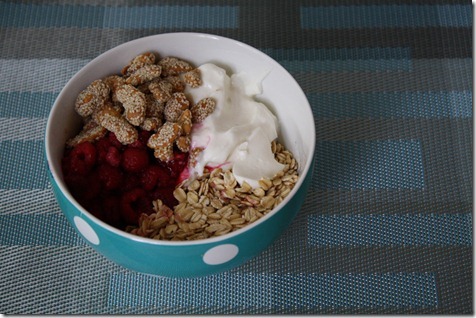 Defrosted frozen raspberries, sesame almonds, Greek yogurt, and raw oats.  Oh-so-good.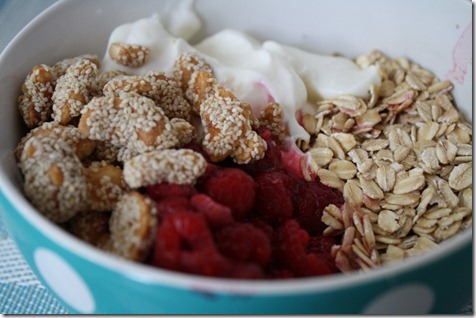 What's a funny question people always ask about your job?