Last night, I was very disappointed to realize that the Husband had scheduled an early-morning golf date (ah, the joys of being a one-car family), so I wouldn't be able to go to my beloved studio studio.  I was about to throw in the Yogitoes towel when I remembered Dave Farmer!
Dave teaches a Baptiste Power style of Vinyasa Yoga, which is basically heavy on the flow – just the way I like it!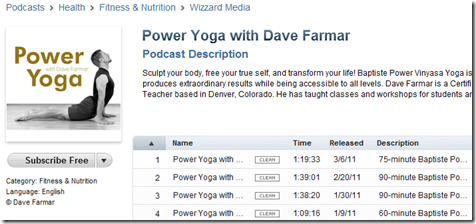 Did I mention his podcasts are FREE?  I downloaded #4, a 60-minute class.
Now, I've never actually tried a yoga podcast, although I've done yoga DVDs.  I was pleasantly surprised!  I only did half of the class (first thirty minutes and then skipped to the last five to close), but I really liked it.
My only compliant?  You have to know the 'real' names of the poses, not the English names, because he doesn't say "Chair pose," but "Utkatasana."  Kind of confusing even though I've been practicing for a while.  But otherwise, Dave is great.
Post-yoga breakfast: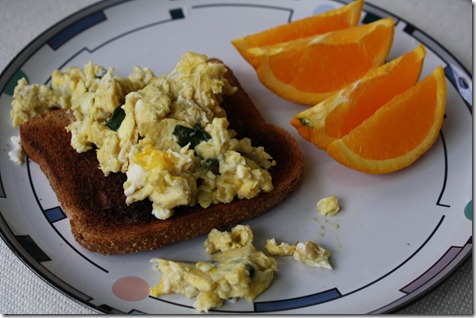 I made scrambled eggs the proper way and added in basil for a little flavor kick.  With some toast and orange:
Have you tried yoga podcasts?  Do you like Dave Farmer?  Any other recommendations?