Did you catch Part I and Part II of the HTP Book Club Series?  7 Inspiring Non-Fiction Fitness Books and 9 Intriguing Food Philosophy Books 
Review of Ultramarathon Man: Confessions of An All-Night Runner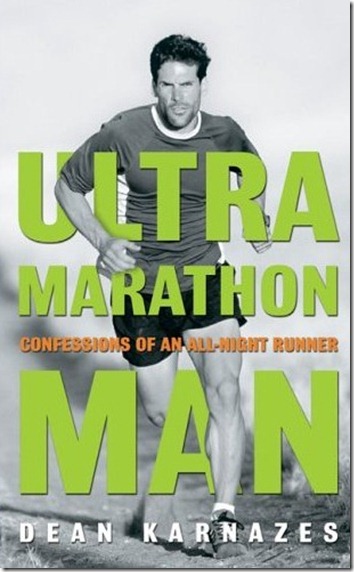 Heather from Dietitian on the Run wrote, "Dean's insanely awesome tales of late-night runs, ultra marathons and breaking records will make you question every time you thought you were "tired" on a run. He pushes through any perceived human limit to find out what he's really capable of, and just never stops going. He lets you into the thoughts of a 100-mile races, his "training" philosophies, a race in Antarctica, and the family musings of a guy who somehow balances it ALL. It brings a whole new perspective to distance running, and never discounts any efforts to progress into what a "challenge" means to you. This is definitely a must read for any runner, and especially motivating on those days and/or training cycles where you need a little extra push out the door."
Review of What I Eat: Around the World in 80 Diets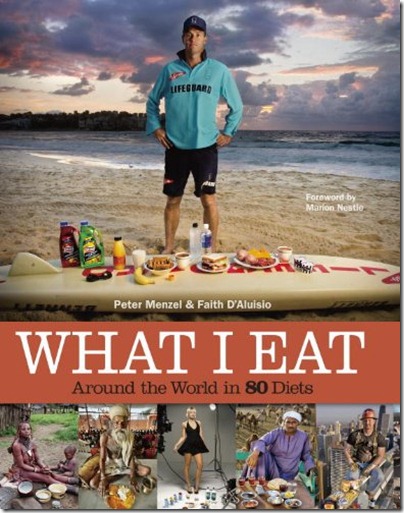 Sunny from Mind Sticker wrote, "A photography book that shows the diets of those around the world. A person is photographed with a day's worth of food. There is quite a bit of variety around the world: from the Chinese professional gamer who drinks energy drinks all day with only one meal, to the American who works in the mall and eats there as well. I always enjoy peeking into others eating habits, so this is the safest way to do that without actually peeking into someone's dining room. "
Review for Oh, the Places You'll Go!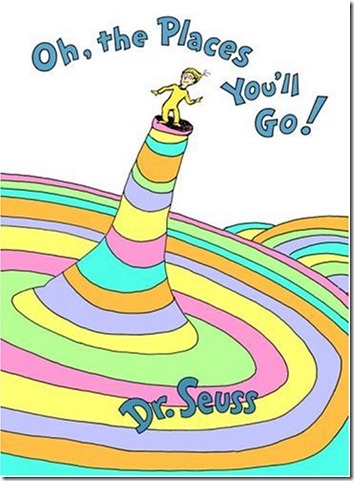 Monica from Run, Eat, Repeat wrote, "My favorite "go get 'em" book is "Oh, the Places You'll Go!" by Dr. Seuss. While it technically a children's book, the message can be applied to everyone. From the very first line Oh the Places tells you you're destined for great things – it's super motivational… "Congratulations! Today is your day.You're off to great places! You're off and away!"  I also love that it mentions how sometimes it's going to be rough, and you've got to work through it. Books don't have to be 78 chapters or full of SAT vocab words to send a great message. It doesn't matter who you are – go after your dreams! The message is written simply, but super self-esteem boosting – a perfect 10 minute read when you need a positive push to keep going!"
Review of The Happiness Project: Or, Why I Spent a Year Trying to Sing in the Morning, Clean My Closets, Fight Right, Read Aristotle, and Generally Have More Fun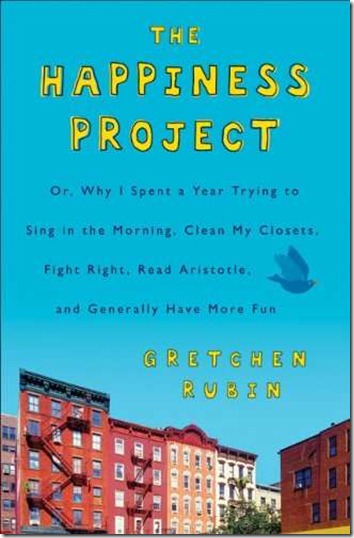 Theodora from Losing Weight In the City wrote, "After losing 50 pounds relatively quickly, I was really happy with my body and the changes I had made in my life, but I still wasn't as happy as I thought I'd be. I still had a relatively negative outlook on life. After discovering Gretchen Rubin was coming to speak to a group I am a member of, I had to read her book, The Happiness Project! She talks about small changes you can make to change your perspective and focuses on each aspect of your life–your relationship with yourself, your relationships with family and friends, your career. It was an incredibly uplifting book and really taught me to appreciate the little things in life and realize that pain is usually temporary. My full review here."
Review of Operation Beautiful: Transforming the Way You See Yourself One Post-It Note at a Time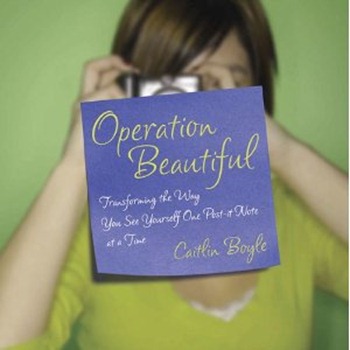 Theodora from Losing Weight In the City wrote, "I've read Caitlin's blog for awhile, and occasionally clicked over to Operation Beautiful when I was having a bad day, but when her book came out last summer, I read every word of it and took it to heart. I absolutely love the message of the book. We all put a ton of pressure on ourselves to be "perfect," whatever that is–rather than celebrating ourselves for who we are and what we've done. I love how Operation Beautiful changes the conversation to appreciate ourselves for who we are, because we are all beautiful in our own way."   Melissa liked Operation Beautiful, too.  She wrote a full review here.
(Shameless self-promotion, I know, I know! 🙂 Thanks, Theodora and Melissa!)
Review of Taking Action: 30 Specific Strategies for Overcoming Emotional Eating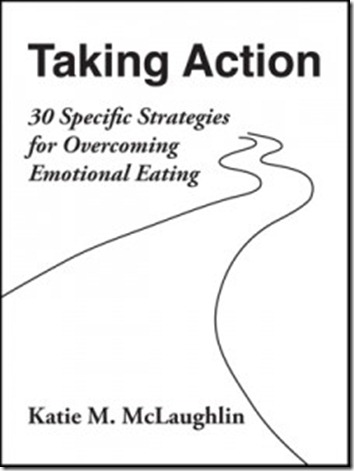 Margarita from Psych Central's Weightless wrote, "I loved fellow blogger Katie's e-book! It provides genuinely practical and valuable ways to overcome emotional eating. It's also well-written, honest, relatable and clear-cut. What I love is that these are specific, easy-to-understand strategies that you can implement. Katie breaks the book up into tips for before the urge to eat emotionally strikes, when the urge strikes and after the urge. So readers get tips to prevent episodes in the first place, tools to use in the moment and how to move forward in general. Emotional eating and binge eating are so misunderstood in our society, and thereby many of the solutions we hear in the media are just plain wrong. You don't solve emotional eating with willpower, another diet or shaming and blaming yourself. When I struggled with emotional eating, that's what I thought my options were. I wish this book was around then. Katie's e-book is really a compassionate look at helping yourself. It also helps with improving your body image and finding self-acceptance. I think it's an effective complement to therapy, too. So whether you're seeking treatment or not (seeing a psychologist is important), this is a wonderful resource. It's truly a toolbox that you'll refer to regularly. Honestly, I can't say enough great things about this book, and I highly recommend it!" 
Review of As Good as Gold: 1 Woman, 9 Sports, 10 Countries, and a 2-Year Quest to Make the Summer Olympics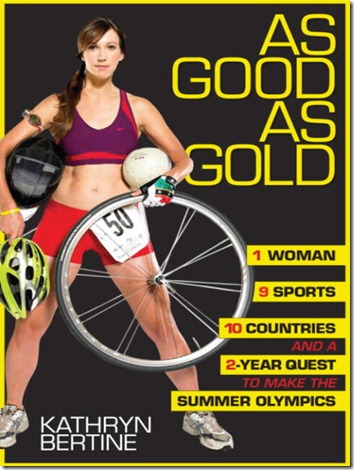 Sunny from Mind Sticker wrote, "Kathryn Bertine is 32 when ESPN issues a challenge; make it to the Summer Olympics within two years and she can blog about her adventures. She tries many sports; handball, luge, track cycling and racewalking. This is an interesting peek into the life of a well-rounded athlete as well as a peek into several sports that are often not as well-known. It also deals with the particulars of being a female athlete. I loved this book, but I feel that her final method to get into the Olympics may have been a little underhanded."
Book Club Time!  Have you read any of these books, too?  What did you think of them?