Boy, oh boy – do I have a salad recipe for you!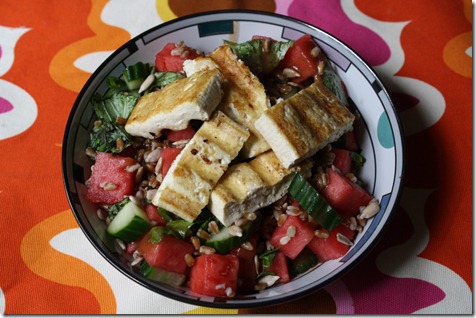 Now, the ingredients in this dish might sound a little strange, but the combo is really, really refreshing and delicious.  A perfectly wonderful and fulfilling salad, if I do say so myself.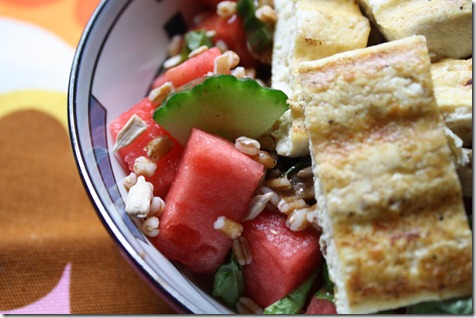 In the  mix:
1 cup chopped watermelon
1/4 cup loosely packed fresh basil
4 inches of cucumber, chopped
1/4 cup sunflower seeds
1/4 cup (measured dry) cooked wheatberries (chilled)
1/5 block extra firm tofu, grilled
Drizzle of balsamic vinaigrette
Wheatberries are a very fun grain.  You can fun them in the bulk bin section.  They are big and chewy.  All you need to do is boil the wheatberries for about 15 minutes and drain.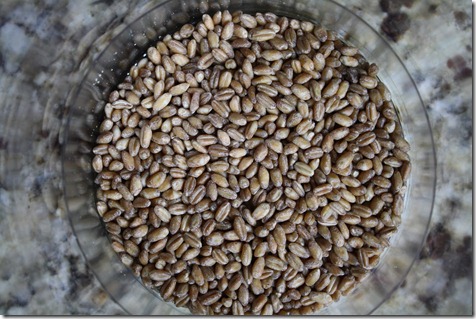 Wheatberries taste great in oatmeal and mixed with yogurt, too, so I usually make a big batch at once and store in the fridge for a few days.
Back to the salad: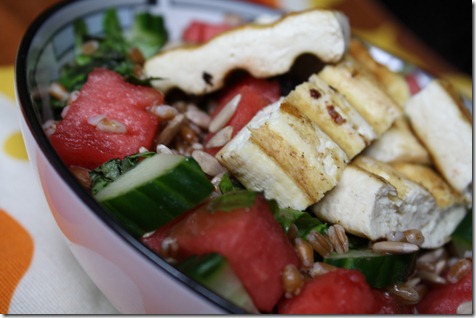 All you have to do is chop the cucumber and watermelon and toss with the sunflower seeds, wheatberries, basil, and balsamic vinaigrette.   I grilled the extra firm tofu on a George Foreman (hint: you don't have to press tofu if you're going to George Foreman it!) and layer the tofu on top.
Watermelon tastes DIVINE with fresh basil – try making kebobs with mozzarella balls, watermelon, and basil – and the whole salad just really melds together, despite the seemingly strange combo of flavors.
What strange flavor combinations have you enjoyed lately?  Any great recipes to share?