Want to know something awesome about healthy living?  The more you do it, the easier it becomes.  It's kind of a positive feedback cycle.  You decide you want to be healthier, so you begin to make a few small changes, and you feel awesome due to those changes, which makes it easier to stick with it. 
I must say that – for me – positive feedback only occurs when I make changes SLOWLY.  I can't make sweeping changes overnight; I need to identify one or two small things that I can tweak at a time or I crumble under the pressure and revert back to my old, not-as-healthy habits (obviously, I'm not talking about 'dieting' or extreme exercise… I'm just talking about maintainable, healthy habits).
Around New Year's, I decided that I really needed to tweak several aspects of my life:
More sleep
Regular hydration + electrolyte replenishment (I cannot even tell you how much coconut water has improved my life)
More thoughtful exercise (i.e., I need to stop doing 'junk runs' and do speedwork or long runs with a purpose) and strength training
More fruits and veggies
So far, the little changes that I've made over the past two months are really starting to add up!  I feel better than ever – I've been sleeping well, don't feel as stressed out, my mileage has been increasing, and my pace has been decreasing.  Wahoo!  None of these changes happened overnight, but it's cool to look back and see that my small efforts are really making a difference in my overall well-being.
That's one of the reasons that I'm so excited about the Boot Camp experiment that I started on Sunday.  I think I've found a strength training routine that I can stick with and have fun doing.  Plus, my arms, abs, and shoulders were so sore today – it hurts so good!  Sore muscles is definitely a strange type of positive feedback for me! 🙂
I took the plunge and shot 'before' pictures, too.  I don't like weighing myself (scales don't tell you the whole story… just how much you weigh!), so I think photos and measurements will be a fun way to comparison my progress at the Month 1 and Month 2 mark.  
Hello, I'm a goofy weirdo.  Wanna be my friend? ;)  For what it's worth, I did cheesy grins in my before shots because I'm happy in the before AND the after. 
Breakfast: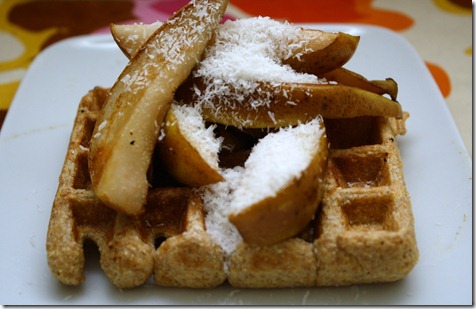 A whole wheat waffle with grilled pear, coconut, and globs of maple syrup.  Mmm.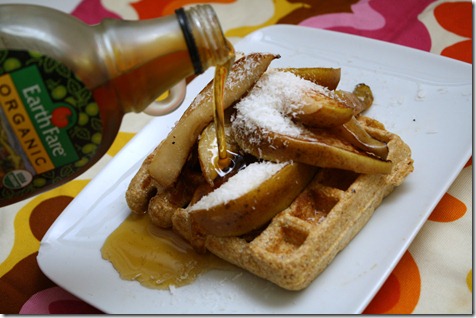 And lunch was a fun rice bowl.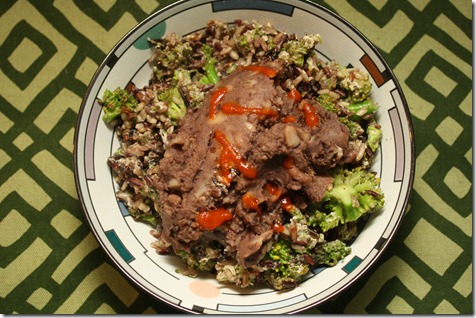 I stir-fried broccoli and then added an egg and cooked wild rice.  I let everything cook together for five minutes, plated, and added refried black beans and hot sauce.  It was delicious, actually!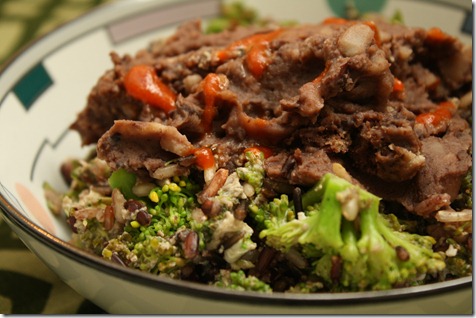 And an apple: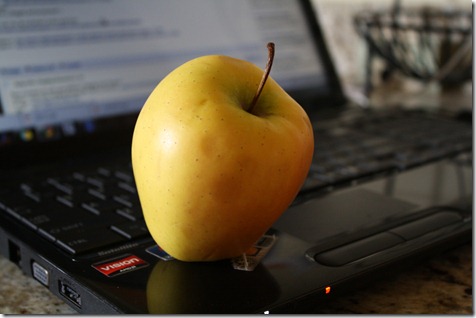 Have you been experiencing any positive feedback in your healthy journey that's motivating you to stick with it?