Thank you, thankyouverymuch.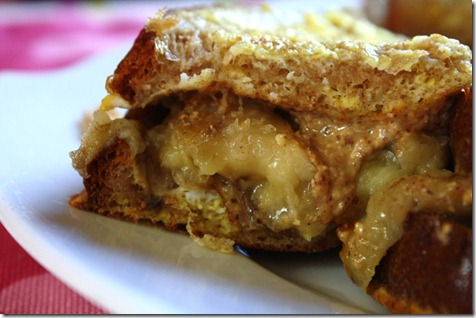 THIS is the recipe you should make your sweetie (or yourself or your Mom or whoever) on Valentine's Day. Why?  It's totally easy, only requires four ingredients, and doesn't involve slaving over a hot stove.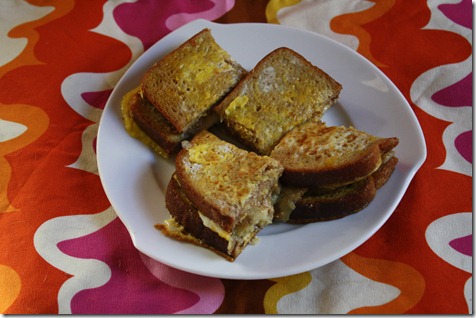 Basically, the Grilled Elvis is a Grilled Banana Sandwich with the addition of almond butter. Elvis Presley liked to put bacon in his sandwiches,so maybe a meat-eater out there can try this with bacon and let me know if it's good?  I bet it would be (even I can admit that bacon is pretty yum)!
Ingredients (for one sandwich):
2 slices whole wheat toast
2 eggs
1 banana
1 tablespoon almond butter
Directions:
Pre-heat a griddle to medium high and grease the pan.
Slice a banana in half, lengthwise and widthwise so you have 4 pieces.  Place in corner of griddle.
Crack eggs and beat in a small dish.  Make French toast by dipping the bread in the egg mix and putting on the griddle.
Once one side cooks, flip bread and bananas.  Put tablespoon of almond butter on one cooked side of bread (this helps it melt).
Let other side of bread cook.
Combine everything into a sandwich with the banana and almond butter in the middle.
Enjoy!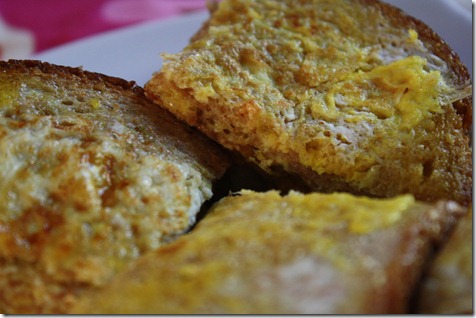 Delayed On-Set Muscle Soreness
Despite the fact that I've run 32 races over 4.5 years (AKA have pretty much figured out how my body works with training), I am faced with a big training quandary, and I'm hoping you guys can help me out!
I am suffering (well, maybe 'suffering' is a dramatic word) from lots and lots of Delayed Onset Muscle Soreness, the fancy name for 'running makes my legs ache.'  DOMS hits 24 to 48 hours after runs, and although I've always experienced some level of DOMS as I attempt to run faster or further than I have in the recent past, it's much more noticeable this time again!  I even experienced DOMS from YOGA earlier in the week!  The trouble is that I'm not pushing through my DOMS, opting for tons of surprise rest days, and it doesn't seem to be helping it too much.
Runners World says that unless my DOMS is severe (and it's not), I should just push through and do a light (30 minute) run.   The theory is that DOMS occurs when you're getting stronger, so if you're always backing off, you'll never get over the hump.    Side note:  Obviously I'm not talking about "Ouch!"-injury pain.
Other research says lack of sleep can make DOMS worse, so I've really been making an effort to clock the hours in bed (and I have been sleeping better).  Any other ideas as I move towards my 4th Half Marathon in March?  Is it time for me to start taking ice baths like Megan?!  This video starts to get really funny at the minute mark.
That does not look appealing.
How do other runners handle minor DOMS?