Earlier today, I felt like this: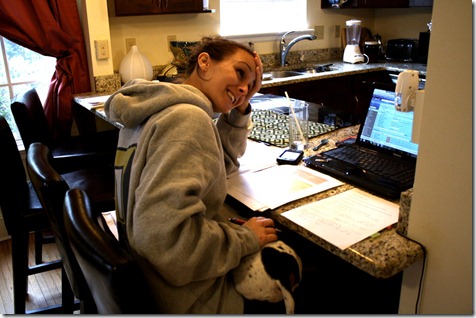 I am in the HOME STRETCH of finishing the first draft of my second book (based on the Operation Beautiful website and geared toward tween and teen girls).  I am hard-copy editing right now and writing the conclusion!
It is stressful, but exciting and fun.
Globs of white bean and basil hummus from Trader'e Joe with leftover Super Bowl party chips powered me through: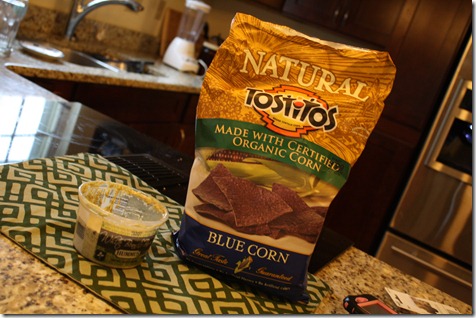 And you know what else got me through?
The promise of yoga.
Lately, I've been viewing yoga as a chore – which is so, so wrong!  Yoga is a gift I give myself.  When I'm busy, that's all the MORE reason to go to yoga.  I went to a small (only 5 people in the room!) power mixed class at Y2Yoga and it… was… glorious.  The teacher even gave me a scalp massage during the final pose.  :) 
I went from feeling stressed out and crazy to calm and relaxed.  I tackled this evening's project with a big SMILE on my face as a result.
The spring season of Girls on the Run starts tomorrow.  The Husband and I are coaching a group of 14 girls (aged 8 – 11) over 12 weeks, twice a week.  At the end of the season, they'll run a 5K.  But GOTR is really about helping the girls form healthy habits, both physically AND mentally.
GOTR is super organized and gives you everything you need to be a coach (learn more here).  Anyone could run a successful program with all the tools they provide, even if you're nervous.  You also don't have to be a runner to do GOTR.  It's great fun and very relaxed.  We just had to sort everything out and pre-read the lesson plan.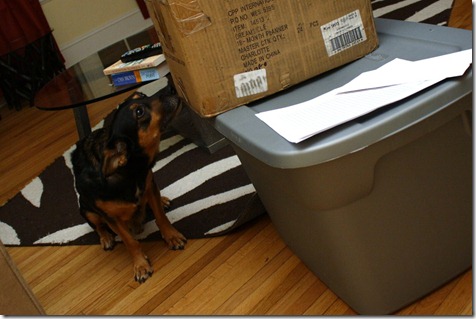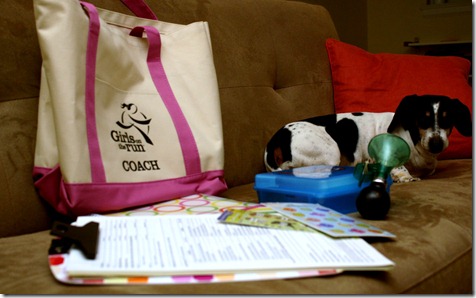 Some "extra" things I am bringing:  a Post-It pad so I can write the receiver of the daily "Energy Award" a positive message to take home.  Oh, and a camera to shoot first-day pictures!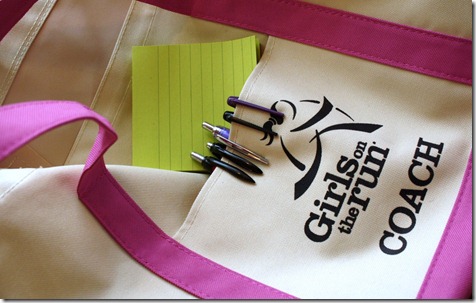 And a horn.  We're going to need it.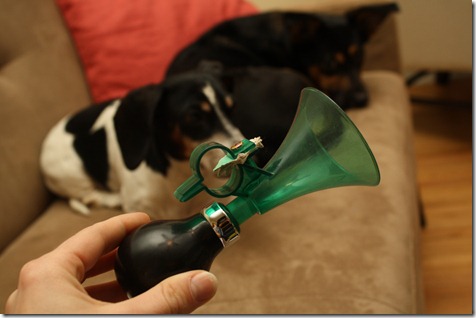 Dinner was an awesome mix of black wild rice, roasted broccoli, and corn/black bean/onion salsa that was leftover from the party.  I smothered everything in creamy balsamic… so good.
Went back for seconds!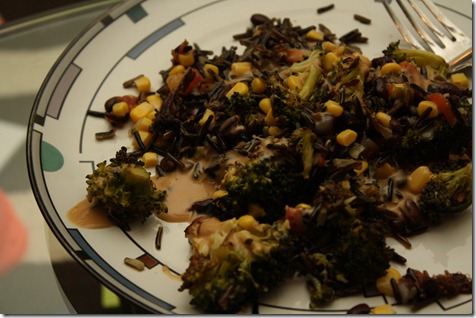 I am absolutely beat, and tomorrow is going to be a BIG day!
Have a lovely evening.  🙂