Everyone poops!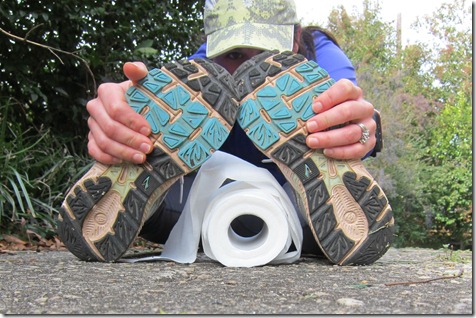 But runners are the lucky ones who get to poop themselves on Mile 20 of a marathon.  :)  Or behind a bush on a training run.  Or in a disgusting port-a-potty.
Runners' trots are just one part of the 'gross' side of running.  I can't tell you how many e-mails I get about chafing, peeing, snot rockets, sweaty butt cracks, and more.  Ain't no shame in the wonderful way our bodies function… but it is possible to minimize embarrassment.  And sometimes gross body functions are a natural way of your body saying something isn't right.
Here are my solutions to the 5 Most Common Running Gross-Outs:
GROSS-OUT #1:  SNOT.  Oh, snot.  You are one of my least-liked things.  Snot is a huge problem during the winter because the cold weather makes your nose go drip, drip, drip… When is pretty cumbersome when you're trying to run, run, run!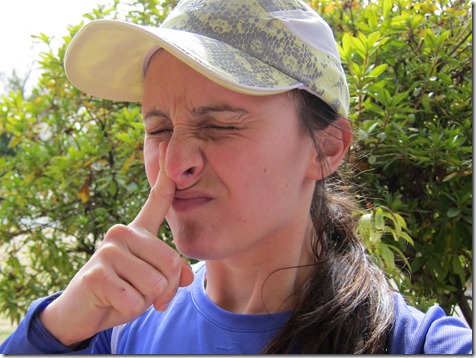 SNOT SOLUTION:  The snot rocket works wonders.  Place one finger over one nostrils, close your mouth, and breathe out through the unplugged nostril as hard as possible.  Aim to the ground and behind you (or you'll hit your foot).  If you're in a race, CHECK BEHIND YOU before doing a snot rocket.  I have been hit by strangers' snot rockets and it is geee-ross.  Alternative to snot rockets:  wipe it on your sleeve.  Why do you think God invented long-sleeved shirts, anyway?
GROSS-OUT #2:  Number Two.  Literally – number two.  Runner's Trots are a big problem for a lot of people.  Whether you're suddenly struck with the urge to GO in the middle of a run or race or you get a nervous, grumbling tummy right before a long run, poop problems are embarrassing.   (Note: I am NOT pooping myself in the photo below.)
POOP SOLUTION:  The causes can be complex, but for most people, it boils down to fueling issues.  Part of your training is figuring out how to eat before, during, and after runs, because you'll need to apply that knowledge to race day.  Different things work for different people.  I usually eat a peanut butter sandwich, a banana, and a cup of coffee an hour before a long run to give myself enough time to 'go.' Other people need more digestion time or have to eat a smaller breakfast and fuel more during the run with Gatorade or Gu packets.  And while I've never literally pooped myself, I have pulled off the side of the road and used a bush as a bathroom – hey, you do what you gotta do.  This Runner's World article is a great read if you've already toyed with nutrition and still can't figure out a solution.
GROSS-OUT #3:  CHAFING.  Chafing is probably my biggest gross-out issue.  I chafe like NO ONE'S BUSINESS during the summer because I am a very salty sweater when it's hot outside.  Chafing hurts a lot and can actually sideline you for a few days if it gets really bad.  I am most prone to chafing around my sport bra and under my arms.  Other people experience chafing in between their thighs.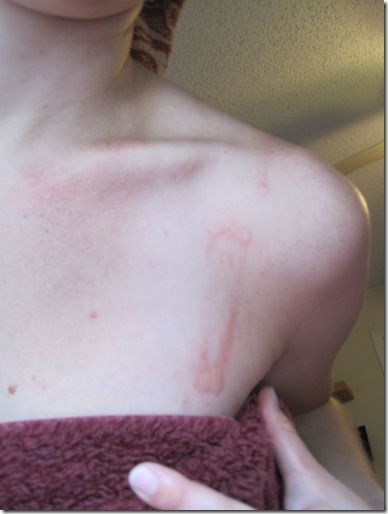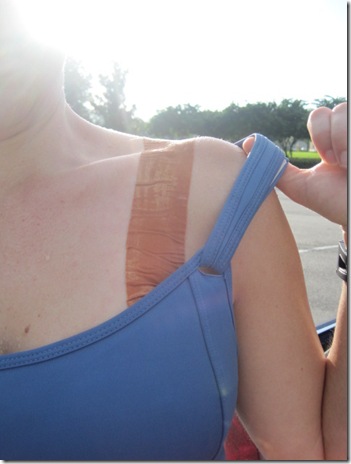 CHAFING SOLUTIONS:  I have tried Vaseline and Body Glide, which you rub into your skin to make it slippery and therefore less likely to burn as it rubs against your other body parts or clothing.  Chap stick also works well in a pinch (and is easy to carry on long runs).  However, I literally sweat through Vaseline and Body Glide if it's very hot out, and I've discovered that lining my chafe areas with athletic tape works wonders (see above).  If you chafe in between your legs, wear spandex shorts underneath your running shorts.
GROSS-OUT #4:  BLISTERS.  Blisters must be avoided at all costs because the bloody, pussing sores can literally force you to quit a race.  Blisters can occur around the shoe or sock line, in between your toes, or on the bottom of your feet.    Note:  the epic blister below is actually Meghann's blister.  She incurred it during a half marathon we ran together – I could not believe she ran through the pain.  I would've curled up into a ball on the side of the course and died.
BLISTER SOLUTIONS:  First, make sure you have properly fitting shoes and sweat-wicking socks.  If blisters persist, you can put moleskin (available in the shoe section at pharmacies or Target) over the troublesome spots.  Moleskin is thick and cushioned and works MUCH better than a band-aid.  You can also coat your feet in Vaseline before putting on your shoes and socks – it really helps!
GROSS-OUT #5:  Number One.  Oh, pee-pee.  I have the world's smallest bladder and running a long race without taking a port-a-potty break to pee is always a challenge.  When I'm running really fast or hard, my body tends to think it's OK to let go of my bladder.  However, I've only actually peed myself once (during this 5K).   Some athletes actually pee themselves on purpose – Frayed Laces refuses to get off the bike during Ironmans to pee, so she literally just pees down her leg (she's so hardcore). At least peeing yourself is less embarrassing than pooping yourself, right?
PEE-PEE SOLUTIONS:  The cause of my bursting bladder during that memorable 5K was over-hydrating in the hour leading up to the race.  I was nervous and felt thirsty, so I slammed two bottles of water right before the race and didn't pee enough before I stepped up to the starting line.  Hydration should occur EVERY DAY, not as a last-ditch effort before a race.  Now I drink two glasses of water before leaving the hour and stop drinking water an hour before the race.  And I always go to the bathroom one last time before the race starts!   Runners World has a great hydration section – as important as it is to hydrate, you can over-hydrate as well so being educated is key!
What is your best running gross-out story?  Do you have any other solutions for these common running gross-outs?  Holler if you've pooped behind a bush!