Hi, friends!  How's your day going?  Honestly, I'm pretty stressed out.  Sometimes I feel like my head is going to explode between running two websites, writing a book, and running an acupuncture clinic.  I don't mean to complain, but it's really just one of those days.
In the past, I always slacked on my workouts when I was feeling stressed out or overscheduled, but I've learned over time that I actually feel better if I sweat it out.  So, although I was too swamped to do the 5.0 miles I had on my calendar, I ran 3.0 and felt awesome for doing so!
Lunch: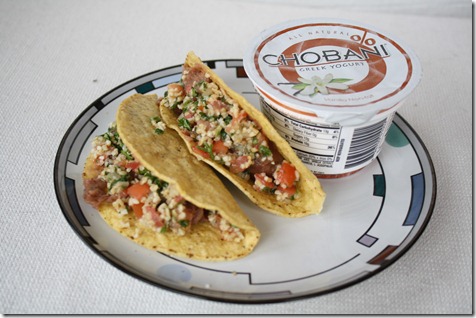 Two tacos stuffed with vegetarian refried beans and tabbouleh.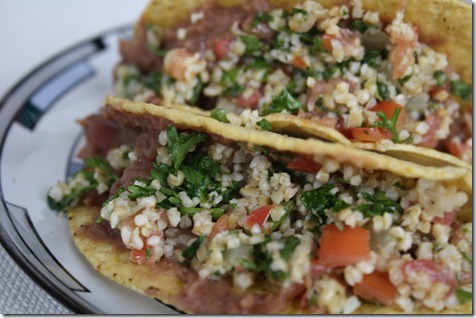 And the yummiest Greek yogurt of all – Chobani vanilla!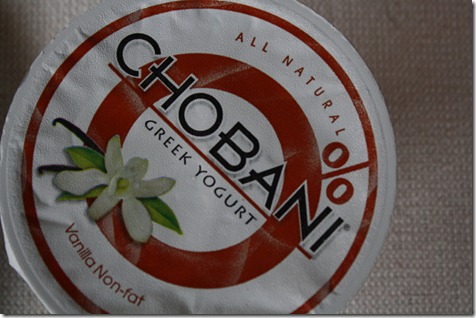 Now, I'm chilling at the clinic and eating some chopped fruit.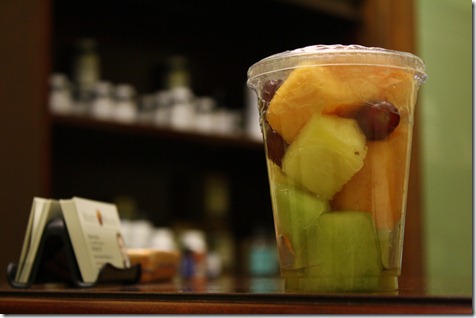 The Great Stinky Workout Clothes Debate
While on my run this morning, I noticed a particular… odor.  "Hmm… Is it trash day?" I thought.  Oh wait – it's just me.  Stinkin' up a storm.
I have a secret to confess.  But let's keep it between you and me.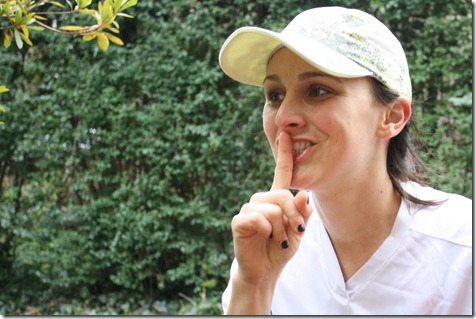 I re-wear my workout clothes… a lot.  Definitely until they are stinky.  I have always done this and probably always will, unless I learn reading the comments that I'm probably going to get Ebola from doing so.
I always re-wear sports bras.  First of all, I only have three good ones, and it's too expensive to buy more.  Secondly, the more you wash them, the faster they lose their support.  Also, I'm just lazy about laundry.  Most of the time, I get at least two uses out of a bra before washing.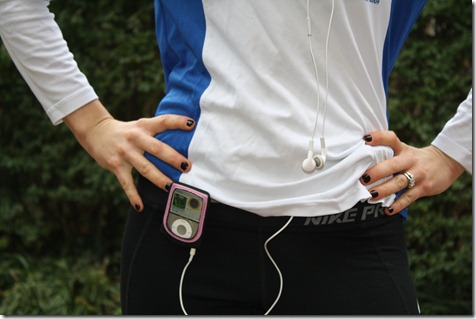 Tops and pants are even worse.  I will re-wear running tights five or six times before I wash them (cue the "ewwwws!"). 
Yeah. I smell.  Whatever.  I'm a runner.  Get used to it!
The only "issue" that I've encountered with my fondness for wearing stinky running clothes is that one old sports bra started to cause really bad breakouts on my back, no matter how many times I washed it.  I guess I had worn it one time too many, so I eventually tossed it and my skin cleared up.  I guess another "issue" is that I'm offending the nose of everyone around me, too. 🙂
Re-wearing workout clothes makes packing for vacation pretty easy because if you're going to do four workouts away, you only need one pair of shorts, two tops, and two sports bras!
One thing I never use twice without washing:  my yoga towel.  It gets drenched during hot yoga and smells completely offense after drying.
My BFF Lauren thinks it's completely heinous that I re-wear workout clothes, especially considering that I'm a heavy sweat-er.  She says she always wears a fresh bra at the minimum.  The Husband tends to side with Lauren, only re-wearing gym shorts but never tops.
So… my secret is out.  I'm a stinky runner.  Are you? 
(YES – this conflicts with my stance on not re-wearing underwear to bed.  I am a woman of many complex contradictions!)
Is it okay to re-wear workout clothes or is this beyond disgusting?  Do you bother to rinse in the sink, hang to dry, and then re-wear?  Or are you one of those clean freaks who uses special athletic detergent to remove the stank from your gear?