Today's lunch (the baked veggie egg roll) really got my gears turning.
Suddenly, this creation came to mind: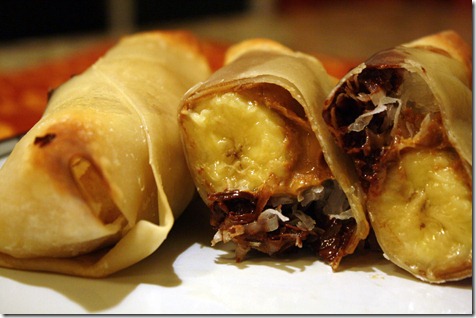 In the center of that egg roll, place:
Half a banana
A punch of coconut
A drizzle of sunflower butter
Two pieces of dark chocolate
Yeah.  It's amazaballs. 
Side note:
Has anyone seen the BBC show Last Woman Standing?
Description: Each episode begins with the contestants being introduced to a new indigenous society, meeting the local elder or head man. The contestants are introduced to the sport they will be competing in. They must board and eat with the villagers, and help out with village chores while being trained by the villagers, both for general fitness, and in techniques required for the particular sport. Competitors often undertake local rituals or traditions, such as ceremonial dancing, the wearing of tribal clothing, body painting, medicinal treatments, ritual tests of strength or courage, and the offering up of prayers or offerings to local gods or spirits.
It makes me want to go do an endurance race or something cra-azy.  Guess Rugged Maniac will have to do (off to do my push ups like a good future maniac!).