Hey!  It snowed while we were away.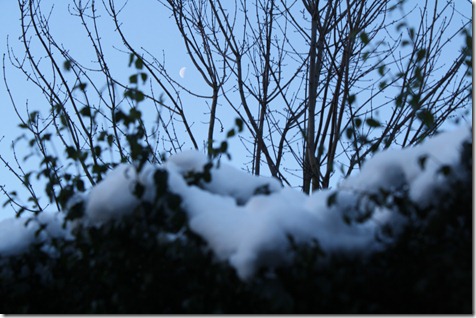 The dogs are freaking out.  Maggie is only three inches off the ground.  She does not like snow!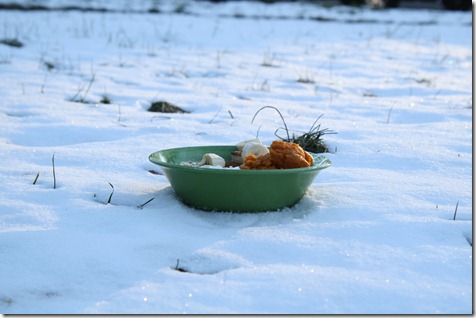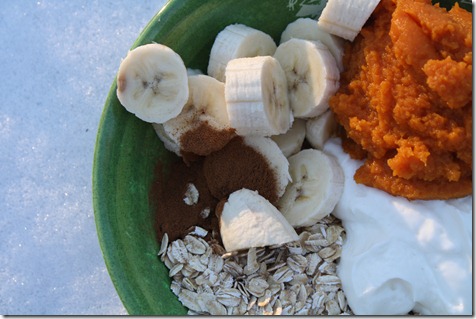 In the mix:
1/2 cup raw oats
Greek yogurt (honey)
Banana
Cinnamon
Canned Pumpkin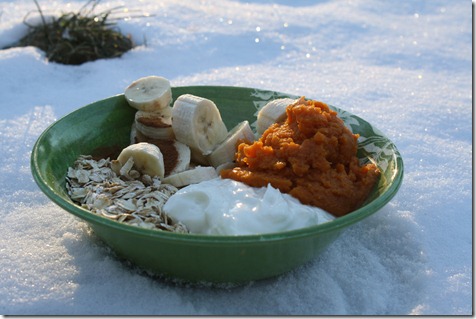 Thanks so much for offering up tips for getting over my mental and physical athletic rut.  Yesterday, I wrote, "Exercising, while I still love to do it when I'm out there, feels like such a chore initially.  I'm not sure if it's post-marathon blues, my first winter in Charlotte, burnout, a nagging minor IT band/knee injury, or what – but I cannot get myself mentally excited about exercise lately!" 
Here is a selection of the advice in the comments section (click to read more)!:
Beth:  I find that when I set small, very attainable goals for myself, I am super motivated and usually exceed them. For example, I normally shoot to workout 4-5 times a week, but because of the holidays I've brought that goal down to 2-3 times a week. When I was still aiming for 5x a week, I was barely going at all, but now that I'm aiming for 2-3 times, I'm going 4+ a week. I know its kind of strange to try to mentally trick myself, but it works for me!
Katie (+ Many Others):  I'm wondering if exercising with other people would be a boost? I just discovered a boot camp in my area and I'm loving it. Getting up early (class is 5:30-6:30) is challenging. But there are all these other women there doing the same thing. And just like me they have to run off at the end of class to get kids up and to school and then get themselves to work. So, the group inspires me.
Ilana: Put a moratorium on running and try something new, something challenging. My trick is to try something I don't necessarily think I'll be good at.
Jennifer:  I make a playlist of songs that I know will get my butt moving. Songs that I used during my first half when I didn't think I had anything left to give usually do the trick. They make me think about that time and how proud I was of myself.
Michelle: There have been many times when I did not feel like running, and it went on for weeks. So I dialed back the running big time! If I didn't want to run, I didn't want to force myself. It's ruts and times like this (when you don't want to run) that make you eventually really enjoy it when you get back into the swing of things! So maybe for a week you should NOT RUN at all.
Molly: To make the treadmill or elliptical exciting for me, I plan my gym workouts around a show I want to watch. I actually got rid of my tv a few years ago, so if I want to watch, I better get my butt down to the gym. It works great because every night I can watch House Hunters from 7-8 or catch the news in the mornings (or sometimes just watch VH1 and listen to new artists on Jump Start).
Kathy in Chicago: "There is no such thing as bad weather, only bad clothing." Yesterday it was 25 degrees in Chicago, and I went for a wonderful bike ride. I usually ride in a long sleeve T & a heavy sweatshirt, & a turtleneck scarf that is made of something like polar fleece. My bottoms are these awesome super warm athletic pants. The only thing that pulls me back inside are my cold hands, but I use cashmere lined gloves & I'm toasty. I can ride in this outfit for about 45 minutes even when the temperature drops to 10 degrees.
Regarding the theories that I should not "force it" and just "take some time off," I've pretty much been doing that since my October 30 Marathon (when the slump began!).  I do think giving our bodies rest is super important, but its been two months! I also believe in the theory of reverse workout inertia, which means you have to start establishing (or re-establishing) the workout habit consciously to get the ball rollin'.   Within reason, of course.  
So this means that even if I feel like I'm in a rut, I just have to force myself to do the workout schedule I want to do for two weeks or so, and then I start to internally motivate myself to do it when I feel the benefits.  If I just sit around waiting to get internally motivated, it will never happen (House Hunters is way too exciting). That's just how it works for me, though! Everyone is different.
Do you believe in reverse workout inertia?  Or do you prefer to let internal motivation kick in first?