My tummy feels a little off (please, oh please – I hope I didn't pick up a bug in the airport); however, my taste buds are working just fine. :)  Hence, this very awesome hot side salad.
The B Sprout Salad!
This side is packed with a variety of flavors… it's both spicy and sweet, savory and fruity.  I loved it!  This would be an excellent dinner party side.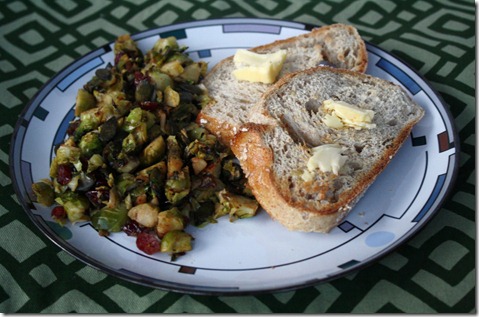 I had a big portion with some toast and buttah (my appetite is pretty low so dinner was light).  Oh bread, I love thee.
Okay – the recipe!
The B Sprout Salad
Ingredients:
1/2 pound of Brussel sprouts
1 cup water
1/2 tablespoon olive oil
1/2 cup pumpkin seeds
1/4 cup craisins
4 heavy sprinkles of chili powder
2 heavy sprinkles of pepper
Salt to taste
Directions:
Wash sprouts and finely chop them.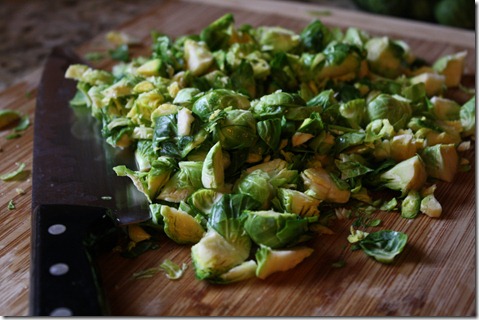 Pour water into wok and add sprouts.  Bring to a medium high light boil and add all the spices and oil.  Cook for 10 minutes.
Add pumpkin seeds and raspberries and cook on medium high for another 10 minutes or until all the water boils off.
When it starts to sear and smell like Brussel sprouts, it's done. 🙂
Plate and serve!
Such a great side!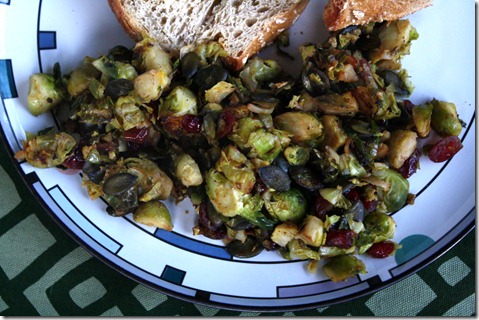 And although my tummy hurt to much for a big dinner, it had room for dessert.  Because I actually have two stomachs, one for meals and one for desserts.  Or at least, this is what I always use to tell my parents.  Don't you have a dessert stomach?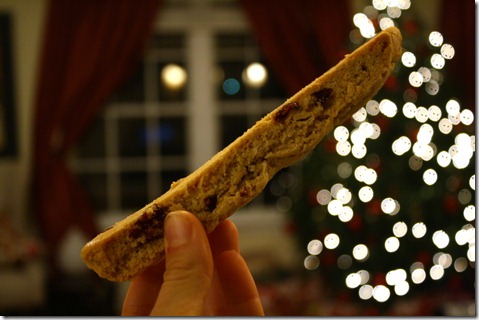 I ended up eating 2.5 of these AMAZING orange cranberry white chocolate biscotti from Jen (which froze EXCELLENTLY… I received them at the cookie exchange last week).   I am going to make these… this weekend!?  Basically ASAP.  So delicious!