Morning!
Everyone in our house had a bit of an alcohol- and sugar-related hangover this morning.  Well, actually – our festivities lasted so late last night that I'm pretty sure those ill effects began to set in at 8 PM.  We had a huge Christmas dinner, drank lots of Bailey's and coffee, ate chocolate pudding, and then I was in bed by 9:30!
The Husband stumbled into the living room this morning moaned, "I want breaaaakfast.  Just anything but alcohol and sugar."
So, we made a post-Christmas breakfast: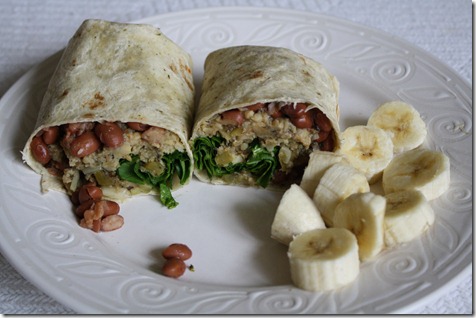 A whole wheat burrito with leftover apple and squash stuffing, rinsed and drained pinto beans, and spinach.  I made the meat-eaters of a house this same burrito with turkey instead of beans.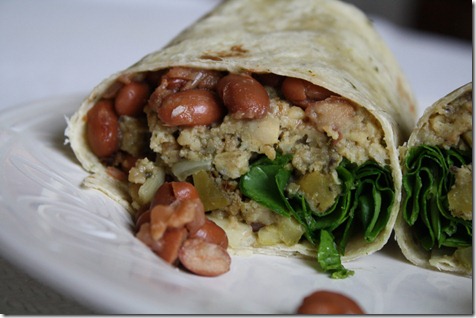 And about half a banana: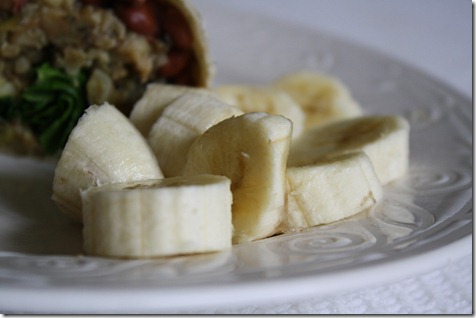 Other great leftover wrap ingredients:
Cheesy broccoli
Wild rice
Cranberry sauce
Sweet potato casserole
Grilled vegetables
Pumpkin pie <– seriously
One Healthy Addition
Although I can't give you a complete new list of healthy swaps and additions, I do have one addition to tell you about.  :)  Lately, I've been making an effort to drink 2 – 3 cups of hot lemon water throughout the day.  The Husband (a Doctor of Oriental Medicine) says that lemon has a detoxifying effect on the body, especially the gall bladder.  It's also suppose to aid digestion.  I've only been doing it for about a week, so I'm not sure if it's 'working.'  However, I did drink two huge glasses of hot lemon water this morning and woke up feeling a lot better than I would've normally!
Off to get some exercise in!  The temperature here is dropping rapidly, and it's getting so cold outside!