Here's something awesome: a married couple (accidentally) getting a hotel room with two full beds.  I slept all alone and had the best night's sleep in… months!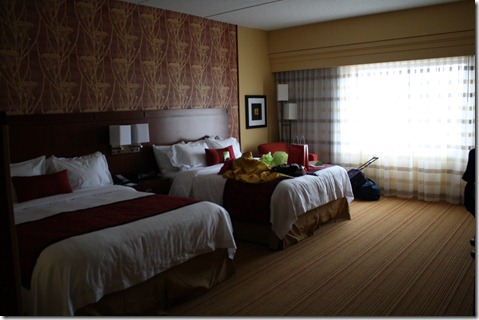 🙂
The entire trip to Hagerstown has been such a whirlwind of excitement (did you see the results?!).  We woke up bright and early to drive back to Baltimore and catch a flight home.
We stopped off at the hotel's breakfast bar for a to-go meal.  I was excited to see oatmeal on the menu!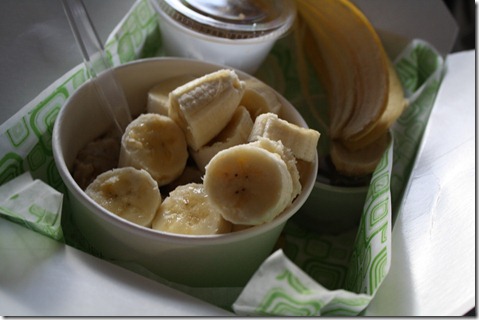 I got a giant bowl of steel cut oats, which I topped with brown sugar and a sliced banana.  Just like I would make at home!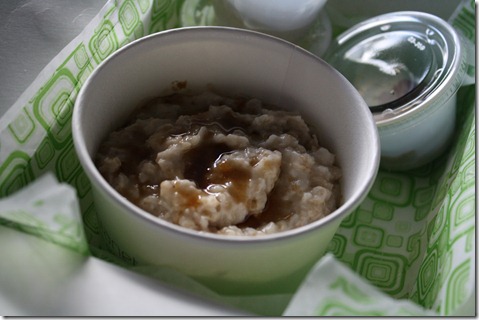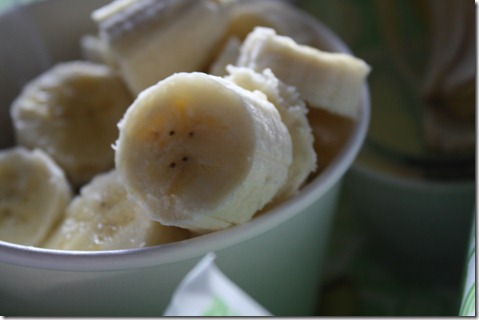 Our flights are from 12 – 3 PM, so I knew we needed to eat lunch before we got on board or take it on the flight with us.
Let the hunt of vegetarian and healthy airport options begin…
We checked out a few Italian places, a Quinzos, a McDonald's, and a cafe, but we finally settled on the Green Turtle restaurant because there was a veggie wrap on the menu.
Bloggin', yo.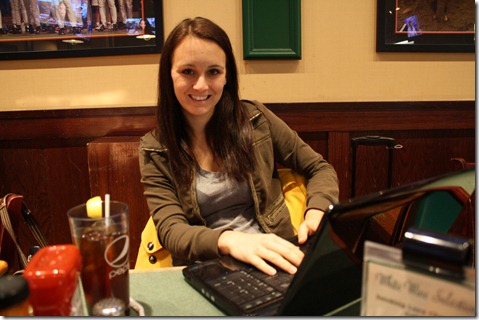 Unfortunately, the veggie wrap had avocado (and not much else) in it – and I'm super allergic to avocado (I hear I'm missing out on something amazing).  So I opted for the egg wrap.
I was craving a really healthy lunch, but this was the best the Baltimore Airport D Concourse could turn up for me.  I asked about a fruit side, but the waitress said the fruit was a lost cause because it was soaked in corn syrup.  At least it tasted good!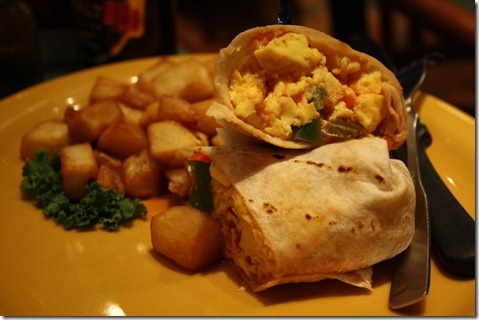 I wanted to eat something healthy for lunch because my body was craving it… not because I felt guilty for something.
I was thinking this morning about healthy eating and guilt during the holidays and wanted to share my thoughts on the subject.  I've been getting a bunch of press release emails and newsletter blasts about "How Not to Gain Weight During the Holidays!" and "Avoid Holiday Party Weight Gain!" 
First of all, if you make a halfway effort to eat healthy throughout the holidays, you're not going to enter the New Year with a fitness disaster on your hands.  Secondly… and I really mean this… if I gain 5 pounds over the holidays, who CARES?  It's the freaking holidays! I know for a fact I've gained weight over the last two months (I don't weigh myself but my pants are tight), but I just remind myself when I look into the mirror that, in the grand scheme of life, it's not that big of a deal. 
I am so tired of these "How Not to Gain Weight During the Holidays!" emails because, to me, they are promoting a style of guilt-driven living.  Instead of just enjoying the holiday season and all the yummy treats that come with it, these emails suggest we should be overly focused on maintaining a strict diet. 
My motto? Focus on eating healthy for "un-special" meals because it makes your body FEEL good.  Enjoy your life at holiday parties and dinners.  That's what the holidays are all about.  I refuse to life a live driven by guilt.  I want to make healthy choices overall because it makes me happy. 
(There seems to be a bit of confusion in the comments section so I just want to re-summarize my thoughts:  my issue with these emails is that they infuse a sense of guilt into eating, which I think it is 1) dangerous and unhealthy and 2) pointless because it's the holidays and good food is part of the celebration.  As I stated above, I think you should strive to eat balanced meals the vast majority of the time all year, but there's no sense in these guilt-driven 'tips' that serve to batter our self-esteem and make us overly focused on calories vs. satiety and celebrating.  I'm not suggesting it OK to enter into a downward spiral of binge eating, obviously.  But these articles act like it's the end of the world if you gain a few pounds and it's really not.  We need to get over the mentally that it is.  This is obviously just my opinion and my personal reaction to reading these articles!  They make me feel guilty and I don't want to live like that.  I would love to hear your thoughts, too!)
Who's with me?  Anyone else tired of the guilt-driven mentality?