Lookie!  I actually packed my running clothes for this trip.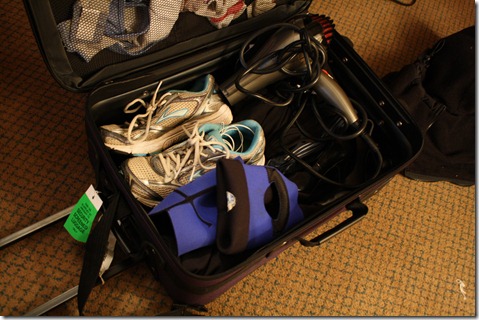 But I didn't use them.  🙂
I REALLY considered waking up early to run on the hotel treadmill, but that seemed mildly torturous on many levels (alarm clock + dreadmill = uuuuugh!).  So instead, I slept in and plan to run when I get back to Charlotte.  Should've just kept my shoes at home and made my suitcase lighter!  I KNOW I never workout during short out-and-back trips. 
I checked out the continental breakfast before leaving my hotel, but it was pretty lackluster, so I just snagged an apple and coffee.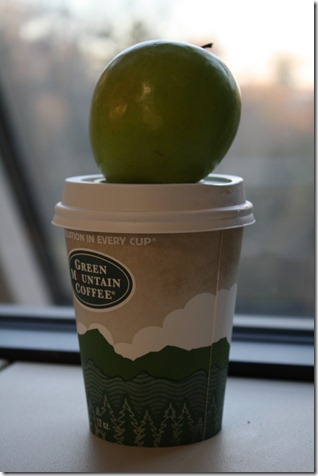 I'm currently chilling in the Philly airport, happy to conclude a whirlwind month of traveling for work.  In November, I've flown on 6 flights + drove 8 hours in one day for work.  I love doing presentations, but I'm not a fan of traveling.  :)  When are we going to invent that teleportation device!?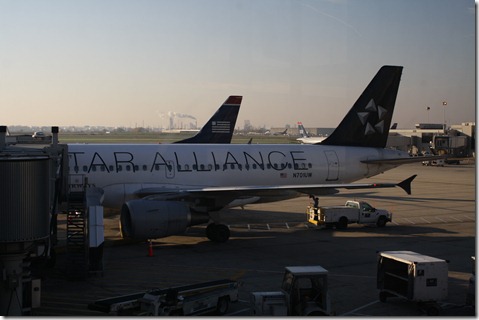 At the airport, I resisted the very strong urge to go to the XpresSpa and get my nails and brows done.  Whoever invented in-airport spas was a genius, don't you think?
Onwards to breakfast: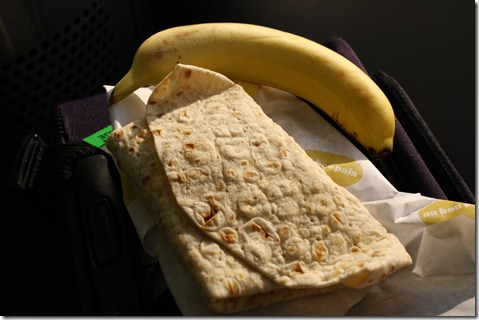 An egg, cheddar, and spinach wrap from Au Bon Pain.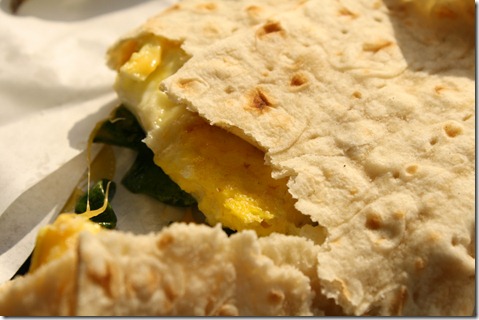 And a banana.
Healthy living tips that I've learned (the hard way) from traveling so much this month:
Starbucks has some really healthy options when you're in a pinch (Perfect Oatmeal, Vivanno smoothies)
Plan ahead!  Exercise before you leave on a really short business trip because, if you're like me, you probably won't have the time or energy to do so on location.
Carry a stash of bars and fruit in your bag.  Continental breakfasts are great place to snag free fruit for later.
Although a full workout might not be possible, you can do the 100 push-ups and 200 situps challenge in your hotel room!
Research your hotel area beforehand for fun and healthy food options.  My hotel offered a traditional English Afternoon tea, and I would've loved to go but it required reservations. 🙁
Hit up the grocery store on location and stock up on fruit, yogurt, and other snacks (especially handy if you have a fridge in your hotel room).
Bring a reusable water bottle with you, and chug that H20. 
Wash your hands…all…the…time… so you don't get sick from touching hotel elevator buttons, handrails, airport bathrooms, etc.
The Ambiance app for iPhones will create awesome 'white noise' and block out all the creepy hotel noises so you can actually sleep.
What healthy tips have you discovered while traveling for work (or pleasure)?