Another week, another flight, another Operation Beautiful presentation!  This time it's at Villanova University (open to students only). 
But first – I wanted to list a few of the freezer-friendly recipes you all recommended that I try to make my work weeks less hectic:
And I also wanted to announce that the Lululemon Raffle for Girls on the Run raised $1,088!  Marie S. won the grand prize.  Congrats!
Let's see… the rush to the airport was horrible this morning.  I was totally late and only had time to grab this for a snack.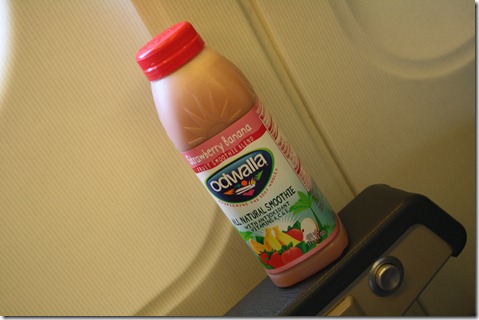 I read this on the airplane, which made me happy considering I did a 20 minute run this morning.  🙂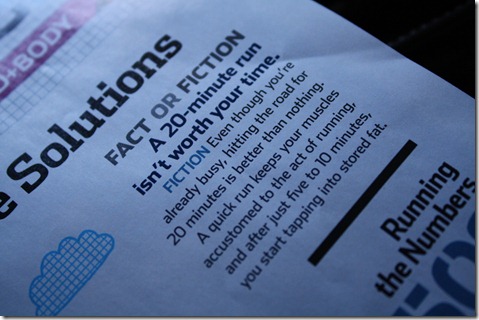 By the time I arrived at my lovely hotel room, I was starving.  The restaurant was closed, so I ordered in takeout.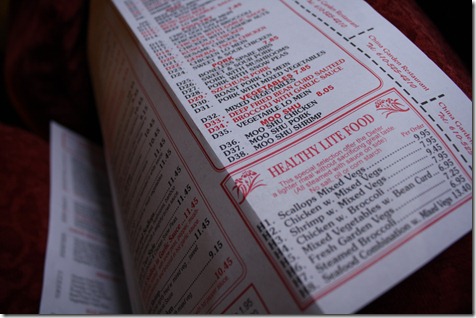 Yes, more Chinese.
I ordered steamed broccoli and tofu.  The tofu was a little overkill – probably a whole block!  I ate about 1/5 of the tofu, all of the broccoli, and over half the container of white rice.  The brown sauce helped make it more flavorful.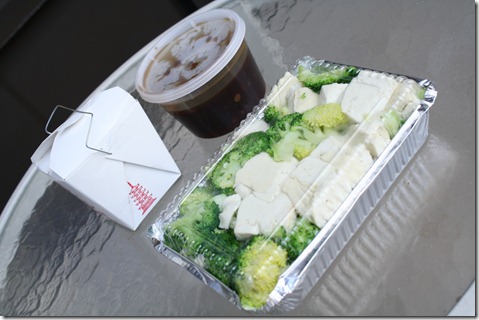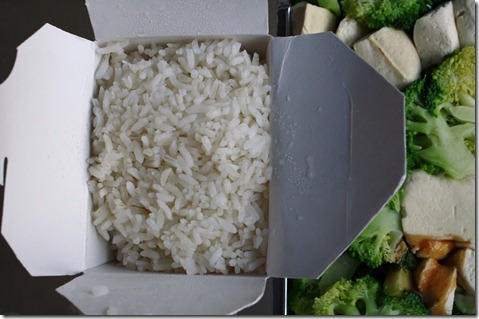 Debate Time:  The Unsettling Case of Michael Vick
I figured now would be an awesome time to talk about Michael Vick, as I'm currently in Philadelphia!  The Husband and I have been discussing this a lot lately because he's a HUGE Eagles fan.  If you didn't know, Michael Vick is the Eagles (awesome) quarterback but recently served nearly two years in prison for federal convictions relating to running a dog-fighting ring.
Facts (from Wikipedia and The Lost Dogs):
In April 2007, Vick was implicated in an illegal interstate dog fighting ring that had operated over five years. In August 2007, he pleaded guilty to federal felony charges and served 21 months in prison, followed by two months in home confinement. With the loss of his NFL salary and product endorsement deals, combined with previous financial mismanagement, Vick filed for Chapter 11 bankruptcy in July 2008. Falcons owner Arthur Blank did not want Vick on the Falcons, and after attempts to trade him failed, Vick was released. He signed with the Philadelphia Eagles and was reinstated in Week 3 of the 2009 season.
Vick actually murdered some of the dogs with his own two hands, including slamming one of the dogs into the ground until it died.
He served 23 months of prison time and only got 9 days off for good behavior.
Michael Vick had to pay nearly $1 MILLION into an escrow to fund the dogs rehab and medical bills.
Out of the 49 dogs seized by the police, 48 were deemed eligible to be put into long-term shelters or adopted.
I recently read this AWESOME book called The Lost Dogs.  The book tells the story of what happened to Vick's dogs in the kennel and what became of them when they were released.   You would be happy to hear, I'm sure, that most went to live with loving families who understand that pit bulls are not inherently bad creatures (I personally LOVE pits).
(Source)
So, this debate is more serious than the ones we usually have on Healthy Tipping Point, but I am really interested to hear your thoughts because the Husband and I are really struggling with the Michael Vick issue. 
Here are my thoughts:
I honestly consider animal abuse akin to child abuse and think that people who torture and kill animals are serious, dangerous criminals.
After reading The Lost Dogs and knowing how bad it was, every time I see Michael Vick on TV, I want to vomit.  The things he did was horrible, and I think he should've been jailed for way more than two years.
However, another part of me believes in our criminal justice system, which says once you pay the time, you have done your dues to society.  Michael Vick certainly paid his time, as decided by a court of law, and paid $1 million for the dogs' care.  With the exception of sexual predators (who I believed should be monitored for life), I think everyone should get a second chance in our community.  I actually think this is VERY important because this is the way our legal system must work.  Convicts are people, too, and they deserve to work.
HOWEVER (and this is the question that I wrestle with), does a second chance mean that Michael Vick should be hired by an NFL team and made into a superstar?  What kind of example does this show for our children? If my Husband committed a felony,  he would not be able to practice medicine, even after he got out a jail.  A teacher would lose her job if she committed a felony.
At the end of the day, I guess my thoughts are:  Michael Vick paid his time, and now he deserves a second chance in society – BUT that doesn't mean that I would hire him as a quarterback if I owned an NFL team, even if it meant winning the Superbowl (for the Eagles, it might).  It would leave a bad taste in my mouth.
So – what do you think? Are you an Eagles fan?  How do you feel about Michael Vick?  Do you want your sports stars to be "victorious AND virtuous" or do you just want to win?  What crimes would be totally unpermissible for an NFL player to commit?