I took the morning off to drive with my Dad to a little town called Colfax to get a replacement window for his RV.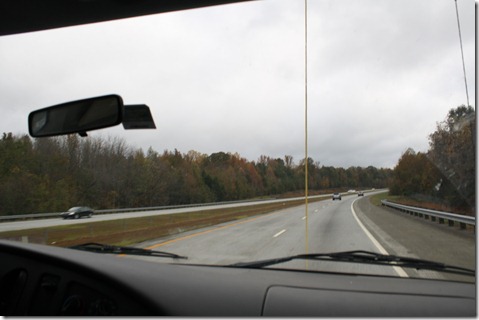 He drove, I entertained.
It was a pretty simple drive:  90 miles northeast, pay for the new window, get back in the car, drive 90 miles home. 
We did, however, stop for food: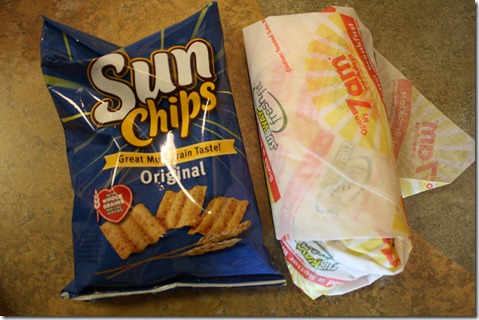 I had a whole wheat sub with melted cheddar cheese, spinach, onions, pickles, tomatoes, and cucumbers.  Plus Sun Chips – my fav!
On the way back, I mentioned that we needed to stop at Target.  Right as we began to pull into the garage, I mentioned, "Are you sure this van is going to fit?"  See, not only does DadHTP have a tall van, but he also has a 17-foot long kayak on top.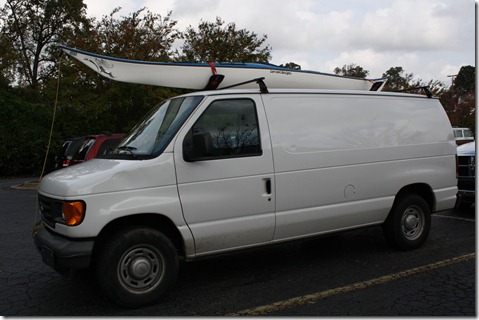 I got my answer when a BANG, BANG, CRAAAASH erupted from the roof as the kayak scraped across the ceiling of the parking garage and fell in heap behind us.  Thank goodness another car wasn't there!
So, after picking the kayak off the floor of the parking garage (and watching the Target employees nearly pass out in laughter), we hauled the kayak in the back, drove home with it sticking out the door, and spent the rest of the morning trying to repair the mount on top.
Lesson learned! 
I need a coffee.