Previous marathon training long runs:
Yayyyy! Fall running RULES!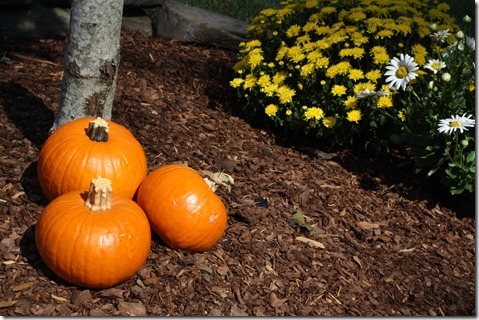 I had to dig through the back of my workout clothes drawer to find one of my three long-sleeved workout tees!  It was super chilly this morning when I left for my 17.0 mile run.  I even wore another shirt UNDER my long sleeve shirt, but I shed it around Mile 9.0.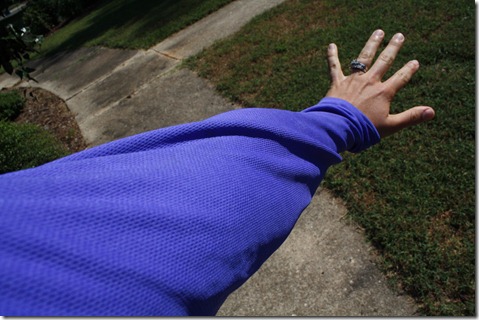 However, it's not yet WINTER because I still could wear shorts.  :)  I'm going to have to head to the running store and plunk down some serious cash for some actual winter running pants.  Everything I own is made for running in Central Florida!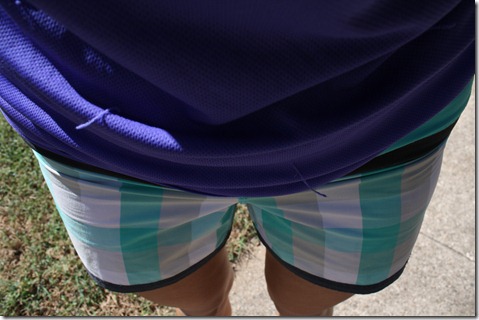 This morning's run started off like ALL long runs – I really recommend getting into a routine with your longer (which is a relative term, of course) runs because it definitely makes race day go a lot smoother if you know what to eat, what to drink, when to use the bathroom, etc. 
PB and banana sandwich, down the hatch!  Plus a coffee and a big water.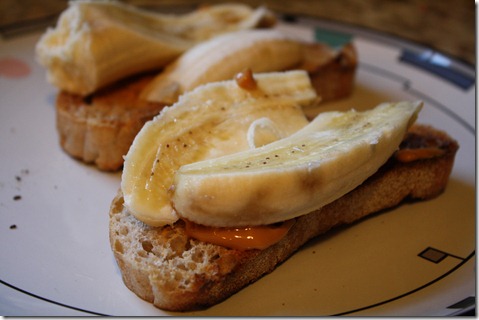 I had trouble getting motivated to leave the house, but some inspirational tweets from fellow bloggers got me moving.  Also, I had not one but TWO running dates with friends.  Even if your friends aren't running the distance you're tackling (or the reverse), you can always meet up and do a few miles together.
My rest date was with a reader named Mary.  She was so nice!  We ran 5.0 miles together, and it set a great tone for the rest of my run.  The miles flew by when I was with Mary because we had plenty to chat about.
When we parted, I stopped into the grocery store to grab a large Powerade, and then I ran back to my house to drop it off on the porch.  I looped back three times during the rest of my run to refill my water bottle and consumed about 150 calories in Powerade.  I also ate a Mint Chocolate Gu (which actually tasted pretty good) around Mile 12.0.  It seems that 250 – 300 calories is the "magic number" for me on runs from 15 – 18 miles.  I don't get too hungry or feel too full, and I never feel weak.  I'd rather eat most of my long run calories back in "real food" anyway.
At Mile 10.0, I met up with Nicole!  I was so happy to see her since I was started to feel a little bored.  I told her that I was feeling really good and she was happy for me!  My long run last week was SOOOOO HORRENDOUS due to 1) exhaustion; 2) the heat; 3) the humidity; and 4) my attitude.   Today's 17-miler was so much better! I hope the weather for the marathon (in 27 DAYS!) is just as nice as it was today.
Nicole and I did 4.0 miles together, and then I wrapped up another 3.0 on my own!  I even managed to pick up my pace a little at the end.  I felt like I could've kept going, too (which is a very, very, VERY good sign).
Distance: 17.0 miles
Duration: 2:58:05
Average Pace: 10:29 <— right on pace for my dream marathon pace!
I fantasized about this breakfast for the entire run!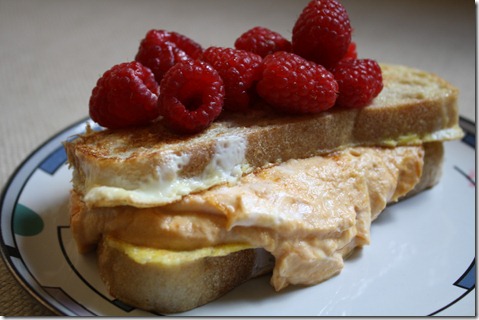 Wouldn't you be fantasizing about THIS?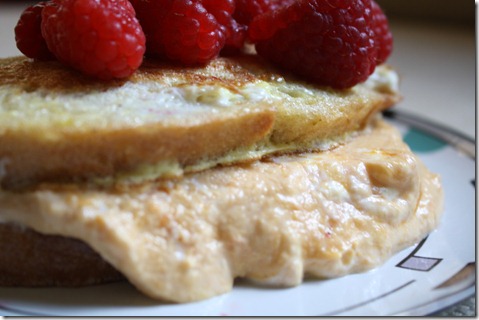 I made French toast and smashed Pumpkin Yogurt in between.  It was so delicious.  I literally licked my plate clean.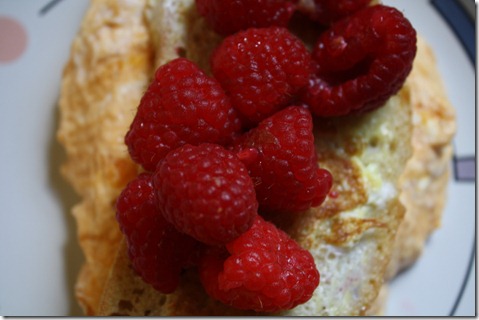 Topping with a heap of raspberries!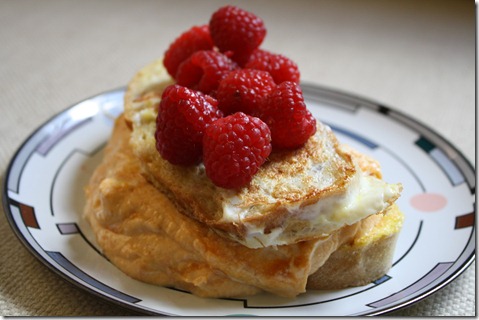 I'm grinning from ear to ear today!  Having a strong run is such a confidence boost before my race!
Any recommendations for cold weather running gear?