It's really too bad that Kath moved from Charlotte the month I moved to the city!  I've "known" her since she started her blog (I was a voracious commenter – "CaitlinBo"), and we became in real life friends about two years ago when I started my blog. She's really fun and sweet.  I am very happy that Kath + Matt are visiting town this weekend! 
But… I do not enjoy waking up early.   Ever.  The only things I'll really wake up early for (willingly) are:  flights for tropical vacations; races; and long runs.  So when Kath suggested 7:30 AM Super Flow yoga, I grudgingly agreed.  Only for out-of-town friends!! 🙂
Pre-yoga light breakfast of Greek yogurt + berries: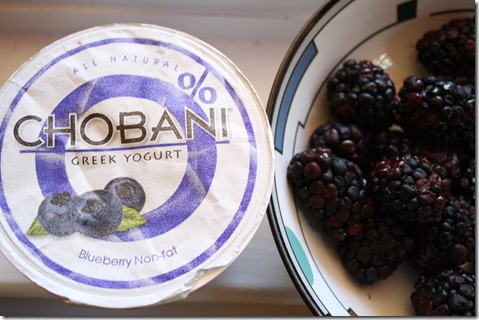 Super Flow at Y2Yoga has a reputation in Charlotte for being the city's hardest vinyasa class.  It's a hot class and so, so fast.  Since I'm recovering from yesterday's run, I knew I wouldn't be able (or should) go balls to the yoga mat.  I went into the class planning to spend half of the 90-minute Super Flow class in child's pose – and I pretty much did.
Class was SUPAHARD.  I really want to go back when I can give it my all because it was such an aerobic and challenging class (well, at least it seemed that way as I laid with my forehead pressed against the sweaty floor).    Just like there's no shame in walking during races, there's no shame in child's pose during yoga!
Post-class, Nicole, Cassandra, Kath, Matt, and I went to Starbucks for some caffeine.  My eyes were still tiny little slits, even after a 90 minute yoga class.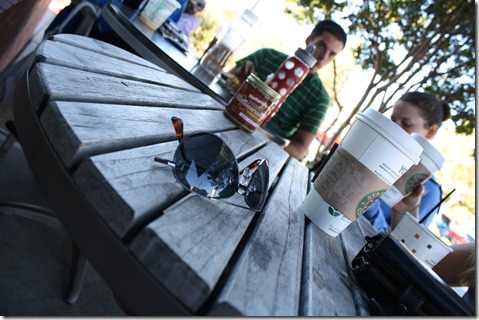 English muffin + egg + cheese breakfast sammie (side note for other vegetarians:  the breakfast sandwiches are pre-made with meat that they pluck off if you don't want the sausage.  Just a heads up in case that bothers you.) + a latte.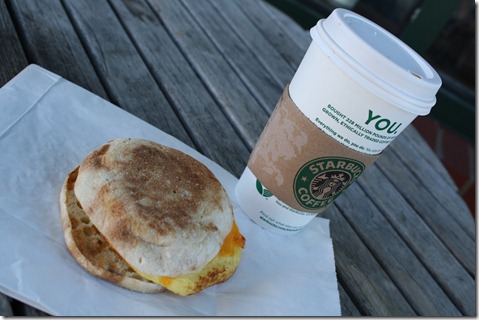 Chat, chat, chat away.
I was the only one silly enough not to bring 1) a change of clothes or 2) a jacket (in my sleepy stupor I forgot it when I left the house).  I had goose pimples on my arms the entire time!  I came home and took the longest, hottest shower.
Lunch featured the return of Bone Suckin' Sauce: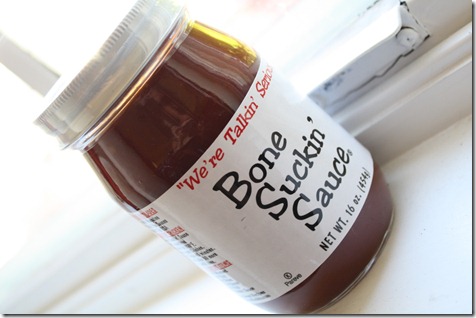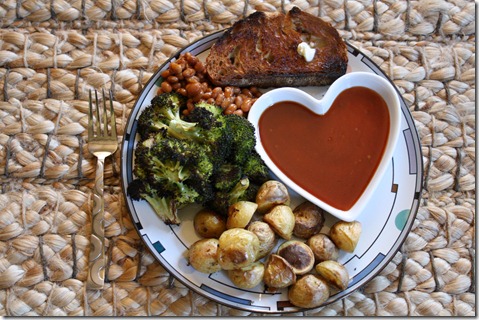 Roasted potato, broccoli, baked beans, and bread.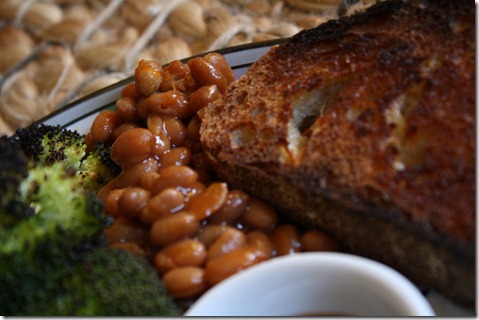 In other news…
I'm flying to New York City tonight for a presentation to the Ally Katzz Tween Summit.  I'm talking to parents about Operation Beautiful.  Somehow I managed to fit all my stuff (including my travel computer and camera) in this little bag: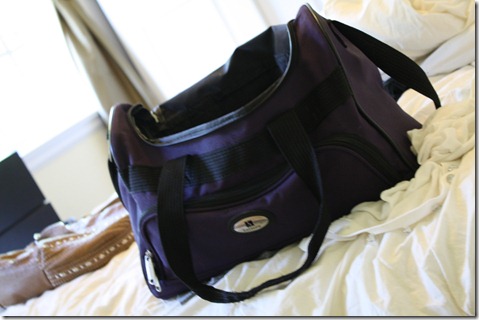 I'm only going to be in the city for 24 hours so my plan is to land, check into my hotel, go to bed, wake up, go to the Summit, sign books, present to parents, leave the Summit, go to the airport, fly home.
Seeya in the BIG APPLE!
Are you a morning person?  What motivates you to wake up early?