Morning!  I woke up early so I could make it to an AM Mixed Power yoga class.  It was a new teacher for me, and I loved the music she played – lots of Snow Patrol!
Last week, I invested in a Yogitoes towel.  For a long, long time, I thought Yogitoes were a complete rip-off – they are about $50+ – but I finally broke down and bought one because I noticed that nearly everyone in the studio used one.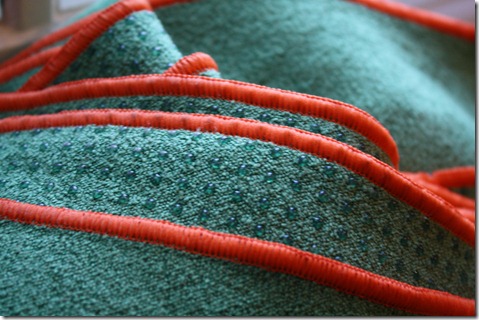 Since the classes are pretty much all 'hot' yoga classes, I'm dripping with the sweat the entire time, and it's really slippery!  I was used a regular towel, but I started to notice that I could NOT get the stank out of the towels even after washing them a few times.
Love, love, love Yogitoes!  The rubber beads on the bottom of the towel stick to the mat and prevent slipping; it's machine washable; and it hasn't gotten stinky yet (though four classes and three washes).  The towel has a solid orange dot at the top of the mat, and it serves as an excellent focal point during balance poses.
Pre-yoga, I had a simple cereal bowl: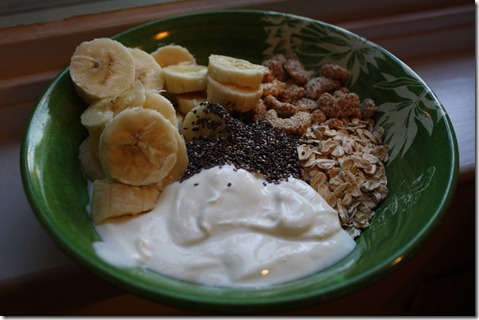 In the mix:
Greek yogurt
Chia seeds
Raw oatmeal
Banana
Sesame cashews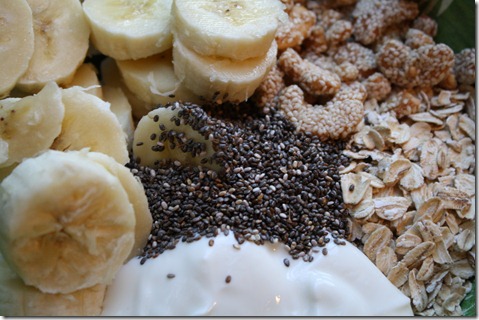 Off to be productive!
Was one piece of workout equipment or gear that you originally deemed "a waste of money" but now cannot live without?  I kind of feel that way about my GPS watch… It was worth every pricey penny!