STRENGTH!
I'm in the middle of training for marathon #2, and this time around, I'm focused on strength.  More than anything, I want to come up to that start line feeling strong and capable.
Cue: Terminator Face (greatly assisted by Terminator Sunglasses).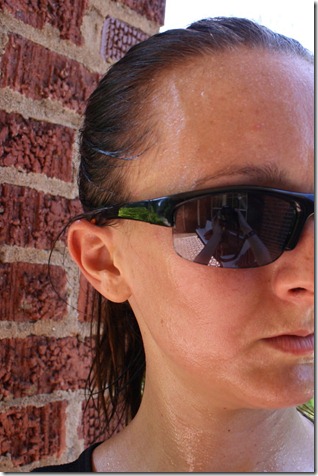 My path to strength?  Running (obviously), lots of hot yoga, and HILL WORK.  The marathon – which is on December 11 – is a very, very hilly marathon, with several emotionally and physically wrenching climbs.

Please note the nearly 1.5-mile assent at Mile 11.5 and the gut-churning 2-mile climb at Mile 20.0 (What sicko designed this course? And who is stupid enough to sign up?).
I'm trying to work in several shorter runs each week during which I mimic these long, slow climbs.  Today's run involved a 1.5-mile climb that nearly brought me to my knees.
Distance: 5.0 miles
Duration: 49:12
Mile 1: 10:05
Mile 2: 9:25
Mile 3: 10:00 <—hill
Mile 4: 9:59 <—hill
Mile 5: 9:44
Oh, and – I finally found a sunscreen that doesn't sweat off when I run.
Unfortunately, sunblock sprays kind of freak me out (I'm afraid of breathing the fumes), so applying this stuff involves lots of hold-my-breath and jump-from-one-side-of-the-lawn-to-the-next.
Pre-run snack: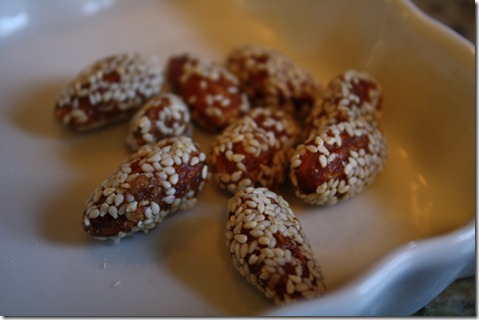 Post-run lunch: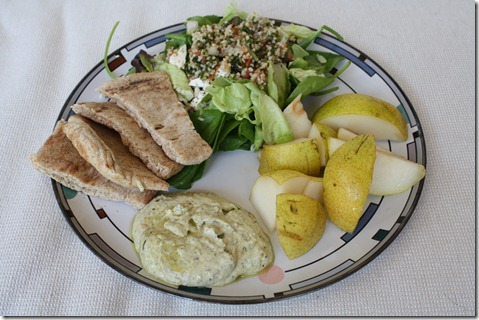 Whole wheat naan with a giant glob of White Bean and Basil hummus, which might be the most amazing hummus I've ever had: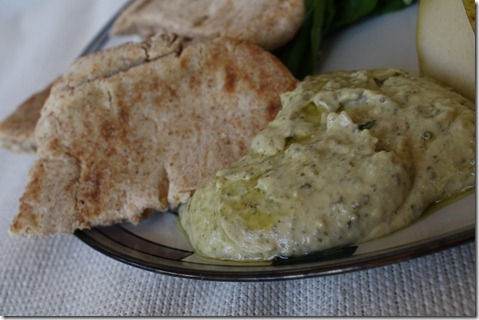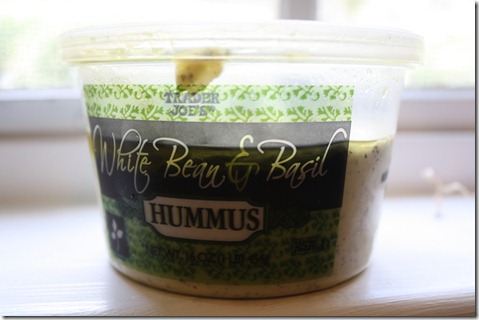 Side salad with tabbouli and feta:
And a pear:
What workout makes you feel strong?  Even if a workout is hard, remember you're building endurance and muscle – thus getting stronger!