Somehow, I survived my horrendous long run this morning.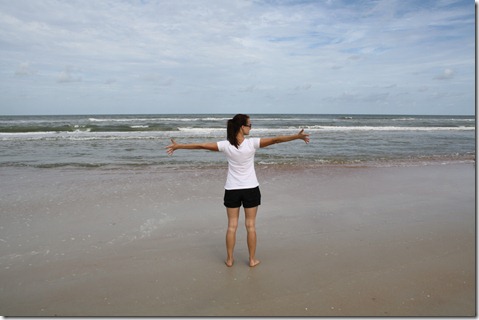 It was rough.  I really didn't know if I was going to make it through my long run this morning.  Since I am in Florida, I missed my half marathon and the chance to run in cooler, less oppressive weather.  Sixteen miles in Florida was ROUGH.  But I pulled through, reminding myself that what metaphorically doesn't kill me makes me a stronger runner. 
Pre-run breakfast: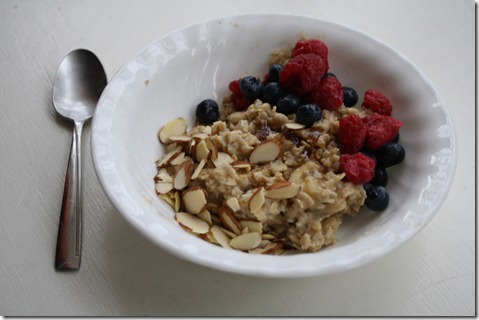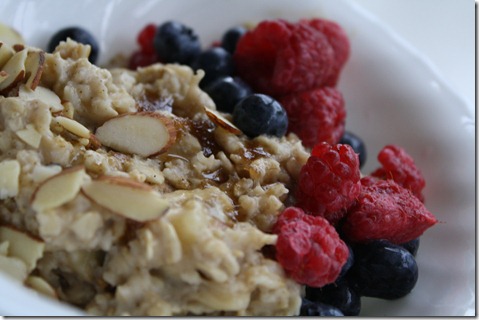 Pretty standard bowl of oatmeal:
1/2 cup oatmeal
1/2 cup soy milk
1/2 cup water
1 banana
Toppings: berries, almonds, brown sugar
Now, normally I go for a more stick-to-your-ribs pre-run meal (PB sandwich), but at this point, I wasn't sure I was actually going to go running.  After consulting with the family, everyone agreed it would be best for me just to get my long run out of the way.
Once it was agreed that I should run, I ate an English muffin for extra fuel: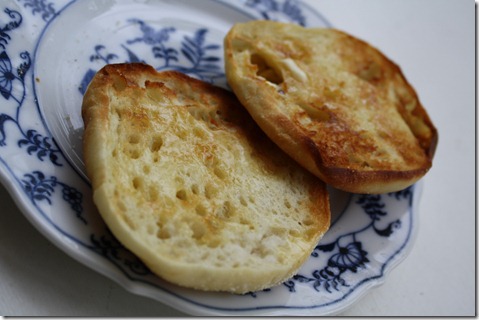 Sophie (my sister-in-law) and the Husband followed me the entire time on their bikes.  It was nice to have company even if I felt way too overwhelmed by the distance to do much talking.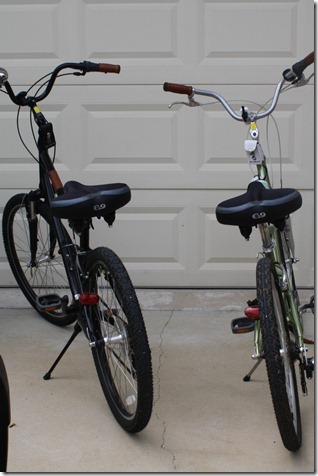 My goal was to run 16.0 miles at "dream" marathon pace (10:30).  I don't have a true goal for my marathon, but of course, I like to fantasize about beating my previous marathon time of 4:54.  A 10:30 pace would put me in around 4:35, and I would be thoroughly impressed with myself if I could actually do this.
I decided to bring about 300 calories with me on the run.  I have definitely been skimping on mid-run fueling (mostly out of sheer laziness), but I knew 16.0 miles would require lots of fuel.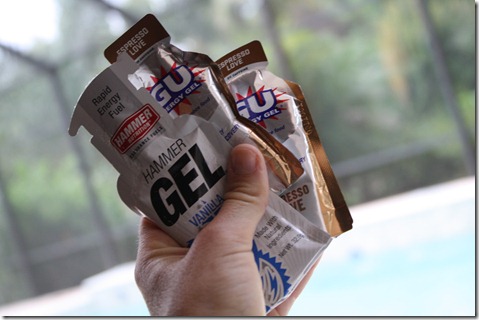 The run was… trying.  Emotionally and physically.  Around Mile 12.0, everything (EVERYTHING) started to hurt.  My butt was sore, my arms were sore, my back was sore, my freaking lips were sore from breathing too hard.  I decided to start implementing a walk/run strategy in which I would walk every mile for 0.05 miles.  It was a nice boost and didn't seem to impact my overall pace.
The last mile was the worst.  The worst.  I was alternating between feeling great and feeling like I was going to hurl all over the sidewalk, and if I didn't have the Husband right by my side, encouraging me to hold on, I would've walked the entire last mile. 
Funnily enough, the Husband has actually never seen me do a long run before (besides watching at races and whatnot) and said he was pretty impressed by the whole thing.  "I never really realized how long it takes to run so far!" he said. "When you leave for a run, I always end up doing other things and don't really appreciate how long you're gone for."  You're telling me!
Finally, I was done.  I collapsed on the sidewalk and begged the Husband to bring me water and bread.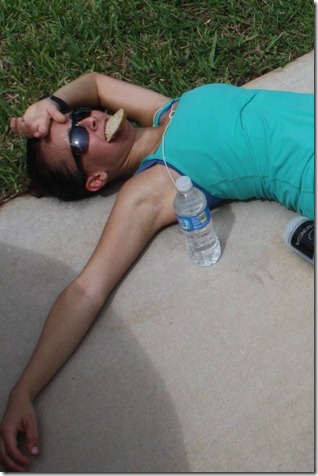 Distance: 16.0 miles
Duration: 2:47
Average Pace: 10:27 (with walking breaks! Booyah!)
I showered and got dressed as quickly as possible, and then the family went to the beach for a late lunch.
I ate almonds on the way: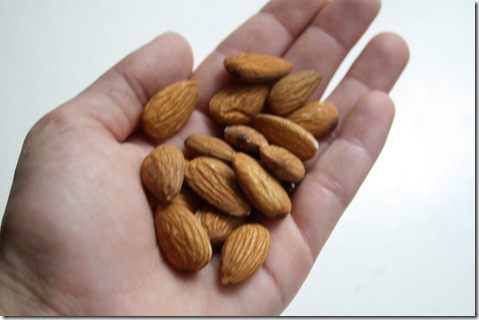 And iced my knees in the car (now they feel fine.  Ah, the power of ice!):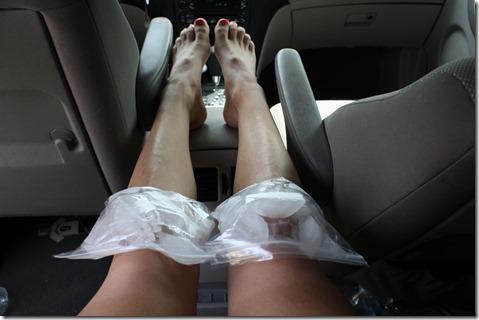 Lunch was at my favorite little beachside joint, the Java Joint.  We've been eating here for years, and it's always nice to go back when we're in town with my in-laws'.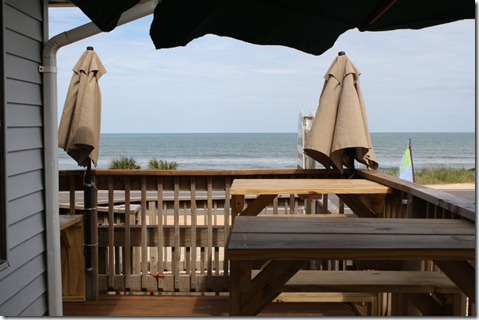 I started with a side salad: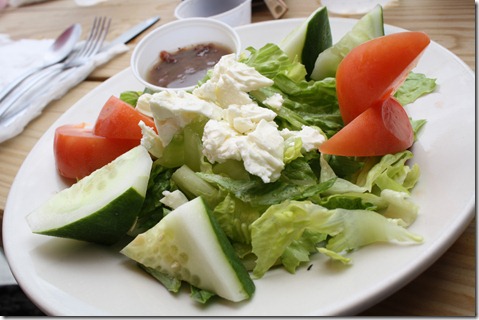 And ordered the HUGE Burrito (the official name), which comes with eggs, hash browns, sour cream, and cheese: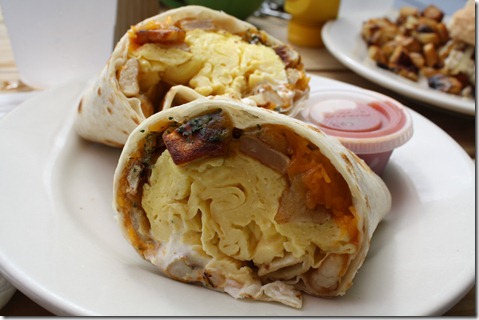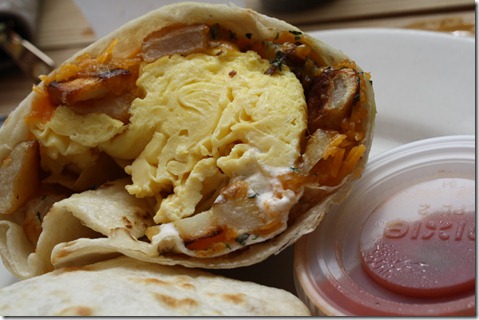 After lunch, the family somehow convinced me to go for a walk on the beach!  The last thing I wanted to do was move my legs some more, but it's really true that the extra circulation does your legs wonders.  I feel so much better now!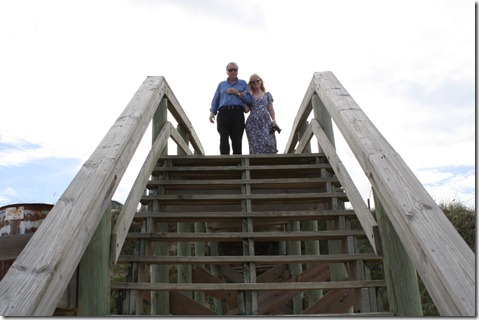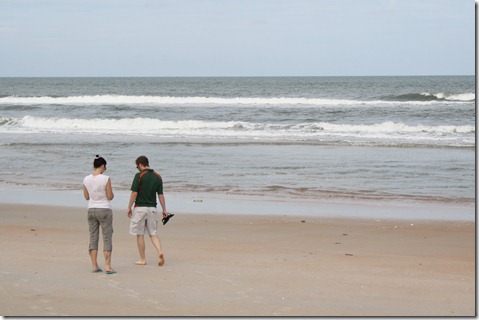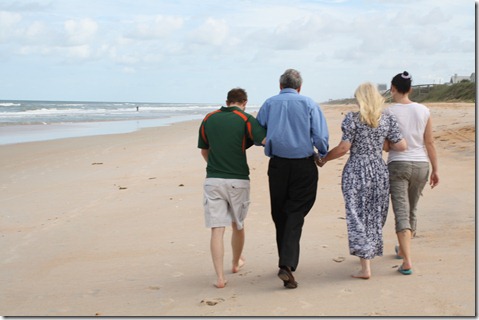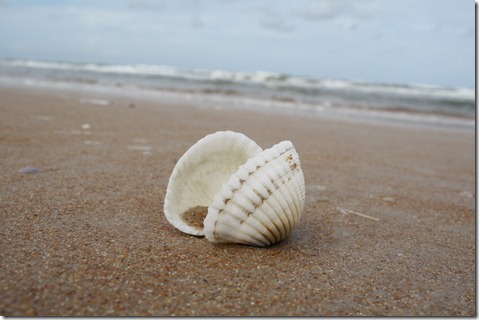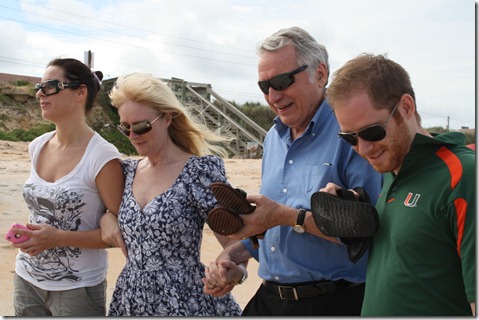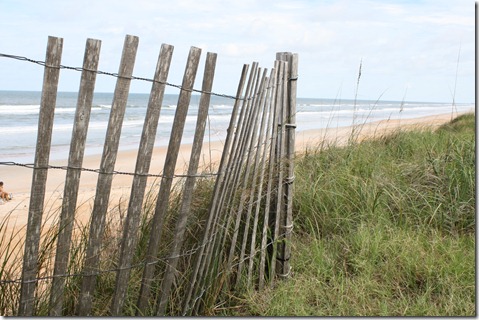 Gonna catch a few Z's before we go to a neighbor's dinner party… I hope they know that I plan to demolish their buffet with my marathon appetite!