I fell off the blogging-face-of-the-Earth… but it's only because I was running around like a [vegetarian] headless chicken trying to make the Healthy Living Summit the best it could be.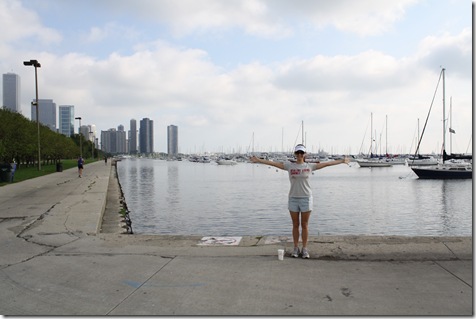 The event is now over, and I'll admit that I'm a little sad and a little relieved, too.  I feel like the last month or two has been an absolute pressure cooker, and the thought of resuming 'normal' life seems really, really nice.  BUT – it was GREAT to see all my blends (blog friends), and I feel like everything went well.
Backtrack to yesterday….
After our breakfast, the sessions started.  I was in charge of introducing people, handling audience participation, working the video cameras, and other odds and ends so I really didn't get to watch the other speakers too much.  But everyone did great!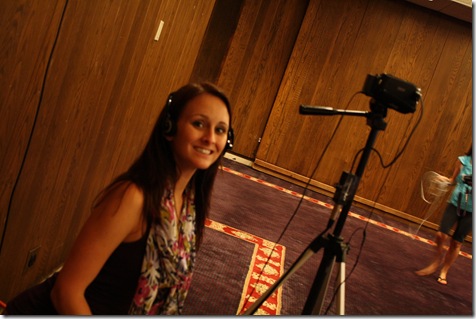 I wasn't great at documenting food or drink, so here's just a slice of the goodies I ate:
Lunch featured an excellent Arnold + Oroweat spread.  There were LOTS of veggie options.  I had tofu, chickpea salad, Sandwich Thin, broccoli, and salad.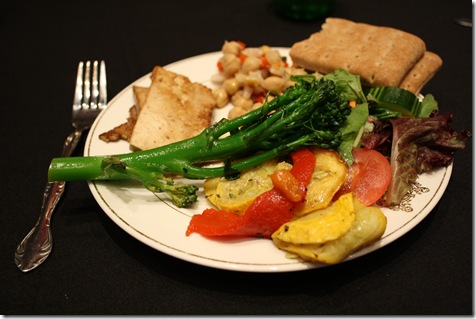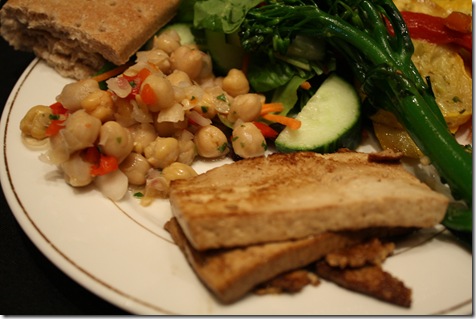 Dessert was a lemon pie: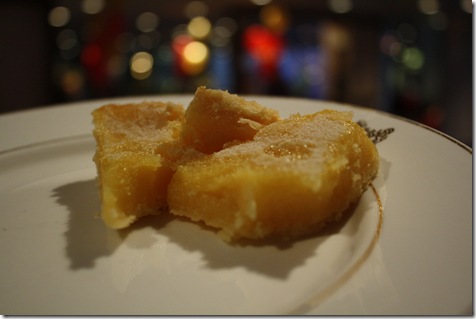 After lunch, I had a chance to sit with the Arnold dietitian to get a mini consultation.  It was pretty neat!  We went over my eating, drinking, sleeping, and exercise habits and talked about small tweaks that I could make to my lifestyle to be healthier.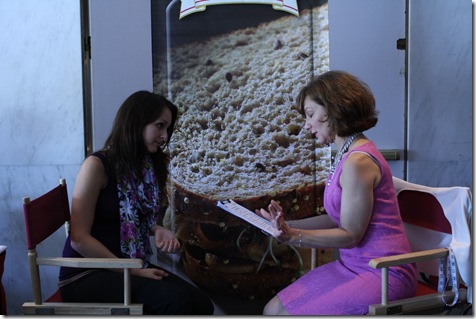 She recommended that I begin talking a Calcium supplement with Vitamin D.  Otherwise, things are looking good!  🙂
Post-lunch, there was more events and speakers and then we had a snack break filled with some amazing Athenos feta + hummus goodies.  My favorite was the feta, watermelon, and basil sticks.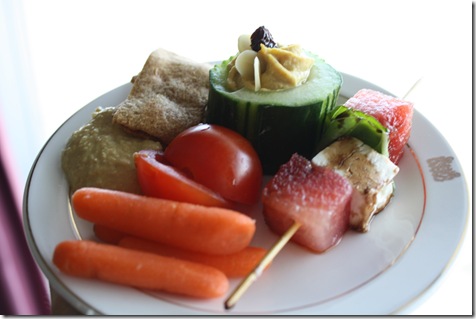 Several speakers and whatnot later… the conference was over.   🙁
I know I didn't do the BEST job of recapping the actual event so here are a few posts with some better details:  Blogfeast and the Ethical Eating Panel Tips.  If you attended HLS, please link back to your posts in the comments section so others can read + enjoy!
Arnold and Oroweat organized an epic food crawl of Chicago following the conclusion of the official events.   The tour was sponsored by Tastebud Tours.  This company has a GREAT story.  The founder was laid off in the healthcare industry a year or so ago, and he hunted and hunted for work but couldn't find anything.  He realized he had a knack for giving tours of Chicago and that people LOVED the Chicago food, so he started this new company just in May.  It was pretty inspiring!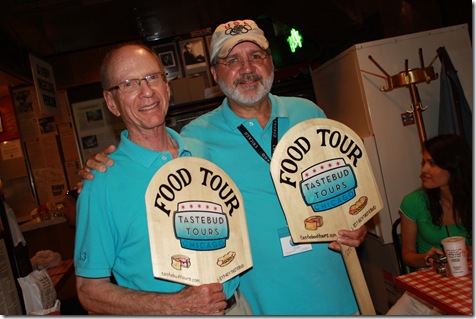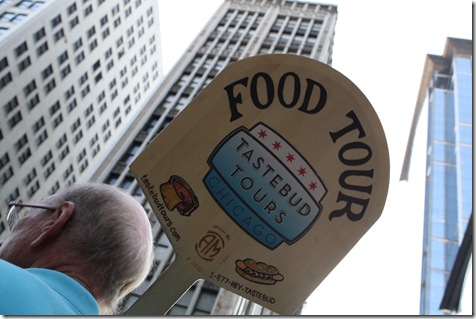 We walked about 1.5 miles and stopped in four or five restaurants.  It was a great way to see Chicago on foot!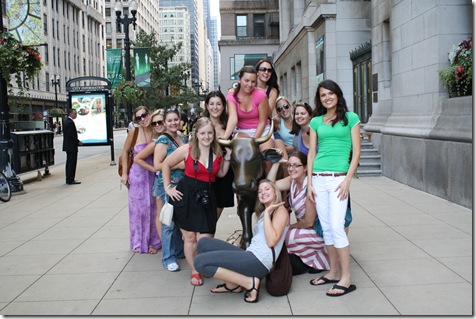 However, the tour was very meat-heavy (to be expected, I don't think traditional Chicago food should cater to vegetarians!) so I couldn't eat much of the food.  BUT I loved the sites and you should DEFINITELY go on this tour if you're visiting Chi-Town!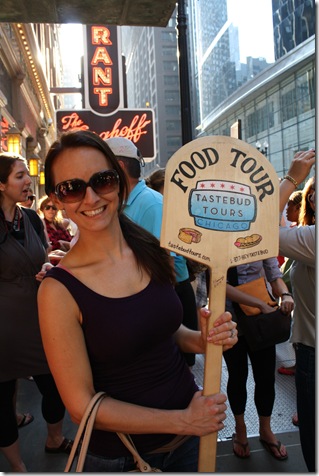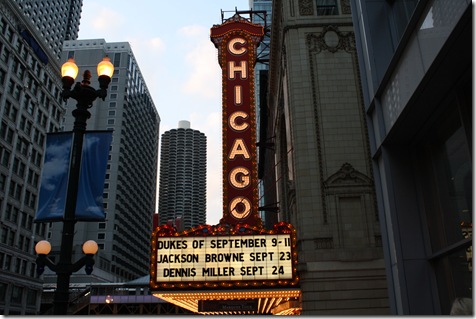 I had some pasta, a bite of grilled cheese, caramel and cheddar popcorn, and several beverages.  🙂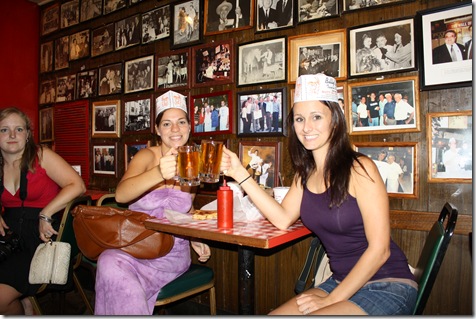 Costume change: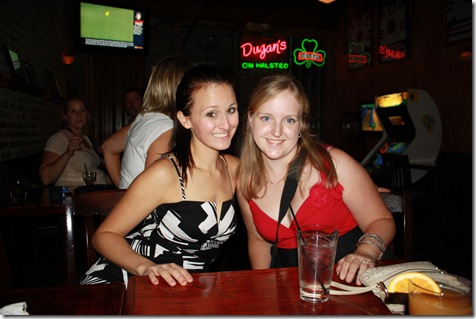 And an epic night out ensued: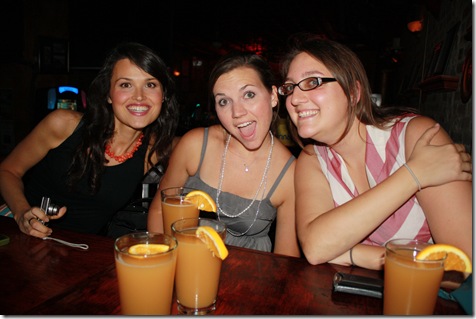 (Whew, what a LONG post!)
After crashing around 1:00 AM, I got a very restful 7 hours of sleep, and the Megan and I woke up to go on a stroll around the Chicago Harbor… but I'll update you about that soon!  Regular blogging shall resume NOW.  🙂
What's your favorite city-specific foodie treat?  I'm going for… Key Lime Pie from Key West.