Waiting for our flight to take off for Chicago!  I'm getting excited for the Healthy Living Summit, but it's also very stressful because I'm helping to organize it.  I just hope everything goes smoothly.
We were delayed a bit so Megan and I started to check out dining options.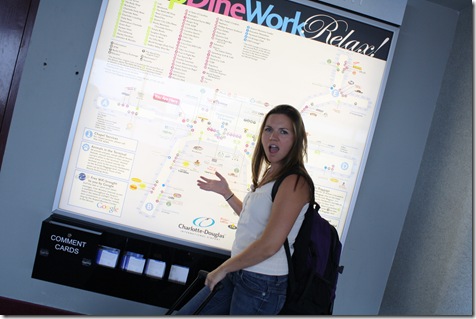 People often ask me if it's difficult to be a vegetarian, and honestly – I think it's hardest in the airport.  Airport food blows to begin with, but there really seems to be a lack of healthy vegetarian options.
However, I spied a Mexican restaurant and put together a decent meal.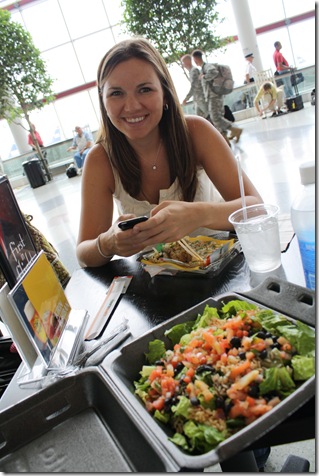 Brown rice, black beans, and pico de gallo on a bed of romaine lettuce.  Pretty delicious and filling.  Maybe airport food isn't THAT bad – you just have to get creative.  🙂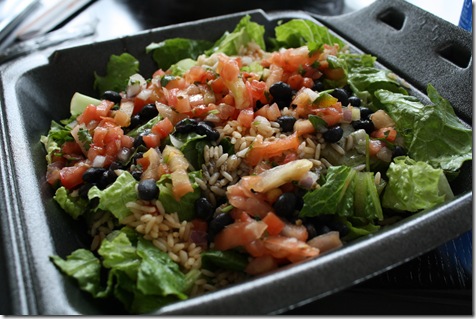 In other news… the Charlotte airport further redeemed itself by having a frozen yogurt place.  I got a small vanilla with strawberries.
Healthy Living Summit
Maybe you're wondering what HLS exactly is!  Well, about a year and a half ago, Kath, Tina, Meghann, Heather, Jenna, and I decided to put together a 100-person event in Boston in August 2009.  It was lots of fun to meet other bloggers + readers for the first time and explore a new city together.  Here's last year's recaps:
This year, we've expanded to 200 attendees and will offer a two-track agenda so people can attend events that interest them.  We're offering a bigger variety of events, such as photography lessons, yoga, and discussions about issues in the blog world.  I hope people enjoy the changes!  🙂
Thanks to our sponsors: