Today's breakfast featured a better egg sandwich.  Not the greasy, gooey kind (which definitely have a place in my heart) – this sandwich was light and fresh.  And so flavorful!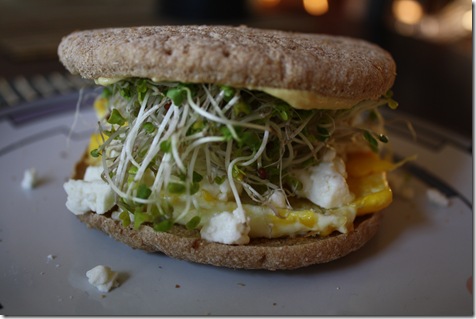 In my sammie:
1 fried egg
2 tablespoons Athenos plain feta
Broccoli sprouts
Smear of Dijon mustard
Sprinkle of garlic powder
All on an Arnold Sandwich Thin: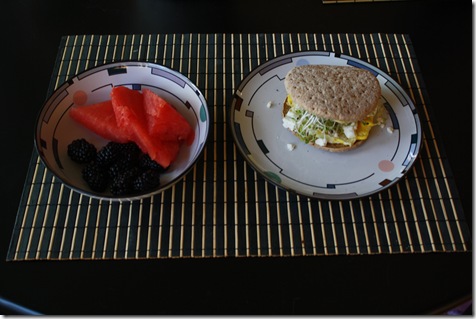 With a bowl of fruit: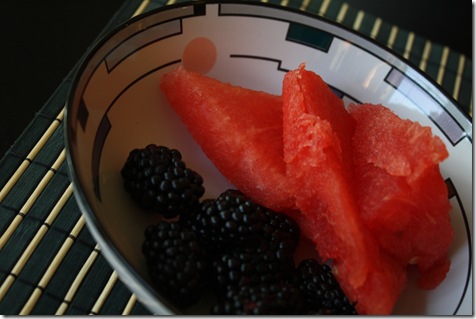 What Could You Say Yes To That Would Change EVERYTHING?
I subscribe to an e-mail blast called The Ripples Project, which includes three thoughts to jump-start your thought process and get you INSPIRED.
Today's thought was:
All your life you are told the things you cannot do.
All your life they will say you're not good enough or strong enough or talented enough;
they will say you're the wrong height
or wrong weight or the wrong type
to play this or be this or achieve this. 
THEY WILL TELL YOU NO, a thousand times no, until all the no's become meaningless.
All your life they will tell you no,
quite firmly and very quickly.
AND YOU WILL TELL THEM YES.
And it really got me started on the power of yes.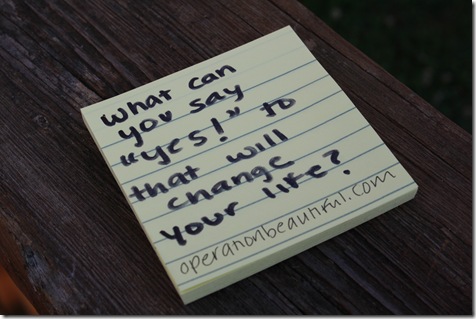 How often do you tell yourself you cannot do something?  How often do you doubt your ability to succeed?  Do you close yourself off to other people?  What if you opened your heart to possibility, to love, to potential?
Sometimes, to say yes to yourself, you must say no to other people.  Do you feel pulled in a million directions by a million different people? Say NO to the negative people that drain you instead of infuse your spirit with energy.  Give yourself permission to put yourself first.
Today, I'm saying YES to relaxation, to calmness, to inner peace.  I will not stress out about the things I cannot control. 
What will you say yes to today?