Over the weekend, I figured out what was "wrong" with my Speedy 5K training plan.  As I wrote last Friday, "I need to find a way to get over the hump – I feel a little stuck at my current level.  I know I have it in me to be faster and run longer without feeling as winded, but I'm struggling to find it.  No matter what I do each week; it just doesn't get "easier," and I've never encountered this problem."
I consulted my running buddy guru, Megan, for some advice.  She easily identified what I was doing wrong.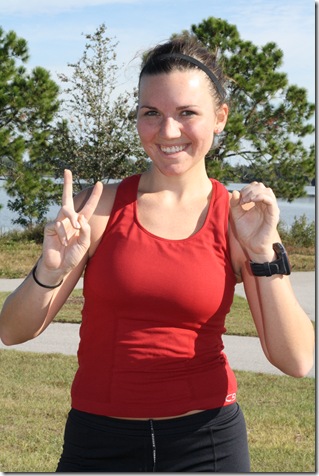 According to Megan, I'm simply not running enough miles per week to sustain a speedy 5K.  "You've got to run far and run fast to break your 5K personal record," she said.  And after staring at my running log, I knew she was right.
A breakdown of the last seven weeks:
Week 1: 5.0 miles <— Post-Century bike ride
Week 2: 12.1 miles
Week 3: 14.0 miles
Week 4: 10.35 miles
Week 5: 10.5 miles <— moving week
Week 6: 7.5 miles <— wedding in Pennsylvania week
Week 7: 14.87 miles
Now, I've never been particularly fast or a serious long-distance runner, and I've usually squeaked by on the minimal safe mileage required to do my races.  Why? Well, running is hard.  :)  Even for my marathon, I only had 3 weeks out of 22 that I ran more than 30 miles, and I peaked at 36.5 miles per week.  And I was totally fine the day of the race – but I wasn't running for time.
As a newbie to any race distance, I DEFINITELY think it's fine to only run the minimal safe weekly distance (check out Hal Hidgon's plans for some ideas). If you're learning to run and want to do a 5K, it's fine to do 9 – 12 miles per week total towards the end of training.   But when you want to improve your times, you've got to put in the mileage.
So, I'm going to extend my weekly totals to 20+ miles per week by adding an extra 4 – 5 miler (which I ran yesterday). Additionally, Megan suggested I drag out my warm-up and cool-downs on speedwork days to add an extra mile or two.  This is also good because it will allow me to prepare for two half marathons I have planned in September and November.
On that note…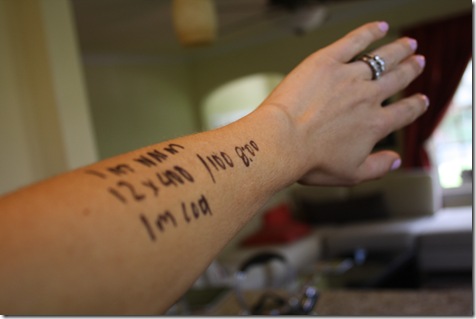 Today was a speedwork day, which meant writing my plan on my arm in marker.  :)  Yes, I know I can program this into my Garmin 305, but I'm not really sure how AND I'm lazy.  Markers are cooler.
Because of a blister, I had to cut my run a little short (the moleskin came off)!  But I still ended up with a GREAT speedwork session.
Distance:  4.75 miles
Duration: 44:03
I did as follows:
Warm-up: 1,600 meters (1 mile) at 10:00/pace
Sprints: 400 meters (0.25 mile) at 8:00/pace with 100 meters rest in between.  Repeat times 8.
Cool-down: Approx 2,000 meters (1.25 miles) at 9:00/pace
Pre-workout snack was some cinnachip bread crack that I dug out of the freezer (the only place it's safe):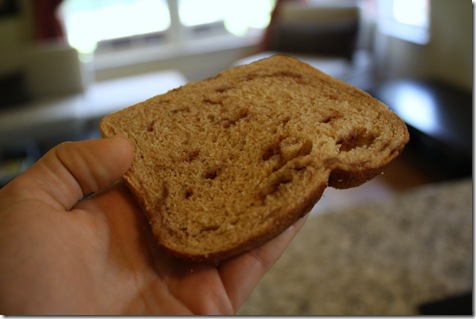 And post-workout lunch was a vegetarian refried bean wrap + parsnip fries.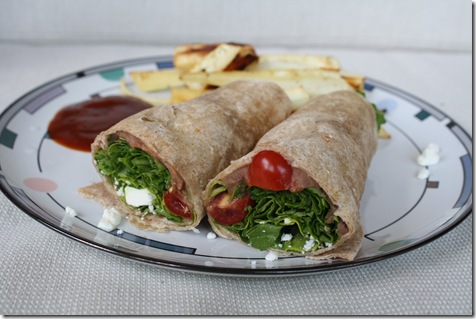 The wrap included arugula, feta, and tomatoes.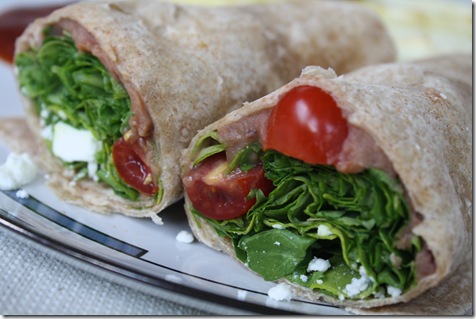 Parsnip fries!  I missed them.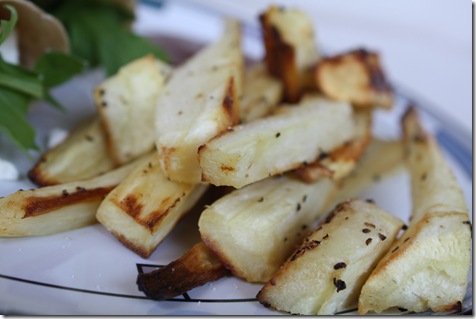 Question for the runners out there:
How many miles do you run per week? How many miles do you think as "required" to run a fast 5K?  Do you have a personal "burnout" mileage that you never get past per week?
*TWSS = That's What She Said.  Don't lie – you laughed at the title.