As the days get hotter and hotter, I tend to crave salads more and more.  Refreshing and packed with veggies – what more could you ask for?  Actually, you COULD ask for a salad that actually fills you up and satisfied your mind and belly. 
Presenting:  Pasta Salad Remix.  It's a salad and pasta combined.  Served cold, not hot!  (Edited to add:  Just read Carrots N Cake and saw she had the same lunch – coincidence!)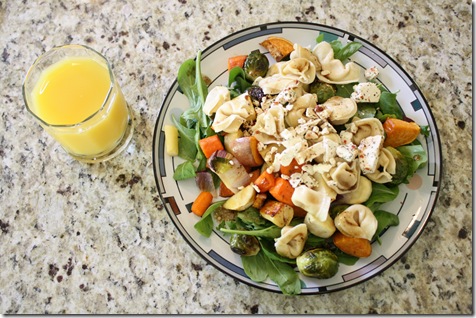 In the mix:
Three cheese whole wheat tortellini, cooked and then chilled
Arugula
Roasted carrots, sweet potatoes, parsnips, and Brussel sprouts, chilled
Athenos tomato and basil feta
Balsamic vinegar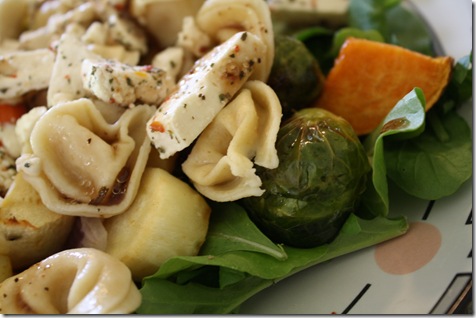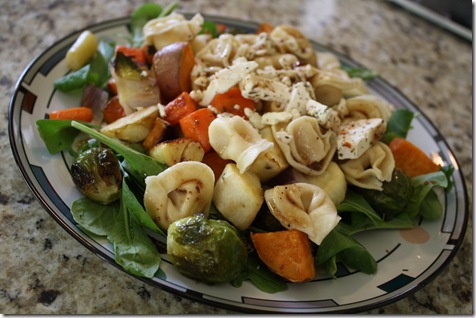 LOVED this lunch!  The combination was great, and eating the veggies + pasta cold seems to really bring out their delicious, simple flavors.
It was a pretty big portion, too, because the Husband and I have been burning major calories detailing Civic so we can sell it.   We decided in June to become a one-car family, and while I'm still adjusting to the idea, I think its the best move (environmentally and economically!).  In the end, we decided to sell my 2002 Civic coupe even though we outright own it because the Pacifica fits our current/future lifestyle better. 
If anyone in the Charlotte area or the surrounding counties is interested in a freshly detailed 2002 Civic with a sunroof and new battery, let me know! ;)  CivicHTP is for sale!
Had to take off my marathon sticker… I was sad.  I need to convince the Hus to put a new one on our car, but he's not really into bumper stickers.  Boo.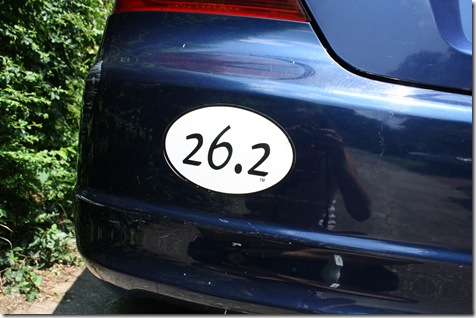 Discovered a 13.1 sticker underneath!  I forgot all about it.  🙂
Back to car detailing I go!