Realization:  maple syrup is not "required" on pancakes (but it does taste good).  :)  We were all out this morning, so I skipped the sugary stuff for nuts and berries.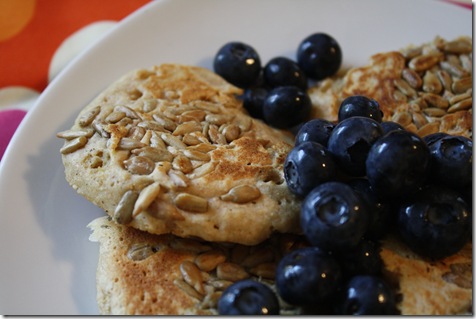 I used a Kodiak mix for the flapjacks and sprinkled one side with sunflower seeds as they cooked.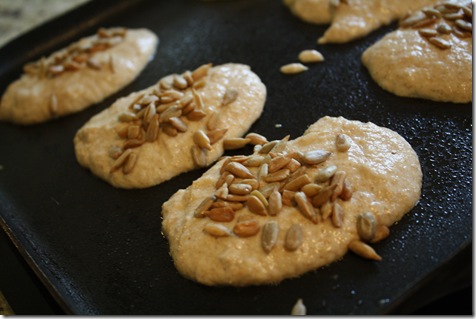 Plus, blueberries for a little moisture and sweetness.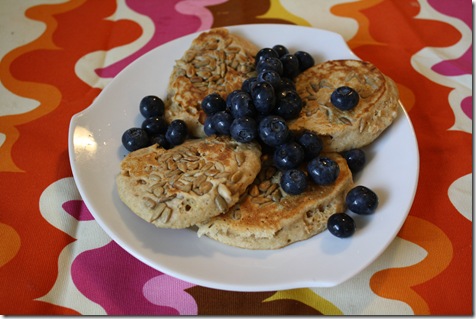 Alright- onto the fun stuff!
Design, Part I
As you know, the Husband and I just moved from Orlando to Charlotte and sold off all of our second-hand furniture in the process.  This is the first time in the nearly 6.5 years we've been together that we've been able to "design" our apartment, and we're having a lot of fun with it.  I've been reading design blogs for inspiration (my favorite is Young House Love).  Here's what we have so far!
Living room before: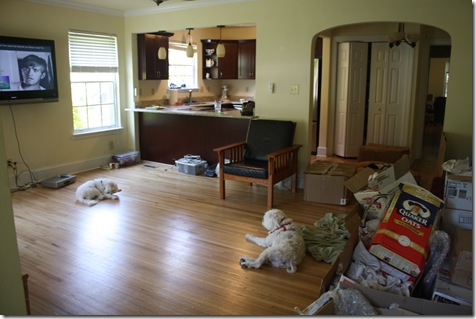 Living room current: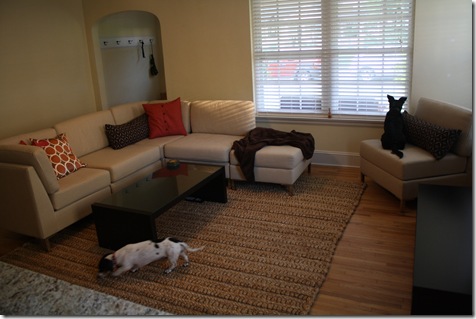 We bought a modular couch (which means we can take it apart and rearrange it however we want) from West Elm.  It was nearly 50% off because it was a floor model and a return.  Score!  A few pretty brown and orange pillows makes it pop.
I love the mirrored feet.  I also love the 8 x 10 braided jute rug that we splurged on.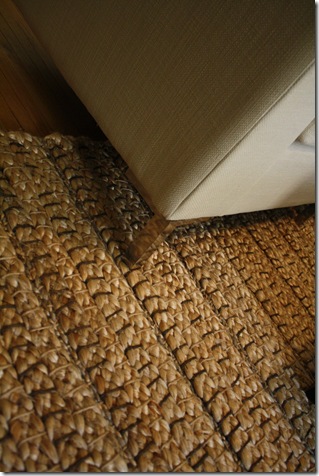 To make up for the cost of the couch and rug, we got a simple dark brown coffee table and TV stand from IKEA for $50 each. 
Design Blanks in the Living Room:  We have a big painting to hang up to the right of the entryway, but we need something for the HUGE blank wall behind the couch.  I was thinking a framed photo collage (mostly in black and white) would look good…  It might be fun to have a few of the photos in color, too.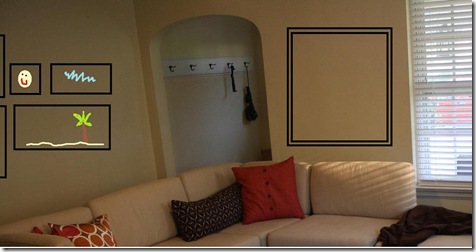 Also, the entryway is a mess.  I want to get some sort of small side table under the window, but it can only be 5 feet long and 8 inches wide.  That's hard to find!  I want one with drawers so I can stash the dog leashes, umbrella, etc.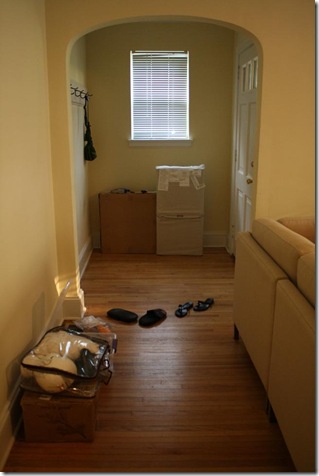 Moving onto the kitchen…  We don't need to do much, but we did buy a 3 x 5 braided jute rug to match the one in the living room.  It was surprisingly affordable (also from West Elm).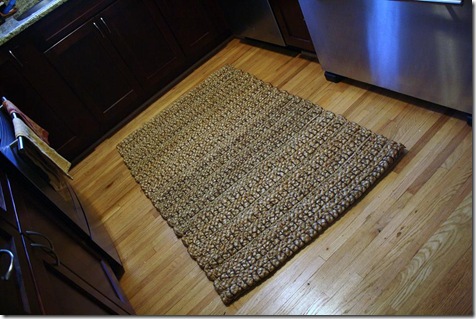 And now the office! 
Before:
Current:  This room is almost entirely IKEA.  They have some great stuff for offices…  I bought a fun bright red rug for $99 and did the rest of the room in black and white.  I'm LOVING the huge square book case.  The black and wood chair in the corner is the only thing we kept during the move.  I would love to get a fun printed footstool for it.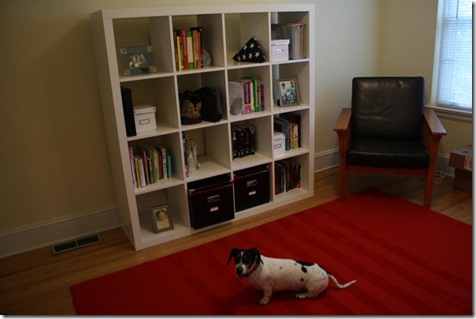 On the opposite wall is our double desk with clear chairs, which I fell in love with immediately!  I love how clean and modern this looks.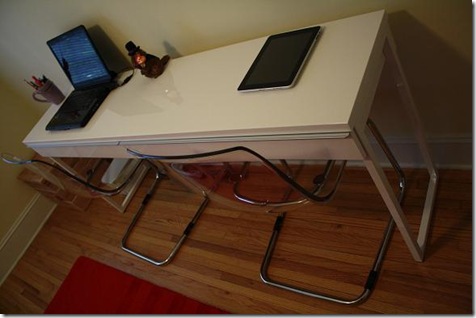 Design Blanks for the Office:  In addition to the missing footstool, I need to add a framed wedding picture above our desk and a lamp.  My mom is giving me one of her old silver and frosted glass lamps that I think will work perfectly.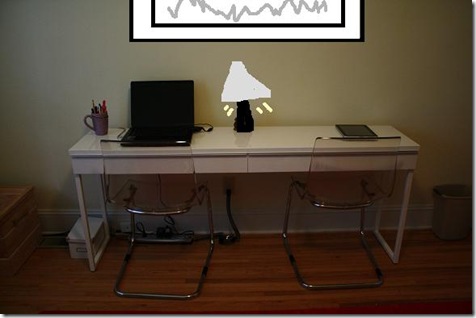 This is the picture that is currently being framed and matted: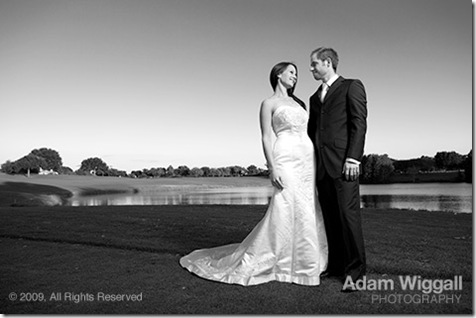 And last… but certainly not least…
My bathroom/the guest bathroom.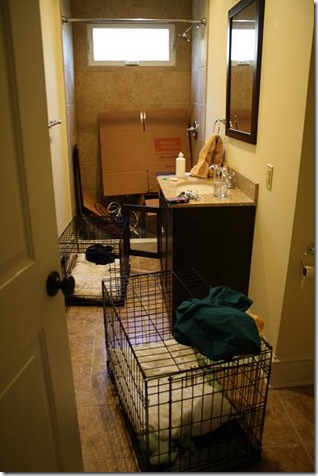 Design Blanks for the Bathroom:  Um, everything?  It's currently a dog crate holding zone / junk drawer in the shower.   I think I want to design the bathroom around this 8 inch by 10 inch print from The Lobster Pot.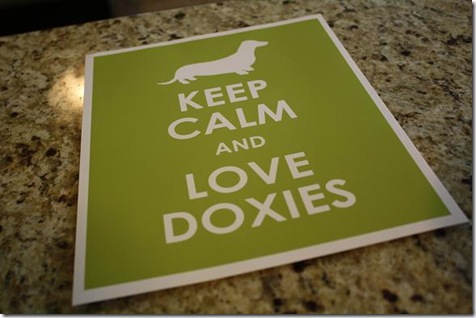 Not going to lie – I bought this print for a nursery, but that's not happening anytime soon so it's going into the bathroom for now!  However, this green is really hard to decorate around.  Should I try to match it or do another color and just let the print be an accent?
Can you help me fill in my design blanks?  Any suggestions for things that I'm just not seeing?