I was starving for lunch by 11:30 AM!  Not sure why my breakfast didn't hold me over as well as it normally would.  I ate an early lunch and all was well in the world again.
So, I used to think that leftover salad always went gross, but I recently discovered the key is not covering it in dressing at the restaurant.  If it's dry, it will last longer.  I bulked up the salad from last night – which had apples, corn, Napa cabbage, and pecans – with some Athenos feta and spinach.  It was still perfectly crisp!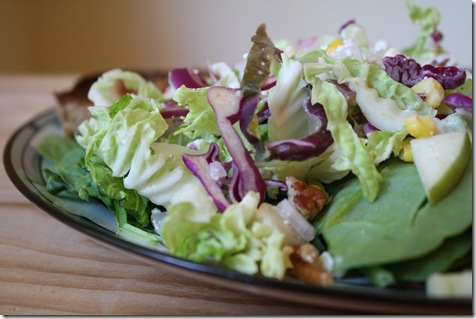 Plus, two slices of Honey Whole Wheat with PB and strawberry jam.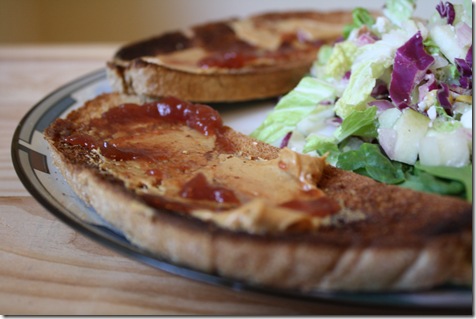 All together now!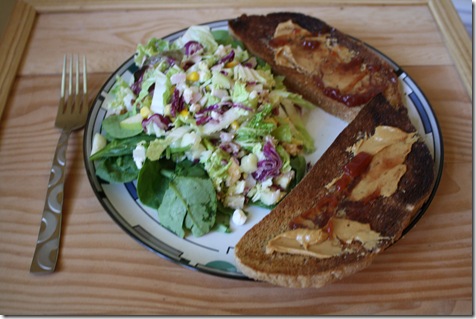 A C25K Success Story
Yesterday, I asked how much weekly mileage other people run, and MANY people said they run as much as 40 to 60 miles per week!  Wowza!  I am really intimidated by that kind of mileage – and super impressed.
But, of course, no one starts off with 40 miles a week – everyone starts off by putting one foot in front of the next!  One great program I love for new runners is the Couch to 5K program. which utilizes a walk/run interval system to get newbies running.  To get going, all you have to do is 20 minutes of 1 minute jogs following by 1:30 walking breads.   After 9 weeks, you'll be strong enough to complete a 3.1 mile race!  Here's a sample of what the first three weeks look like.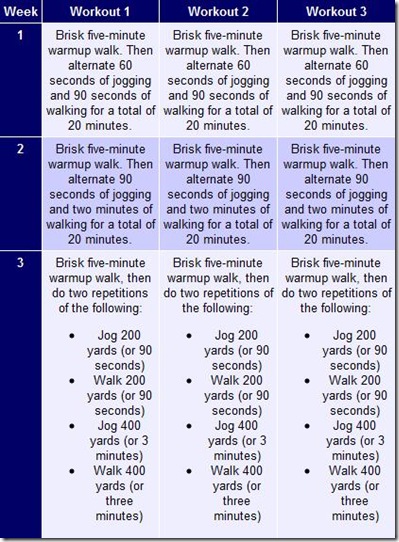 Here's a great "Healthy Tipping Point" story from Dani, who used the C25K program to rock out her first race… and find a new healthy perspective in the process.
Dani wrote:
I'm 21 years old. The closest I ever got to doing anything athletic was my ninth grade year in high school, in which I did JROTC. That whole year, I worked out, ran, did drills, and even went to compete in Nationals in Daytona Beach Florida! That year was the year I looked my best ever. But then I got a case of the lazies, and completed high school, and gained all of my weight back. 
I graduated high school, and immediately adopted a very lazy lifestyle. Laying around, eating constantly, and not doing any type of exercise AT ALL. I had a part time job where I was on my feet everyday, so I suppose that's what kept me from getting any bigger.  I was 18 years old and about twenty pounds overweight. I had very, very low self esteem, didn't like going anywhere because I felt too fat and was intimidated everywhere I went. 

That year, I met my boyfriend. He was in shape, and an ex-army trainer. He DEFINITELY saw my weight and self-esteem problems immediately, and he helped me completely overhaul my diet and laziness. He gave me a membership to the YMCA, and he taught me how to use the machines. We went grocery shopping together, planned meals, and worked out together.  
Three years later, I had begun to slack off a bit again because of my work schedule and such.  But, four months ago, I decided it was high time to get our life back on track.  I wanted to stop feeling sorry for myself, because I'm the only one who can make me feel better. So, I started the Couch to 5K program. 
At the end of the program I ran my first 5K, completing it in 41:58, 68th out of 85.
It was a trail run, over soooo many hills, stumps, and uneven ground. Slow, I know, but it's my first, and I was so proud, as was my boyfriend. He and my parents, my cousin (who ran it with me), and my sister were all there to greet me at the finish line. It was magic, and I'll never forget it. Trust me, there are MANY more races to come. :) 
Check out these other Healthy Tipping Point stories!
Are you a Couch to 5K Success Story?  Tell us about it!