Morning!  I was so excited for breakfast this morning.  The idea of it literally pushed me out of bed.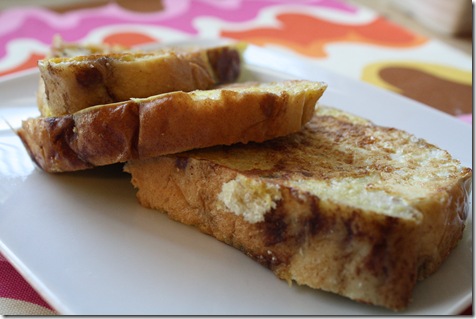 Kath's husband, Matt, works for Great Harvest bakery and sent us home with three loaves of bread, including Cinnachip Cinnamon Bread.  He was pretty appalled when he found out we keep our normal bread in the fridge (which I think is a Florida thing), and insisted we keep this loaf out on the counter.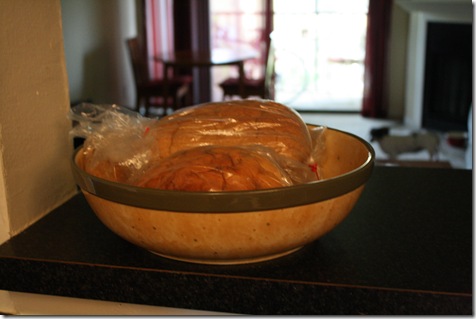 I had one thing in mind for the Cinnachip bread:  French Toast!
I cut one and a half medium slices…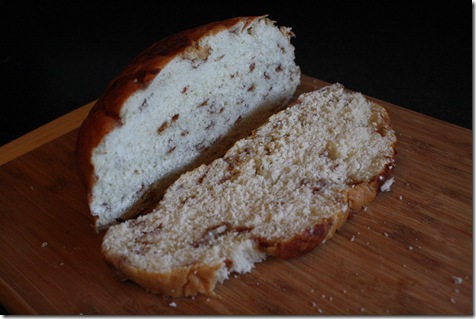 And then prepared the French Toast as usual, using one egg.
The result: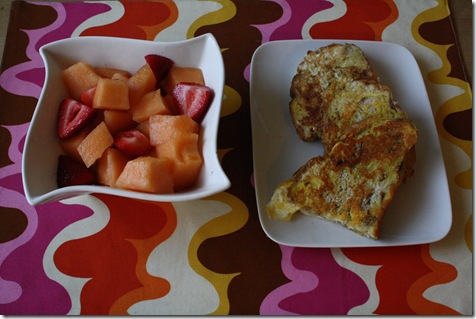 Truly amazing.  No syrup required because the bread was already mushy and sweet.  Not the healthiest way to make French Toast, but probably the tastiest!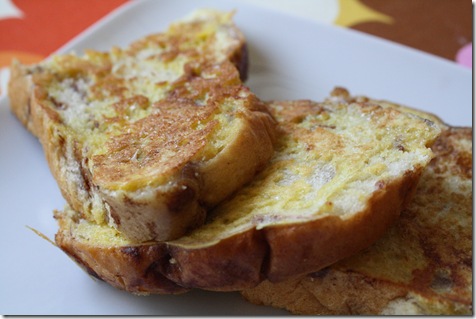 + a bowl of fruit: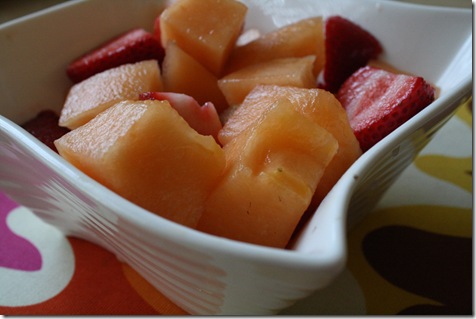 Finding Style
So, now that we have our new duplex rental in Charlotte and a move-in date (June 28!!!), I seriously cannot stop imagining/planning for my new life in Charlotte.  I feel like our quality of life is about to VASTLY improve.
No more intensive, 60+ hour/week graduate school for the Husband.
A patio with a front lawn for the dogs.
A clean, shady neighborhood that we can walk around (we live in a very urban area of Orlando).
Shops and restaurants within walking distance.
The Husband's office is 1.5 miles from our new house.
The new place is cleaner (hardwood floors), prettier, and nicer.
Have I mentioned we're going to purge all of our furniture?  Yup.  We're only bringing 1 chair and 1 office chair.  Everything else will be sold on Craigslist or donated to the Goodwill.  Most of our furniture is "hand me downs," leftovers from college, or junk store buys, and I just don't feel like it's worth it to move.
This means that I get to pick out ALL NEW FURNITURE + accessory for our new place.  I've been saving money for months, and I'm so excited to find a style for our new place.
Our current place doesn't have much of a style: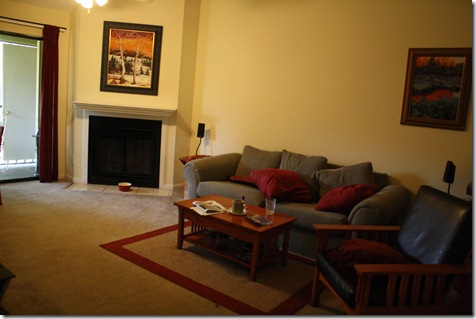 It's comfy and nice, but it's also kind of blah. 
I've never really gotten to decorate before – we've always been too broke – but I can't wait to begin hunting at antique stores and vintage shops.  I think I'll buy the couch new, of course.  But I'm concerned that I have no idea what I'm doing! What if I get stuff that looks cheesy or lame together? 
How do you create a pulled-together room?  Any tips on decorating? Do you have style?