I am running extremely low on groceries.  The Husband and I are making a real effort to "eat it, not move it" by eating through our pantries before we move in 57 days.  As a result, we skipped a mid-week grocery trip, and now I need fruit and veg like you wouldn't believe.
We did had one lone banana left: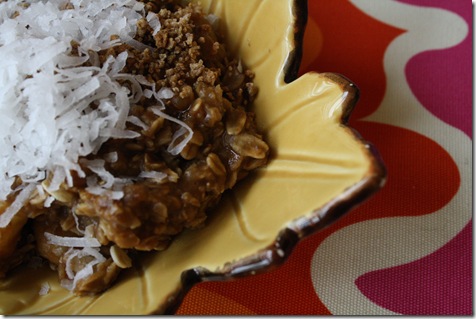 So I made double-shot oatmeal.  If you love coffee flavors, you will love this oatmeal.
It contains:
1/2 cup oatmeal
1/2 cup almond milk
1/2 cup water
1 banana
1 tablespoon instant coffee
Toppings: honey, Grape Nuts, coconut
Someone's wide awake, and that someone is me.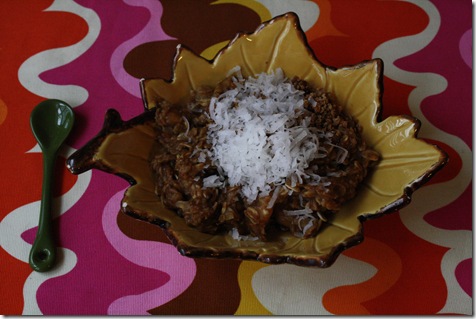 The Biggest Loser and Operation Beautiful Giveaway
Hollie (from Season 4 of The Biggest Loser) has taken a liking to Operation Beautiful, which I am so excited about!  (All the pictures below are from Hollie's Facebook fan page.)
Hollie was part of the ORIGINAL black team and finished as the 2nd runner up in the finale.
Three years later, Hollie is still fit, active, and encouraging other people to lead happy and healthy lives.  And I thought you'd all love to know she's an accomplished runner and triathlete!  Maybe she can teach me something about open water swimming?! 🙂
Side note:  how cute is it that she wears those stylish shades during events?  Loves.
She even finished the New York City Marathon in 5:08:12.
Hello, inspiration!
Hollie found out about Operation Beautiful and wrote the following message on her Facebook wall:
Earlier this week, I was tipped off to website called OperationBeautiful.com. I went to it, and immediately fell in love with the concept- writing motivational phrases and anonymously posting them in public places. Caitlin, the founder of Operation Beautiful, started this as a way to end the "fat talk" and other negative things women say to themselves on a daily basis. This spoke to me in so many ways. 
Before I ever set foot on the BL Ranch, I was a classic example of self-deprecation– putting myself down before other people could…making myself the punch line before other people could laugh at me- and I KNOW I am not the only person who has experienced this. When I got to the Biggest Loser, my trainer, Jillian Michaels, let me know right away that there was no way that kind of talk was going to fly– not with me, not with any of the contestants on that Ranch. It took me a while to learn not to say negative things about myself- and to turn those thoughts into more positive ones- I had never done that before.
After the Biggest Loser Finale- I felt on top of the world- like I could accomplish anything- and as you all know, my life really did change from the experience-things have happened that I never dreamed possible! But eventually, no matter how successful I was, what size I wore, or what races I completed, the negative thoughts started to creep back in. Even though I had lost over a hundred pounds, my body still didn't look the way I wanted it too. There were scars, skin, old stretch marks- all remnants of a life I was no longer living- and it was hard to look at myself sometimes- it still is. There are times when I find myself participating in that negative self talk- refusing to accept compliments, thinking "if only" and basically not showing myself the love I deserve. 
I just want to let you all know that most all of us, big, small, fit, or fat have those negative thoughts…for various reasons. But I also want to let you know that I am a firm believer that we can change the way we think and talk about ourselves. Though my body may never look perfect, it is STRONG, and I am proud of what it has gone through. I try daily to love it a little more, and hate on it a little less. :) 
I encourage you all to join me too, and make a conscious effort to show yourself some love, because you ARE beautiful- and you absolutely deserve love- from yourself most importantly:) Though we all have different goals and different issues- remember that being healthy also includes what is going on inside as well as outside.
Hollie is hosting a The Biggest Loser giveaway on her Facebook page.  To enter, all you have to do is post an Operation Beautiful note on Hollie's wall (and e-mail it to me at seebriderun@gmail.com). 
At the end of the month, she'll randomly choose one winner who will receive a coveted black team The Biggest Loser weigh-in shirt AND a pre-order copy of the Operation Beautiful book.