Only halfway through my epic two-week travel extravaganza – I'm only going to be home two days from May 21 to June 6 – and I'm already sick of eating out. 
However, I did discover something awesome at the Chinese buffet in the Pittsburgh airport: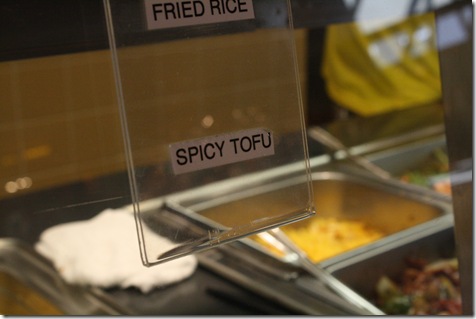 I practically SCREAMED at the guy behind the counter, "TOFU!? OHMIGOD PLEASE LET ME HAVE SOME TOFUUUUU."  Crazy vegetarian.
However, I'm not sure this tofu is going to sit well in my tummy.  It was a little slimy.  I bet it's been sitting there since noon.  Yum.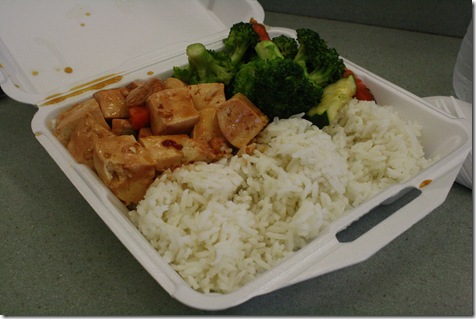 But it was tofu!  And steamed veg!  As long as it wasn't pizza (I probably ate 10 slices of unblogged bachelorette pizza this weekend…), I was grateful.  :)  I ate about 2/3 of the rice and tofu and all the veggies.
Dessert was a coconut macaroon: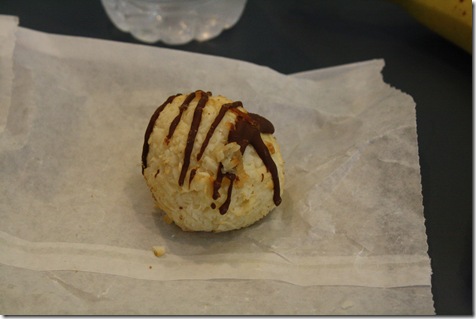 And I'm bringing a banana on the plane.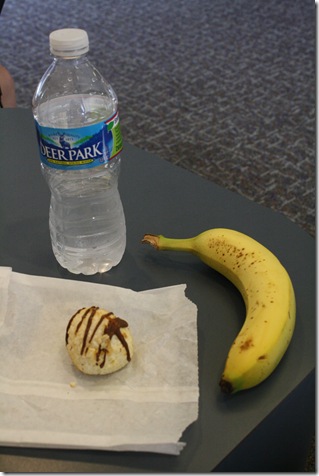 For the plane ride home, I'm going to read this book, which I selected solely because it looked mindless and the cover was cute.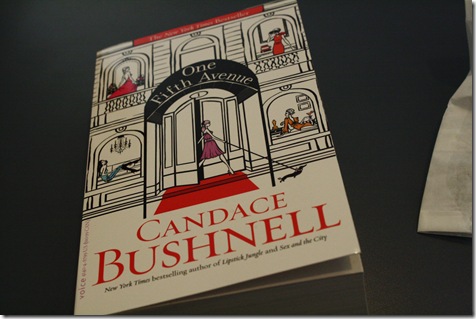 I'll admit… I pick books based on covers.  Authors have very little say in book covers (unless you're a bestseller), which is why I was so happy that my book's cover is nice.
I forgot to tell you all… THE HUSBAND IS OFFICIALLY DONE WITH SCHOOL.  He passed all of his finals and board exams, which means he's a Doctor of Oriental Medicine (DOM) now and can apply for his North Carolina license.  After 3 years of an insanely hard graduate program, I know he's excited to be done + start practicing.  And I'm excited to have a working Husband!  🙂
My flight is boarding!