So, the Husband had to drop me off at the airport at 10 AM for my 3:30 PM flight, which sounds lame… but luckily for me, Orlando International Airport has free Wi-Fi.  I'm essentially having a normal work day!  I'm just parked at Starbucks with a Vanilla Latte. The employees are starting to give me the evil eye, though!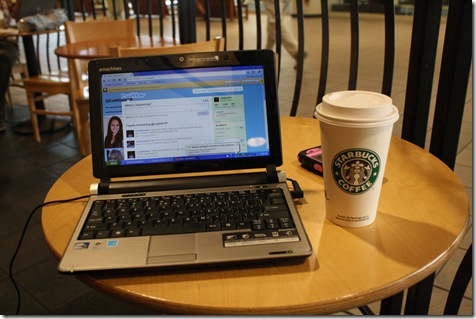 (I do things besides sit on Twitter all day; I promise.)
Since I knew I'd be stuck at OIA, I brought a packed lunch: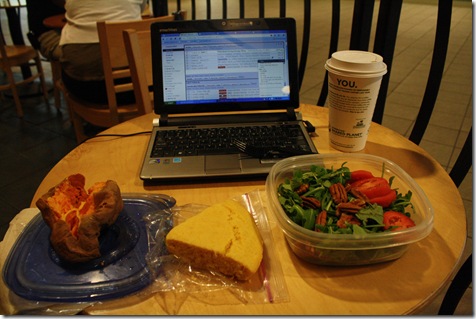 I have discovered that microwaved sweet potatoes (wash, stab with fork, wrap in paper towel, and microwave for 5 to 6 minutes) are the ultimate healthy travel food.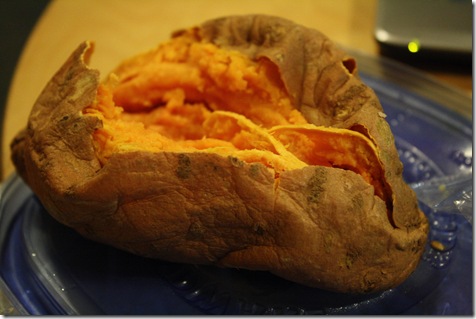 Plus, an arugula salad with tomatoes and pecans.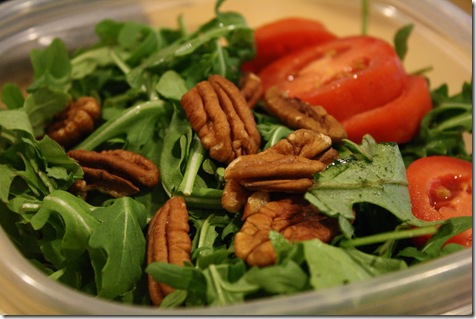 And a leftover slice of cornbread.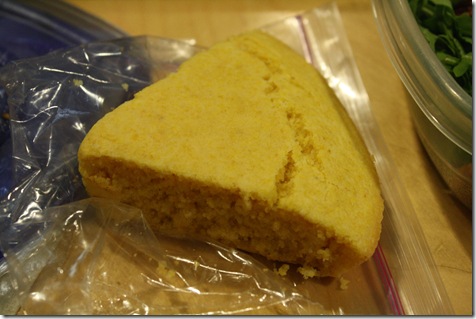 Speaking of cornbread, my mom saw how I waxed poetic about her famous 'Kentucky Cornbread' last night, and she sent me the recipe!  The recipe isn't an exact science (it's more about eyeballin' it), but trust me – it's AMAZING.
Mom and me, circa 1986-ish.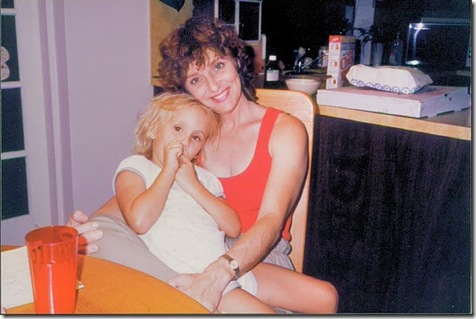 Mom says: Our cornbread recipe is from Caitlin's grandmother Evelyn's Kentucky roots.  I'm surprised it's not loaded with sugar since southern cooks seemed to put sugar in everything… but our family didn't.  This cornbread certainly isn't a health food, but it is a delicious and simple comfort food.
Ingredients:
3/4 cup of self-raising (yellow) corn meal
1/4 cup of self-raising flour
2 eggs
A little less than 1 cup buttermilk (skim milk works, too)
1.5 tablespoons of melted butter
Directions:
Put an iron skillet with about a tablespoon and a half of butter in it into the oven as it preheats to 450 degrees. 
Mix the corn meal and flour in a bowl.
In a measuring cup, beat the eggs and then add the milk until you have a full cup of liquid.
Once combined, add the egg and milk mixture to the corn meal and flour.  The mixture should be the consistence of applesauce – if not, add more milk or cornmeal until it is.
Once the oven is hot, but before the butter browns, tip the skillet so the butter coats the bottom and then pour the reminder of the butter into the cornbread mixture.  the iron skillet's bottom with the melted butter and pour the remainder into the cornbread mixture. 
Bake for about 25 minutes or until the cornbread pulls away from the skillet and is brown with a golden top.  You should be able to slide the cornbread out of the skillet leaving it with a nice crunchy crust and moist center. 
Mom notes that the cast iron skillet is very important because of the way it heats the cornbread.  It give the bread it a thicker brown crust and leaves it moist on the inside.
Thanks, Mom!
Other snacks for my plane trip include cherries and a strawberry breakfast bar.
Better go through airport security now!  I can't wait to get up North and see my college girlfriends for my BFF Sarah's bachelorette party!
Want to know what I did for my Bachelorette?  Check out this post!
And here's a preview of what the Husband did for his Bachelor Party!  Although i still don't know exactly what went down the infamous weekend in the Florida Keys.  🙂
What's your take on bachelor/bachelorette parties?  Should they be wild? Mild? Did you dress up and wear funny clothes? If you've done something besides hit the clubs and bars, what did you do?  I'm a firm believer that the party should conform to whatever the bride/groom is up for.