I occasionally include guest posts from readers/bloggers who inspire me.  I call these posts "Healthy Tipping Points" because they relate a person's story of finding a healthy balance.  Here's a list of the other HTP stories I've posted.  When Freya emailed me with her story, I realized I haven't included a story from someone who suffered from anorexia.  
Although a very small segment of the population suffers from this type of eating disorder, I feel that it's an important issue to discuss on healthy eating blogs because all people with self-image issues can emphasize – and unfortunately, many of us deal with those types of feelings on a daily basis.  Also, through my experiences with Operation Beautiful, I know how seriously the disease can impact a person's physical and mental health.  
Freya's story is a profound example of how scary it is to hit rock bottom, and how good it feels to resurface.  I hope it inspires you, too.  
Obviously, people who are not in a good place with their own eating disorder might find this triggering, so please read with caution.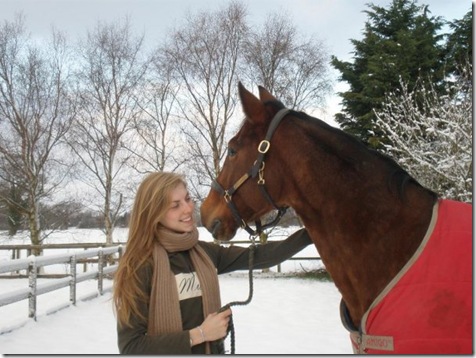 Freya says:
A bit of background – growing up, like most kids probably, I lived off junk.  Crisps, chocolate, chicken nuggets.  I seriously didn't know what a vegetable was, and I sure as heck wasn't going to try one! I also didn't do any exercise other than riding horses and used to drink a lot of really sugary drinks when I went out. Not the healthiest lifestyle! 
When I was 17, a combination of school pressure, troubles with my first boyfriend and some girls at school, trying to fit in with the 'cool crowd', being scared about the future, being lonely, and just general stress… I started to develop an eating disorder. It started with "I'll just eat a bit healthier," so dinner would be something like a chicken breast and salad, and that's it.  But I think I had a proper trigger point when I saw this photo (I'm second from the left):
In reality, I know that I wasn't fat – but I thought I looked disgusting. 
My eating changed dramatically – I became obsessed with calories, and every day, it was a challenge to eat a lower amount than the day before (my calorie obsession is why I don't ever count now). I also began to exercise obsessively, straight after dinner, even though 'dinner' was 1/2 a can of low calorie soup! In the end, I got scary skinny.  I dropped down to about 100 pounds, or 30 pounds less than I was originally.  I was weak and miserable. I remember once getting out of the shower, and wrapping myself in 4 towels and then lying on the heated floor for an hour, because I was so cold and weak.
Before I was quite that bad though, I had to get through Leaver's Day at school – it was meant to be one of the most fun days of my time in school – there was a big Leaver's Lunch in the courtyard, with a massive buffet and games. But on that day, I 'overate', panicked, and drove home from school midway through lunch in floods of tears. I even pulled over on my way home and made myself sick into the bushes – that's how bad my relationship with food was. It was one of the worst days of my life, as it ruined what should have been one of the best. 
At my school's last summer ball, one of the nasty 'cool' girls actually took me aside and said that she and her friends were scared for me.  
After my mum saw pictures from the school ball, she forced me to go to the doctor.  I was sent to be treated as an outpatient at the mental health hospital, but after my first appointment, they told me that I had to stop exercising immediately as I was at risk of a heart attack, and that if I did not gain weight that week, I would be committed involuntarily to the hospital as an inpatient. I was actually told 'you will not get better without hospital treatment.' It was only my mum's belief in me that bought me that extra week. 
I was being treated for the whole of the summer. I gained a few pounds, and then decided I was well enough to go to University in the autumn, so I quit treatment… but I totally wasn't ready to be on my own.  My first year at University was the worst year of my entire life – I  lost all the weight I gained, I had no friends, and I was put on anti-depressants. I was actually on the phone to my mum every single night, crying for hours, because I so hated it there.  By the end of first semester,  so at Christmas I came back home and commuted in.
I think that was the start of a gradual change.  With my mum's (incredible) support and understanding, I started to recover.  But it was a long process back to health.
My personal healthy tipping point came when I started reading blogs towards the start of my second year at University. I first saw Kath's blog, which opened my eyes to how much good stuff was out there and the importance of eating real food. I found this blog next, and I was inspired by Caitlin's balanced attitude. I wanted to run races and be fit, strong, and happy with who I was, too.
Slowly, I began to learn about nutrition and cooking and started to understand what my body needed in order to run properly. I decided that I wanted to be strong and happy more than anything, and I was not going to let me disorder control me anymore. 
I feel unstoppable! My life has done a complete U-turn since I started reading blogs and understanding that healthy does not necessarily equal skinny.  I honestly don't know where I'd be without that inspiration.  I've put on a healthy amount of weight; I've run two half marathons for fun, not to keep my weight down; I've discovered a love of cooking and baking; I'm no longer obsessed and controlled by food – it is now a joy to me; and I'm now finally on the path to being properly happy, and learning to love and accept myself. I actually feel excited about life again, and all I want to do is be as fit and strong as possible. It's a great feeling!!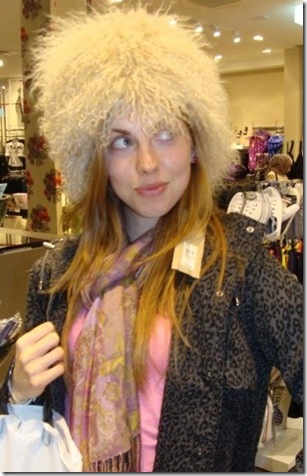 It's like I've been given a second chance at life, and I'm going to seize every moment and opportunity I get.  I REFUSE to ever go back to how I was.
A Note from Caitlin:
If you're suffering from an eating disorder, please get help!
For more information about eating disorders, check out the Warning Signs of Anorexia, Bulimia, and Binge Eating Disorder.