Last night, I dreamt of coffee cake (must have been all the time I spent in Barnes and Noble yesterday), but with a cereal crumble topping.
Behold: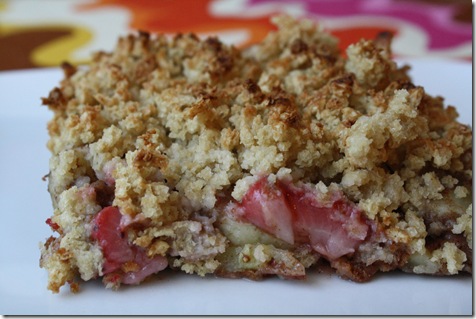 This Cereal Crumble Cake was a delicious change of pace for breakfast.  It tastes like a moist, fruity cake, but it's actually quite healthy.
Ingredients (For 2 servings.  You could reduce this recipe to one serving by halving all the ingredients and baking it in a single serving ramekin instead of a loaf pan):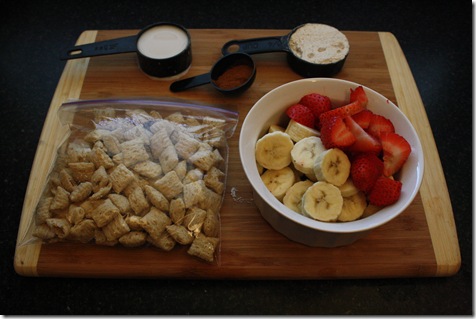 2 servings rice or corn crisp cereal – approximately 1.5 cups (I used Puffins)
2 bananas, sliced thinly
4 large strawberries, sliced thinly
1/2 cup almond milk, separated into 1/4s
1 tablespoon cinnamon
1/4 cup whole wheat pancake mix
Directions:
Preheat oven to 400 degrees.
In a small bowl, combine 1/4 almond milk, cinnamon, and pancake mix.
Add sliced bananas and strawberries and coat thoroughly.
Grease loaf pan and spread fruit mix along the bottom.  Pat down with spatula.
Place cereal in a ziploc bag and crush the cereal into tiny bits.
In a small bowl, mix cereal and 1/4 almond milk.  It should be chunky.
Spoon mix over fruit and cover with aluminum foil.
Bake at 400 degrees for 25 minutes.
Remove foil and broil at 500 for 2 – 4 minutes until top starts to brown.  Be really careful not to brown!
Serve warm or cold – it's delicious either way.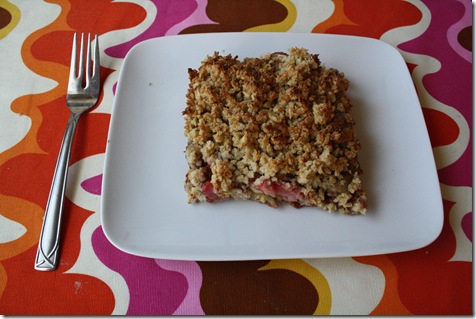 I really loved this breakfast!  It was so unique and fun to both prepare and eat.  And it went really well with a tall, strong cup of coffee.  🙂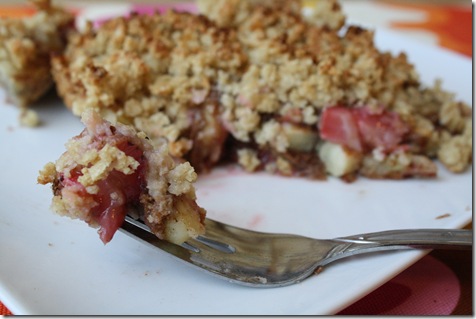 I'm off for a running date with my brother-in-law Nick.  He got into running several months ago, but I'm going to take him to the trails and show him the glory that is off-road running.
But first… I have to put together our new vacuum and clean.  Our vac broke a few weeks ago and our apartment desperately needs to be vacuumed (I normally vac once a week – we have two dogs, and I hate carpet to begin with).  I don't know why we have such bad luck with vacs, but we've owned 4 vacs in 3 years.  Isn't that ridiculous?  (They weren't all the cheapies, either – one was $150 and it busted in a year!)