I'm having one of those mornings.  I woke up at 4:30 AM feeling hot and nauseous, couldn't fall back asleep for an hour, and then woke up at 6:30 feeling groggy and crappy.  Hopefully, a nice bike ride will cure me!
Breakfast helped, too: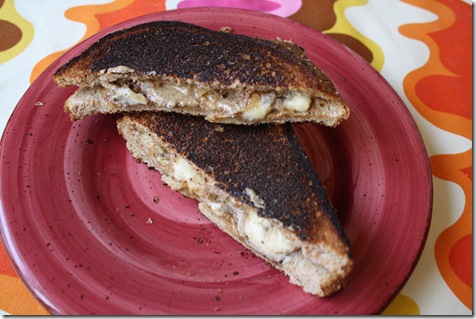 I made a grilled peanut butter and banana sandwich.  Technique was the same as a grilled cheese, but instead of cheese, I used almond butter, cinnamon, and 1/2 a banana.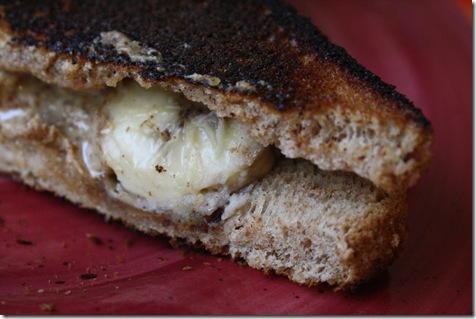 It was obviously delicious!
Food Revolution?
Have you guys been watching Jamie Oliver's Food Revolution on ABC?  So, Jamie Oliver is a famous British chef who influenced his country's public school lunches to be less processed and more wholesome.  Now he's trying to do the same thing in America.
As the trailer (below) states, Jaime believes that each little change can make a big difference.
I'm all behind the premise of Food Revolution, of course.  Jaime is trying to do things like:
Ban fried and processed meats from the cafeteria.
Eliminate sugary strawberry and chocolate milk so the children can only drink real milk.
Offer a variety of vegetables, including "sneaky" vegetables in pasta sauces and chilis.
Remove junk food like French fries.
Educate children, parents, and administrators on the value of real food vs. fake food.
Teach people in the city how to cook and shop for wholesome food.
However… after 5 episodes, I kind of feel like Food Revolution is getting repetitive.  There are so many issues in our industrialized food system, and I'd love for them to get into more detail about it.  Then again, I realize that Food Revolution is meant for mass consumption on a major news network… but I'd still like to see some other information.
In honor of Food Revolution, here are the four books, blogs, and movies that resulted in my own personal eating revolution.
Food Blogs
In December of 2007, I started to read Food Blogs.  I found Kath's blog via Self.com and was immediately intrigued.  Here was a girl who ate big bowls of REAL oatmeal (not the instant kind) and full-fat cheese.  And liked it!  And was maintaining her weight loss!  I was floored.  I was maintaining a 10 pound weight loss and was still in the mindset of "I need to buy the yogurt with the least amount of calories" and never actually looked at the ingredients list (Dannon Light n Fit, anyone?).  After I found Kath's blog, I began to read a bunch of similar blogs that focused on eating real, wholesome food, not gimmicky diet food.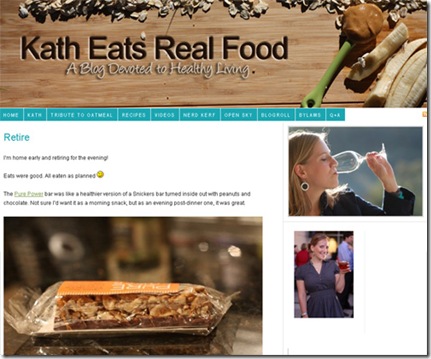 In Defense of Food by Michael Pollan
In Summer 2008 (at the start of my blog), I went to Barnes and Noble and picked up "In Defense of Food" by Michael Pollan.  I had read a review of the book on a food blog and was intrigued.  Pollan's conclusion in the Introduction – "Eat Food. Not too much. Mostly plants." – hit me like a ton of bricks.  You mean eating doesn't have to be insanely complicated?  You mean I should stop looking at bread as "carbs" and meat as "protein"?  Whoa.  Everything Pollan wrote made a ton of sense to me, and I started to clean up my diet, eliminating many processed foods that I still relied on.  If you have not read this book yet, you must!
Skinny Bitch
In April 2009, I was in the airport, browsing the book shop to find something to entertain me during the 2 hour flight to see my best friend, Sarah.  I picked up Skinny Bitch by by Rory Freedman and Kim Barnouin.  I read the entire book during my flight (it's a quick read).  Basically a vegan manifesto, Skinny Bitch literally freaked me out so bad that I stopped eating meat then and there.  At the BBQ Party the next day, I told a stranger I was a vegetarian (he said, "Oh how long have you been vegetarian?" and I replied, "Uhh a day?") and that was that. 
Skinny Bitch has it's pros and cons (like it's heinous title and cover), but it's an eye-opening book.  You can read my complete review of Skinny Bitch here.  
Food Inc.
In June 2009, I saw the movie Food Inc. and it transformed the way I think about our food system.  "The industry doesn't want you to know the truth about what you're eating, because if you did, you might not eat it."  This movie is what got me interested in learning more about the industrialization of our food and factory farming.  I loved Food Inc. because I felt like it was appropriate for a wide audience – meat eaters and veggies – and it didn't push a certain viewpoint.  It really has a great message, and I would recommend that everyone check out this movie!
You can read my review of Food Inc, which includes tons of facts from the movie, here.
All that information led me to where I am now.  My diet includes beer and occasional junk food, and I'm not a 'perfect' ethical eater.  However, I think about the impact my food choices have on my body, the planet, and animals.  I hope programs like Jamie Oliver's Food Revolution gets more people in our country thinking about these critical issues.
What sparked your "Food Revolution?"