The 8K distance is fabulous!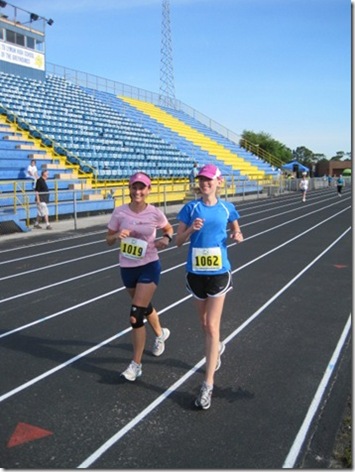 This morning I ran the GR8 to DON8 (Great to Donate) 8K race in Longwood, Florida.  I chose to do this race for FUN, not for time, in my quest to run 26 races before my 26th birthday on April 26.  This was race #24! Because I'm riding in a Metric Century bike race (60 miles of rolling hills) tomorrow, I decided to take it easy (for me) today and run at a training pace, not race pace.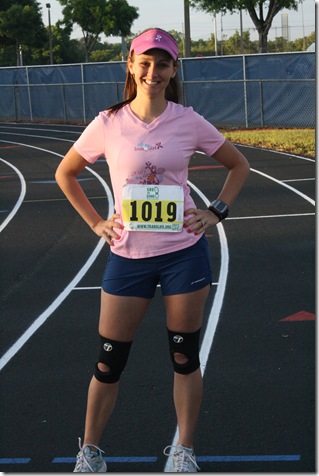 I'm not sure I've ever "really" run a race for fun before today! I thought I had, but to be honest, I was always kind of staring at my watch.  I ran today's race with a fellow Orlando blogger named Jes, and we just chatted the entire time.  Absolutely ZERO pressure. 
Although it was a "fun" race, it started off like all the other ones: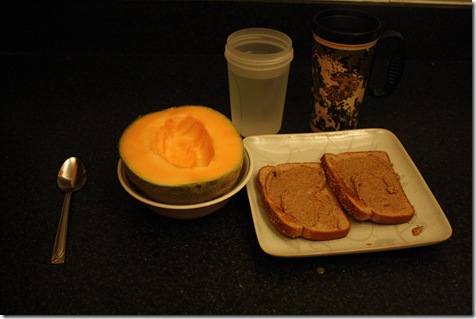 When you figure out what works for you before a race, don't change it!  I had an almond butter sandwich, fruit, and a coffee.
And then I drove about 25 minutes north to Longwood.  The event was small and held at a local high school.  Packet pick-up was held out of the football field concession stand! It brought back memories of my own high school experience (I think all Florida high schools are designed the same).  🙂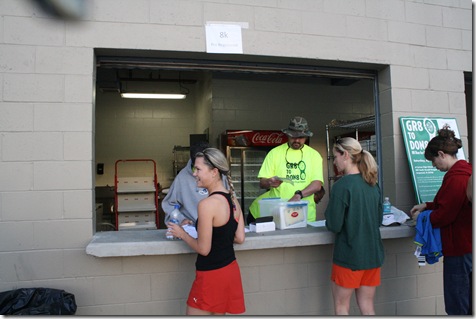 The bibs were really cool!  Instead of having chip timers on our shoes, the timers were INSIDE the back of the bibs. When you crossed the finish line, they scanned your bib and took off the metal wire.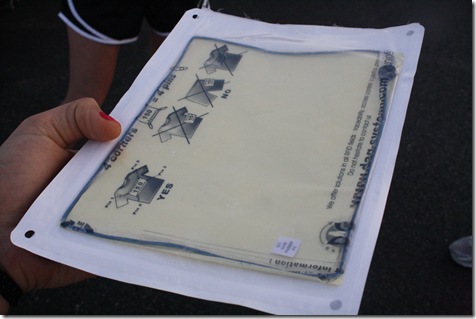 Check out the sweet shirts!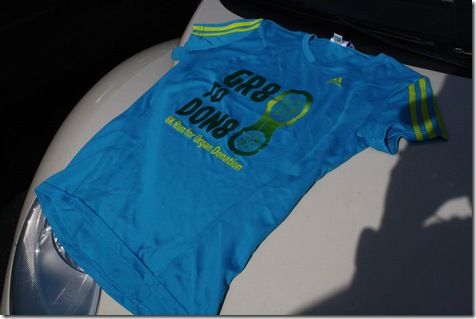 The race was called GR8 to DON8 because the goal is to raise awareness about organ donation.
Did you know:
One organ donor can save up to eight lives (hence the 8K Run for Organ Donation) while tissue donation can improve the quality of life for dozens more.
Last year, nearly 28,000 lives were saved due to the generosity of organ donors.
Today, more than 100,000 children and adults await that precious gift.  Hundreds of thousands more patiently wait for the gift of tissue donation.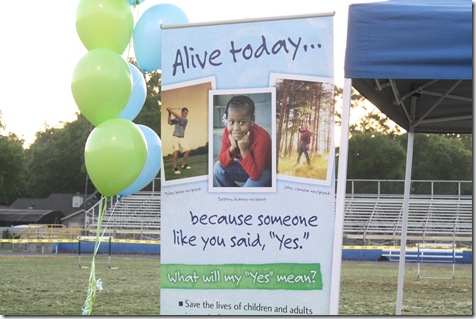 I am VERY PROUD to be an organ donor.  Please look into your heart and decide whether organ donation is right for you.  Regardless of your decision, be sure to let your family know what you want!  And if you want to donate, follow these simple steps to make sure others know about your choice, too.
After packet pickup, I met up with Jes and her friends, Ryan and Caitlin.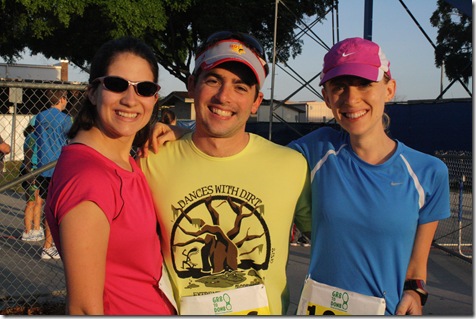 We lined up at the start, and then we were off!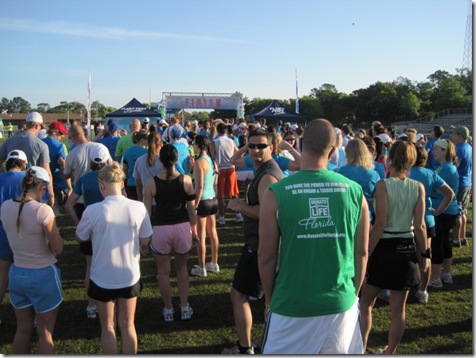 Jes and I ran at a comfortable pace for us, as mentioned.  Her knee has been bothering her, and I didn't want to make myself sore before the bike race tomorrow, so we generally paced a 10:00 to 10:30/mile and talked. 
The race course was pretty, too.  We went through lovely neighborhoods and the roads were shady!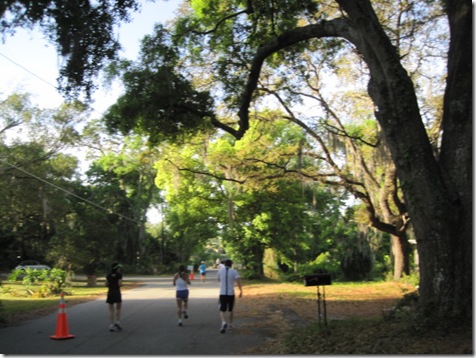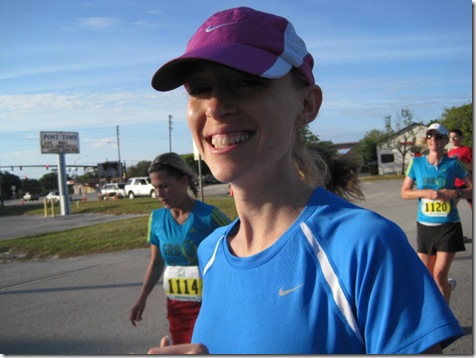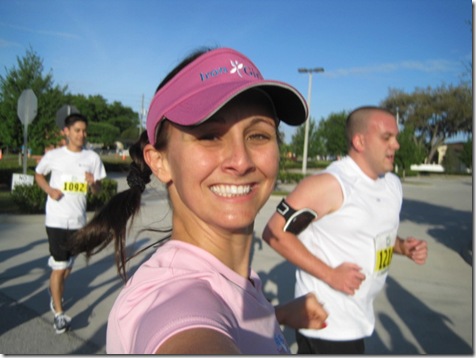 Before I knew it… the race was over!  We both crossed the finish line with a smile.  I felt like I had a great workout, but I didn't want to kneel over and die like I do after so many races.  Running for fun is… FUN! 🙂
Race Distance: 8K (4.9 miles)
Garmin Distance: 5.05 miles
Duration: 50:21
Mile 1: 9:54
Mile 2: 10:06
Mile 3: 9:59
Mile 4: 10:14
Mile 5: 9:44
+ Another 24 seconds
I grabbed a Gatorade: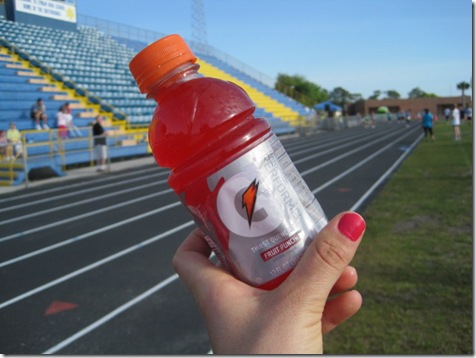 And we watched Caitlin and Ryan cross the finish line.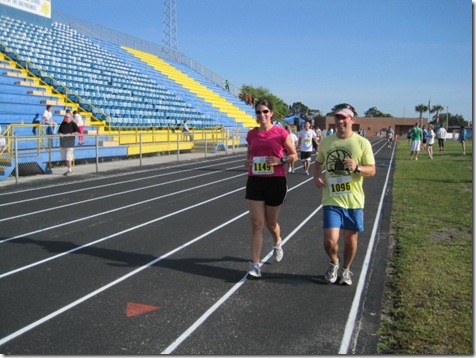 Good times!  🙂
I'm off to make a protein smoothie using my new brown rice powder.  I'll let you know how it tastes!
And the BIG RACE is TOMORROW.  I'm really excited, but I feel relieved my Dad is going to ride with me.  He was super motivating during the other Metric Century (race recap) that I did.  It's going to be great practice for the BIGGER Century race (100 miles!) we're doing together in May.
Have a great Saturday!