When I was a senior in college, I presented a thesis on the communist methods of censorship in Eastern Europe.  I remember my professor drilling into my head, "Presentation is everything! Presentation is everything!"  Of course, preparation counts, too, but if you get on stage and blow it (this was a thesis competition), you're done.
Sweet Breakfast Burrito presentation FAIL: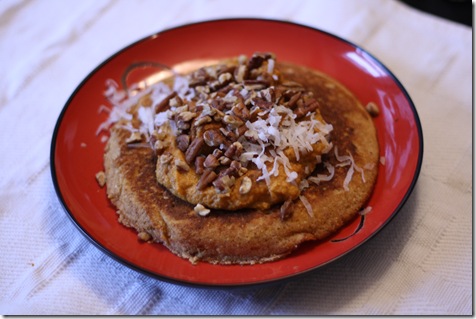 Well, maybe not a FAIL entirely, but the whole wheat pancake base is suppose to roll up (like a burrito!), and the pumpkin yogurt is suppose to be on the inside, not the outwside.
You can see how a Sweet Breakfast Burrito (and the recipe) is suppose to look on the Breakfast Recipes page.  :)  I added pecans and coconut to today's burrito!  My issue with this burrito is that I used a pan that was too small, so in turn, my burrito was too short and couldn't be rolled.
Still – it was DELICIOUS!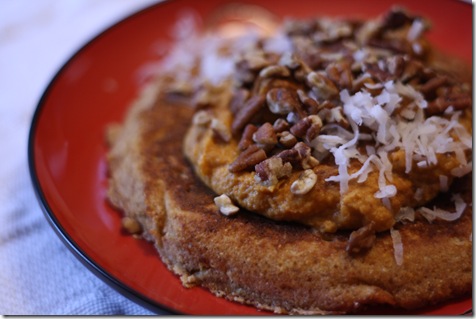 Time to get some writing done!  My current article is on "easy ways to get healthy – or stay healthy – in college."  Which is going to be a doozy!
And HAPPY BIRTHDAY MEGAN!