Morning!  🙂 Happy Valentine's Day!
I decided to go on a longer run this morning.  My triathlon training hasn't been going very well (meaning, I haven't swam for a week) because I've been sick.  A long run seemed really appealing when I woke up this morning.
But within the first 0.5 mile, I knew it wasn't going to be a great run.  My legs felt so sluggish, I was tired, my mood was irritable.  I felt like I was STRUGGLING to maintain my normal 10:00/mile pace!  Trust me – no matter how long you've been running for, or how many races you've done, sometimes it just really sucks to be running.  It happens to everyone!
And then I started to think… This is a failure of a run.  I suck.  Why can't I go faster?
But I kept going, hoping my spirits (and my pace!) would pick up.  When my pace continued to drop, I decided around Mile 3.0 to banish the word "failure" from my vocabulary for the rest of my life.  I'm out there, I'm running, and I'm doing my best – TODAY.  I might be slower than usual, and I might be taking walking breaks, but neither of these things makes me a failure!  A true fail would be doing NOTHING.  So, SOMETHING – no matter how far or how short or how slow or how fast – is NOT a failure.
Distance:  6.1 miles
Duration: 1:2:08
Mile 1: 9:50
Mile 2: 9:43
Mile 3: 10:14
Mile 4: 10:47
Mile 5: 10:19
Mile 6: 10:29
0.1: 55 seconds
All in all, a very good run!  🙂
Pre-run snack was Chai tea with half and half and PB and jam toast: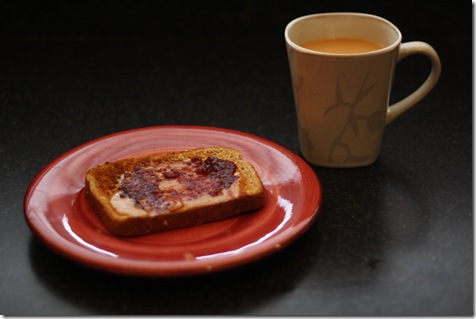 Post-run breakfast was a BIG bowl of oatmeal: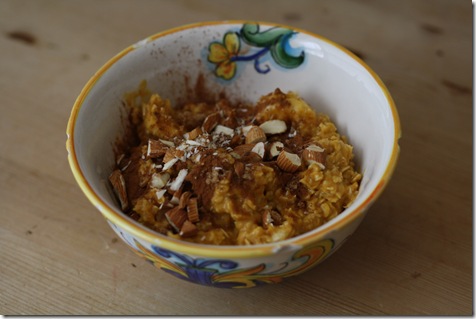 My oatmeal contained:
3/4 cup oatmeal
3/4 cup rice milk
3/4 cup water
1 sliced banana
1/4 cup pumpkin
Toppings:  almonds, brown sugar, cinnamon
And now I'm off!  The Husband has planned a surprise day for me (as he normally does on Valentine's Day).  Last year, we had a picnic, but he told me to dress up today.  I wonder where we are going?
PS – If you "hate" Valentine's Day, here's something else to do instead!
How do you define success and failure for your workouts?