Wonderful triathlon training workout!
I met up with Ryan and we did a sweet run/swim combination.  First up: the run!  I've been holding on my runs since the marathon because I injured a tendon on my foot.  In fact, I've only ran 3 times for a total of 6.5 miles in the last 2.5 weeks or so! 
Today I felt ready to do a 'long' run.  Ryan and I did 2.0 miles together, and then I ran another 1.5 solo.  My foot felt great the entire time!  I've missed running and have my eye on an upcoming Half Marathon, so it would be nice if I was totally back to normal.
Distance: 3.5 miles
Duration: 36 minutes
Then, I back up met Ryan in the pool and did my first official triathlon swim workout.  I'll be posting my training plan next week, but here's what today looked like:
Total: 1,000 meters non-stop.
Intervals: 300 meters at 50% effort; 300 at 75%, 100 at 85%, 300 at 50%.
Duration: 25 minutes
Sounds complicated, right?  Well, to remember what I was suppose to do, Ryan suggested that I put a print-out of my plan in a plastic bag and keep it by the side of the pool: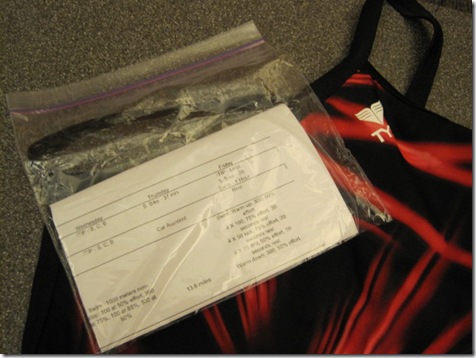 Let me tell you – 1,000 meters of intervals were REALLY, REALLY challenging.  But I finished and I feel so great!  I am feeling more confident that I will be able to rock that swim in March!  The actual race distance is 1,500 meters. 
Post-workout lunch: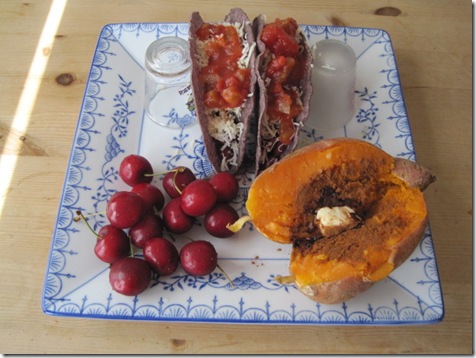 Two organic blue corn tacos stuffed with kidney beans, cheese, and salsa.  Shot glasses are excellent for holding up tacos!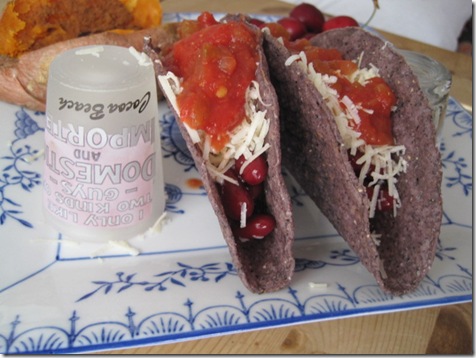 With a baked sweet potato (with real buttah and cinnamon) on the side: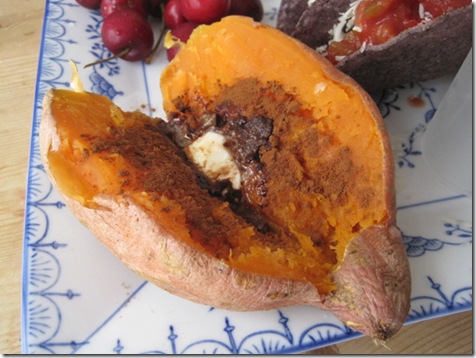 And cherries for "dessert":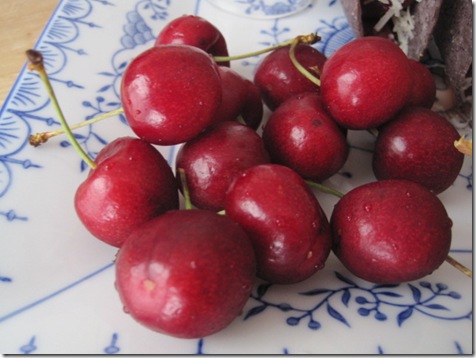 Don't be Shy
Last night, I mentioned that I felt awkward in the weights room because I was surrounded by big, muscley men.  A lot of you remarked that you feel the same way! 
I've gotten so many e-mails from people who want to start running (or biking, swimming, doing yoga, whatever), but are too embarrassed to start.  They fear that people are looking at them and judging them.  Or they don't like being a novice and not knowing what to do.
I totally understand the feeling of being shy.  But you know what? Everyone is a beginner at some point!  And yes – people might be staring at you when you're in the weight room or on the treadmill or on the sidewalk.  But when I look at strangers who seem like they are trying something new, I am usually thinking, "Aww. They are trying to get healthy/do a new activity.  Good for them!" Or I am remembering with a smile what it felt like to begin running 3 years ago.  Or I'm not really looking at that person, I'm just staring into space. 
Point is, I think most people are not judgmental.  And if they are – WHO CARES? Your workouts are for YOU! That's what I try to remind myself when I feel funny lifting weights.
Repeat after me:
Everyone starts somewhere.
I will embrace being a novice and discovering new skills for the first time.
Everyone is too wrapped up in their own stuff to care about mine.
Just because someone is looking at me, it doesn't mean they are thinking anything negative.
I am a bad-ass for lifting weights, running, doing yoga… whatever!
The miracle isn't that I finished, the miracle is that I had the courage to START!  (My favorite running quote from John Bingham).
Do you ever feel shy about working out?  How do you get past it?