Kind of random, but check out this cool picture the Husband snapped today: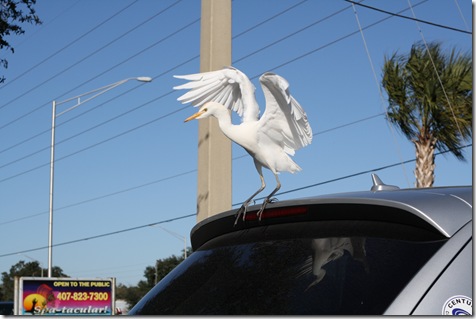 The bird landed on the back of the car next to us.  :)  I love Florida birds.
Today was a great catch-up day for my life, the family business, the blogs, and my sanity in general.  I got a lot of work done and checked quite a few things off the To Do list.  Yay for productivity!
No exercise still.  I'm holding off until at least three days post-marathon.  We'll see how the foot feels tomorrow. 
Dinner was quick and easy: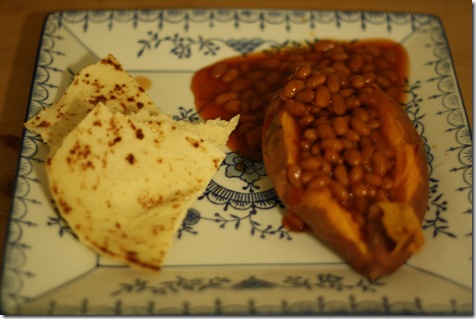 If you have not tried sweet potato and baked beans, you are missing out!
I load on the baked beans – you can never have too many.  🙂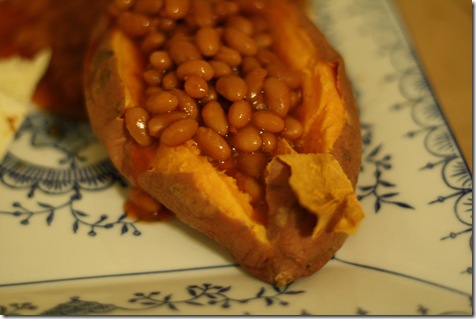 Plus, naan on the side.
And a bowl of fruit for dessert.  I'm about to curl up on the couch at watch The Biggest Loser and American Idol.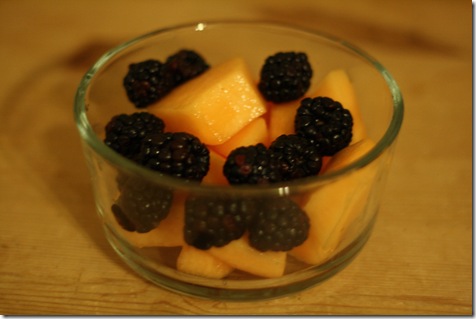 Are you a fan of American Idol?  The Husband is addicted and watches the entire season from start to finish.  I really only like the actual competition shows – the tryouts get too mean!  And I don't think I'll watch anymore once Simon leaves (he's gone after this year).
I pretty much love all reality shows – if there's a game and a winner, I'm hooked!  Except The Bachelor – ugh.