Ryan is my new swim instructor.  🙂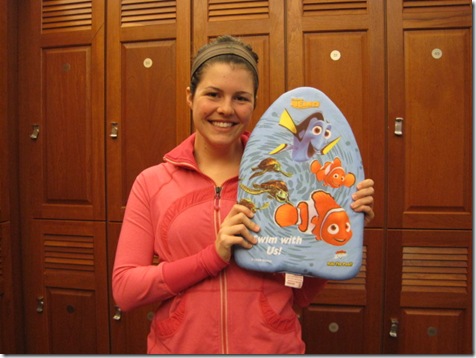 Ryan offered to help me learn how to swim properly so I'm better trained for my upcoming triathlon.  I jumped at the chance to learn from a pro – I really feel like I have no idea what I'm doing in the water!
But first, I completed the Intro to Iron Pumping Challenge:
Day 2: Legs
Warm Up: 5 minutes of cardio
Lunge and Lift:  3 x 12 (novice system) for each leg
Stability Ball Hamstring Curl:  3 x 12
Leg Presses (What I thought were extensions were actually presses): 3 x 12 with 75 lbs 
Stability Ball Calf Raises: Skipped due to foot
Step Ups: 3 x 12 with two 15 lbs weights for each leg 
Straight leg pullover crunch: 22 with 5 lb weight
Chicken scratch:
If you're not sure what any of these moves are, check out Gina's workout page or simply Google the moves.
It was a HARD strength training workout! My legs were quivering at the end.  Afterwards, I did 20 minutes on the stationary bicycle.
And then Ryan arrived and we hit the pool!  We swam for 1 hour, but that includes lessons, instructions, critiquing, and gossiping… so it wasn't a straight hour of swimming at all.  But, Ryan helped me understand why I find freestyle to be so challenging (my form was terrible) and taught me some ways to improve.
I've heard there's a DVD program called Total Immersion that is also really helpful for new swimmers, and the Total Immersion team has agreed to send me two copies of the program – one for me, and one for a reader – so keep your eyes peeled for that giveaway in a few weeks!
After our swim, we hot tubbed it for 15 minutes.  :)  And then I showered and got ready in the locker room, which gave me flashbacks to 2006, when I went to the gym almost every weekday before work.  Rocking the No Meat Athlete t-shirt!
I grabbed a fruit cup for the drive: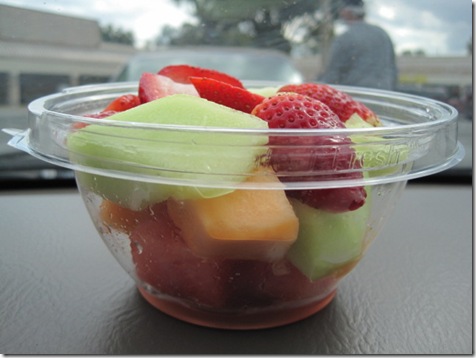 I stopped at Sports Authority to buy a "real" swimsuit. If I'm going to get serious about swimming (and I am), then I need a one piece.
I think I'm also going to have to get a wetsuit because a lake is going to be FREEZING!! The triathlon is in March.
Lunch was fast food.  Chipotle called my name, and I answered.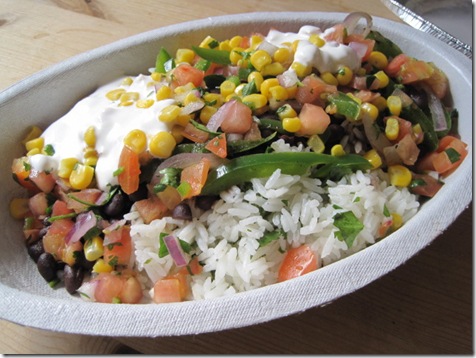 I tried to keep it healthy-ish by nixing the burrito and cheese.  I can't say no to sour cream, though!  🙂
The Blogging Pants
There were so many awesome nominations for the Blogging Pants that it was really hard to choose a winner.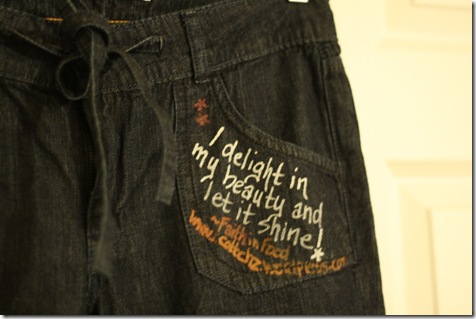 Clearly, each blogger who was nominate has touched someone on a personal level, and that's awesome.  Because I think everyone who was nominated deserves to be acknowledged, here's a list of all the nominees:
The next owner of the Blogging Pants is…. Kat from A to Pink!
Why?  Read the nominations:
Heather wrote, "Check out Kat.  She recently just went public on her blog about living with cystic fibrosis since she was diagnosed at 16. She remains upbeat and encouraging even through struggles of hearing not so good news from doctors, or feeling defeated in her CF. She has taught me (and is still teaching me) about CF and her candid, honest look into her life has touched me. I will be participating in my first benefit race for CF in her honor- she would be a GREAT fit for the bloggin' pants!"
Melissa wrote, "Kat's story is amazing and I am really hoping she succeeds in running her first 5K." 
Renee wrote, "Caitlin, I'd like to nominate Kat. Granted, I am a little biased; I've been close friends with Katharine for 2+ years, but I feel that makes me very qualified, because I've seen on a day-to-day basis how she struggles to managed a "normal" life while coping with cystic fibrosis.  Katharine waffled for a long time about "coming out" on her blog, and I'm so glad that she did. It's been an amazing support system already, and she would be an excellent choice to pass on the blogging pants."
Congrats, Kat!  I hope you enjoy the blogging pants and pass them onto another blogger who deserves them, just like you do!